Immigration advocates rallied Thursday at the state Capitol in support of Gov. Tony Evers' budget request that would allow immigrants in the country illegally to receive driver's licenses and identification cards.
The rally, organized by the immigrant rights group Voces de la Frontera, comes as supporters of the proposal have the best chance in recent memory to pass the law given the new Democratic governor's support. Participants in the rally gathered in the Capitol rotunda and additionally met with lawmakers to urge them to support Evers' proposal.
The proposal, however, is unlikely to go anywhere given opposition from Republican lawmakers. Assembly Speaker Robin Vos, R-Rochester, in January told a Milwaukee radio station Republicans would not approve any measure giving licenses to immigrants not authorized to live here.
A Vos spokeswoman didn't respond to a request for comment Thursday.
If lawmakers were to approve the measure, Wisconsin would join 12 other states and the District of Columbia in making all immigrants eligible for driver's licenses, according to the National Conference of State Legislatures. Before 2007 and the passage of the federal REAL ID Act, Wisconsin residents could obtain a driver's license regardless of immigration status, according to Voces.
Speakers at Thursday's rally represented a variety of backgrounds, such as immigrants, law enforcement, dairy farmers and advocates for victims of domestic violence.
Veronica Esquivel, 46, a restaurant worker originally from Mexico who lives in Waukesha, told the State Journal through a translator that obtaining a license would mean a greater sense of security, allowing her to take her children to school and go to doctor's appointments without fear of being pulled over.
She said she currently doesn't risk getting a ticket, so she takes the city bus to and from work.
Her concerns were acknowledged by Madison Police Chief Mike Koval, who told those gathered in the Capitol that allowing those in the country illegally to obtain driver's licenses and identification cards would "be the greatest gift to me."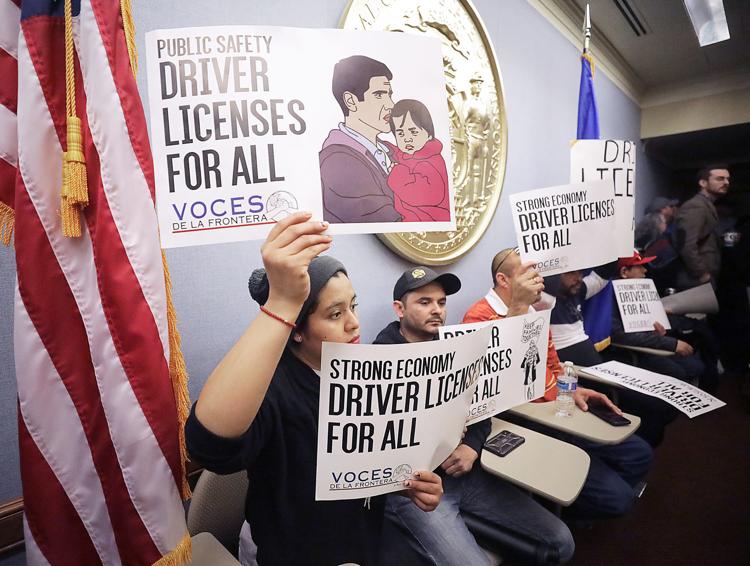 Koval said providing such licenses would help fulfill the mission of community policing, and would promote safety and economic growth.
"You should not have to look over your shoulder with fear and apprehension when you drop your kids off for school, when you go for groceries or go to a house of worship," he said.
A report released late last year by the liberal research group Kids Forward found the number of drivers without car insurance would decrease by about 28,000 if lawmakers allowed all immigrants to obtain licenses.
The report also estimates 32,000 residents would gain a Wisconsin driver's license; 22,000 of those residents are currently employed, some in industries such as dairy, which relies heavily on immigrant labor.
Backed by dairy
Some in the dairy industry are openly supporting the governor's proposal, including the Dairy Business Association, which calls it a measure to increase public safety. Association president Tom Crave, who is a farmer, said in a statement there are often few, if any, alternatives to driving, especially in rural areas.
Michael Slattery of the Wisconsin Farmers Union said thousands of immigrant dairy workers help farmers in the state produce more than $30 billion worth of product and deserve to be treated fairly.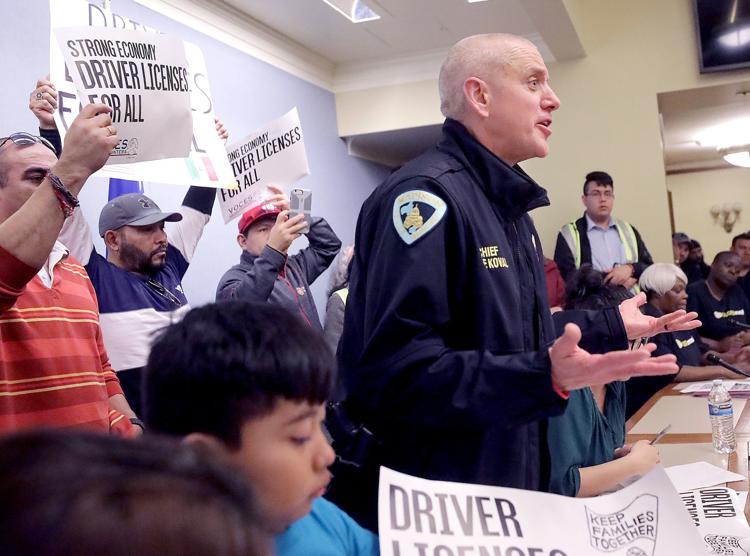 "These are family-oriented people, they are conscientious, they are committed, they are doing work that no one else would, and we need to take care of our labor," he told those gathered Thursday.
'Illegal behavior'
Not everyone agreed with his thinking.
Dave Gorak, executive director of the Midwest Coalition to Reduce Immigration, said there is a lack of evidence showing immigrants, many of whom send much of their paychecks to their home countries, would buy car insurance. And he argued businesses could circumvent the problem of employees lacking driver's licenses by increasing wages and hiring U.S. citizens.
"Our immigration crisis exists because for years 'lawmakers' at all levels of government have been rewarding illegal behavior in order to satisfy the business community's unquenchable thirst for cheap and exploitable foreign labor," Gorak said in an email. "There are no jobs that Americans won't do if given decent wages."