Waiting in line for hours to get food, wearing the same clothes day after day, getting harassed by some of the Afghan men, not knowing the timeline for resettlement — all are problems a pair of Afghan women say they have faced staying at Fort McCoy military base in western Wisconsin, though officials said Tuesday the issues are being addressed.
"There are many people who don't have anything to wear, anything to eat," an 18-year-old Afghan woman told the Wisconsin State Journal on Saturday. "They make us wait here for six hours behind the cafeteria, and when you go in there's nothing left.
"I just want to leave this place so I can start my own life."
The two women spoke by phone with the Wisconsin State Journal Saturday about their experience at Fort McCoy on the condition of anonymity. They said they feared a negative reaction from some Afghan men housed at the base, many of them former members of the U.S.-trained Afghan National Army who have caused problems, such as harassing women and skipping people in the food lines.
Fort McCoy officials have not granted media requests to interview refugees nor access to the base. They have shared some photos and videos from inside. They have also discouraged volunteers from speaking with the press.
Thomas Gresback, a Fort McCoy spokesperson with the Department of Homeland Security, said Fort McCoy experienced supply chain issues in being able to provide enough food to feed the 12,500 Afghans now at the base. But Fort McCoy has been working to address the issue, Gresback said, and "over the last five days we improved that significantly." He said the refugees are offered "three hot meals per day" with a protein, a carbohydrate option, fruits, vegetables and drinks.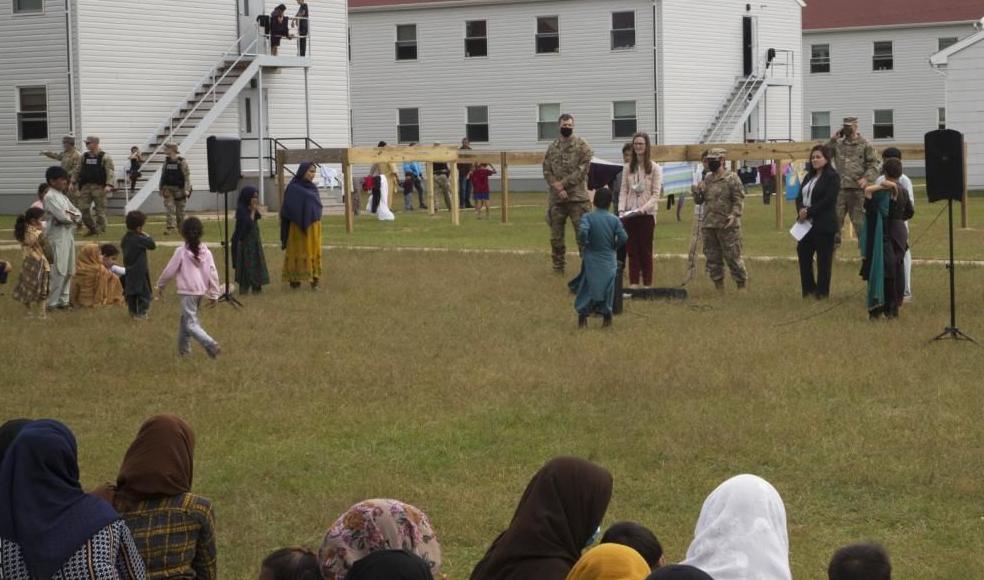 Gresback said he visited the base's cafeteria line Monday and saw that Afghans were "very happy" with the changes Fort McCoy made.
"We feel we've come a very long way in a very short period," Gresback told the State Journal on Tuesday.
Fort McCoy is one of eight military bases housing refugees who fled from Afghanistan after the recent collapse of the country's government to the Taliban. Though the number of refugees in Wisconsin has grown week by week, the U.S. halted incoming flights last week after discovering cases of measles among the refugees, including one case at Fort McCoy.
Gresback acknowledged other complaints raised by Afghan evacuees such as a lack of access to clothing donated to Fort McCoy. Gresback said personnel at the base are "working absolutely as fast as we can" to distribute clothes.
He noted that Fort McCoy is still accepting donations and is especially looking for warm clothes for winter. Donations of new or gently used clothing that has been freshly laundered can be made at the Salvation Army in Madison at 3030 Darbo Drive from 10 a.m. to 2 p.m. Monday through Friday, as well as other Salvation Army locations across Wisconsin.
The second woman who spoke with the State Journal said she desperately wants to change her clothes. On Saturday afternoon, the 40-year-old said she was still wearing the same clothing she wore while escaping from Afghanistan out of the Kabul airport as her country fell to the Taliban. She arrived at Fort McCoy on Sept. 1, 10 days before the interview.
"I couldn't bring anything from home," she said, adding she developed an infection after not being able to change her only pair of underwear. "I have to wash that and wait until that is dried and I can wear them again."
The State Journal was unable to reconnect with the women Tuesday to ask whether conditions had indeed improved over the last few days.
Chris Hennemeyer, who is leading the U.S. Conference of Catholic Bishops' volunteer efforts at Fort McCoy, said the long lines for food are "a thing of the past."
"(Those issues), they're all being worked out, and some of them have been sorted out really well," Hennemeyer said when asked about the long cafeteria lines and the clothing shortage. "The lines that existed a week or so ago, you don't see them anywhere."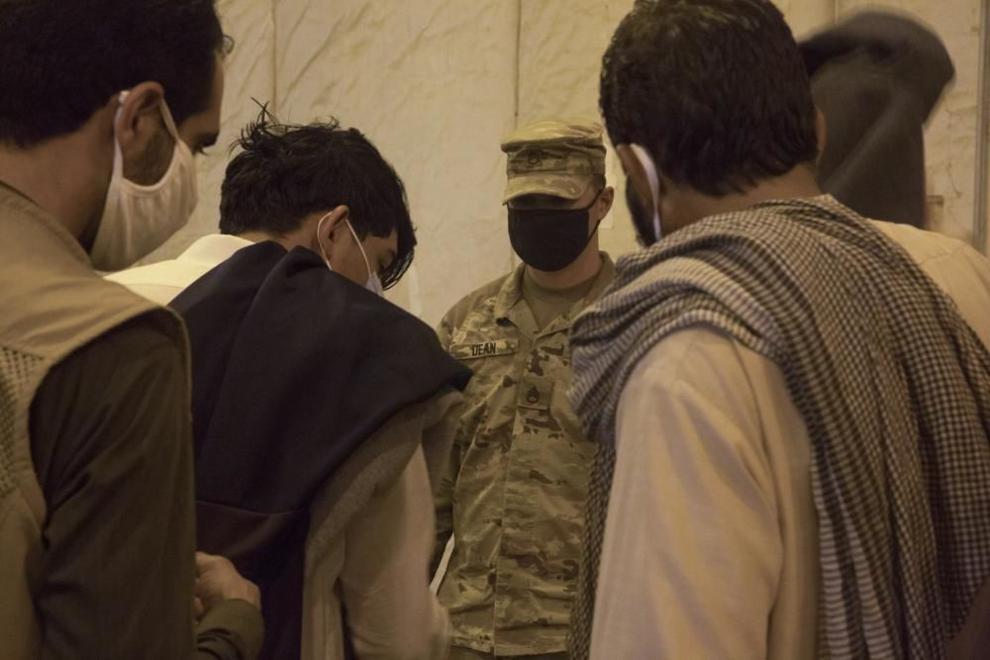 But one major thing has not been sorted out: when the Afghans get to leave.
Both women said they have Special Immigrant Visas, and are frustrated they're not being processed through the military base more quickly. After traumatic experiences at the Kabul airport, they're ready to start their new lives living and working in the U.S.
"I'm not saying I'm not glad I got out of there. I'm saying I'm very happy. I'm very glad I got out of there," the 18-year-old said of fleeing Afghanistan. "It's just that I want to be processed out fast. I'm losing lots of my time. It's a waste of time staying here (at Fort McCoy)."
'We lost everything'
Before arriving at Fort McCoy with thousands of other Afghan refugees, the 18-year-old high school student waited for days to be evacuated from the Kabul airport. In the frenzy there, she saw a woman shot and killed. Leaving her parents behind, the 18-year-old and her siblings were then shuttled from Afghanistan to Qatar, Germany and Indiana. A little less than a month ago, they were taken to Fort McCoy.
But the 18-year-old now finds herself stranded again, with no clear answers on when she will leave Fort McCoy and begin her final year of high school here in the United States.
"I have depression, stress and anxiety, insomnia and it's getting worse," the 18-year-old said. "America says we can take care of all these people. … Then why don't they do it fast?"
The 40-year-old woman worked in Afghanistan for the Army Corps of Engineers and later the U.S. Agency for International Development. While trying to evacuate from the Kabul airport, she was separated from her husband in the crowds. After trying to pay the Taliban for help, the fighters beat the woman and her family. A British journalist later helped her reconnect with her husband. Before evacuating, she witnessed people suffocate in the throngs of people waiting to board a flight, their corpses dragged away by the Taliban.
"It was just tragic. I don't know when I'm going to forget these things," the woman said. "We lost everything. We had (a) house, land, a job."
After traveling between overseas facilities for weeks, the woman, her husband, children and siblings eventually arrived at Fort McCoy. Yet there, she only found more "chaos," straining conditions and hardship. Both her husband and sister are in poor health, a constant worry for her. And like the 18-year-old, the woman complained of harassment from male refugees about her clothes and body.
"I'm ashamed that I'm complaining about my own Afghan people," she said, adding that discipline of the men by U.S. personnel is uneven. "They don't know how to behave with women. … We are afraid of them."
Gresback said there's a process in place for Afghans to report concerns up through the chain of command, and Fort McCoy personnel will work to address them. He said it's important for everyone to be "treated fairly by everyone."
"There's no tolerance for any abuse whatsoever," he said.
Addressing concerns
Now in the United States, the 40-year-old woman said her future is uncertain yet again as she's not sure when she'll get resettled. Officials at the base told her it could take up to two or even six months. She wishes she could start applying for jobs, but there's little access to Wi-Fi at the base.
The Wi-Fi was also a concern of the 18-year-old, who wants to attend classes online or at least keep up with her coursework.
Gresback said there are some areas at the base with Wi-Fi, and Fort McCoy hopes to "significantly improve" the bandwidth next week.
Other concerns cited by the women included waiting in long lines for medical care, sleeping in crowded barracks-style rooms, boredom and a lack of quality, Afghan-friendly food. The 18-year-old said the rice was hard and undercooked. Beans were "not cooked at all."
Gresback said Fort McCoy has changed the food options based on feedback from the Afghans, such as making the meals more carbohydrate heavy, instead of focusing on protein. Fort McCoy spokesperson Cheryl Phillips said leaders at the base regularly visit the dining facilities to assess conditions, and the base has "routinely adapted food options to meet the preferences of the Afghan evacuees, including having 24/7 'grab and go' options available."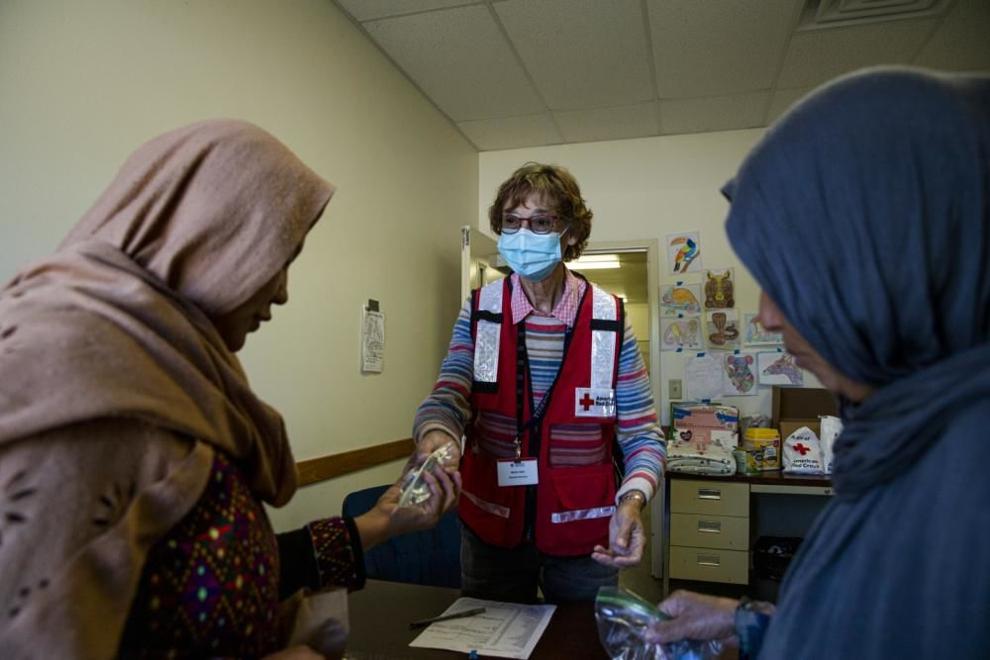 Volunteer groups are working to expand entertainment options after initially "underestimating the demand" for activities, Hennemeyer said. For example, volunteers set up a room for women to sew their own clothes with donated fabric. When it opens each morning, a crowd of about 100 women wait at the door even though only about 20 women can access the machines each day.
"We have to do some thinking about how best to allocate our time and our resources because we won't be able to keep everybody happy," he said.
The 18-year-old woman said she kills time reading a book and sitting on her bed. She wants to stay inside so she doesn't have to deal with the men commenting on her appearance.
"I've been here for like 10 days, and it seems like I've been here for a month or two. … We've got nothing to do," she said. "We just want to get out."
The Associated Press contributed to this report.
"I have depression, stress and anxiety, insomnia and it's getting worse."

18-year-old Afghan refugee