Sitting in his downtown office earlier this month, among a collection of Notre Dame football souvenirs, Madison Police Chief Mike Koval reflected on his tenure leading the Madison Police Department — which he often refers to as his "second family."
Four months into his sixth year as chief, Koval is thinking about when he'll step down from the post.
"I'm sort of sizing up the landscape, seeing what battles are worthy of still fighting, and ultimately where it's the best time to pass the torch," Koval said. 
His predecessors, David Couper and Noble Wray, held the job for 21 years and nine years, respectively. A 2014 survey of police chiefs, conducted by the Police Executive Research Forum, found that about 8% of the 334 executives surveyed had been in their jobs for five years. 
Before being promoted to chief, his nickname on the force was "Kumbaya Koval" due to his commitment to finding alternative solutions to policing problems, but he has not shown an aversion to public conflict.
And he is not a quiet guy. During the interview for this story, Koval's staff posted signs around his office reminding him to keep his voice down as interviews for captain were happening in a nearby office. He can be gregarious, but he also has a temper. His sometimes forceful style has been criticized as defensive or combative.
He was sworn in as chief on April 11, 2014, achieving the MPD's top position after about three decades on the force. He joined the department in 1983 and, aside from two years with the FBI, has spent his whole career with the MPD. Before he was promoted to chief, Koval was a personnel and training sergeant, recruiting and teaching new officers.
After being named chief, Koval laid out a priority of reforming the image of police from that of "warriors" to "guardians." He said during this interview that this idea is "aspirational" but pointed to specific examples like the Madison Addiction Recovery Initiative (MARI) program — a pre-arrest diversion drug treatment program — as an example of "guardian" policing.
Koval became chief at a time when confidence in police was heading toward a historic low nationally, according to a 2015 Gallup poll. Though that confidence has stabilized at average levels, the divide between how black and white Americans feel about police is stark. 
Prior to Koval's tenure as chief, Madison dealt with the officer-involved shooting of Paul Heenan in 2012. In 2013, focus turned to the Race to Equity report, which revealed widespread racial disparities, including police arrests, in Dane County. 
Note: This story is a sidebar to the story 'I feel outnumbered': An interview with Mike Kova…
In 2016, the MPD implemented a use-of-force position to review and report data related to officers' use of force and work to improve proficiency related to use of force.
Following a series of executive orders signed by President Donald Trump in 2017 that limited immigration and the rights of refugees, Koval created a new standard operating procedure to clearly state that immigration status is only relevant when someone has committed serious crimes directly related to public safety. 
Over the past five years, Madison has seen four officer-involved shootings, which include the deaths of Ashley DiPiazza, Londrell Johnson, Tony Robinson and Michael Schumacher. There have been high-profile, non-fatal uses of force by officers, including an incident at East Towne Mall involving an 18-year-old black woman.
At a tense meeting in June 2016, the City Council adopted a $400,000 resolution to fund a comprehensive review of the MPD. Months later, the MPD Policy Procedure & Review Ad Hoc Committee, created following the death of Robinson, chose a consultant head up the effort.
The consultant's full report,released at the end of 2017, found that although the department can be "unusually progressive, effective, and ahead of the curve" in some areas, the past few years have been difficult for Madison and its police.
Since then, the ad hoc committee has been studying the 146 recommendations and developing its own report for the mayor and City Council to consider. On Aug. 6, the City Council accepted the committee's first recommendations, which include an independent monitor and civilian review board. 
Two community members filed a complaint against Koval for the way he acted during the meeting where the resolution was approved. They claimed he violated the police department's standards of conduct when he pounded on a desk during the meeting and called Robinson's grandmother a "raging lunatic." They also claimed he appeared to make a threatening gesture by reaching toward his sidearm.
Prior to that incident, Koval published a blog post that directly and aggressively addressed council members. The lengthy post took on a sarcastic tone at times and questioned the use of funds on a police study, while accusing alders of not defending the police department.
Koval said he would not let the MPD's "legacy and its culture of caring and commitment to the constituents of this community" be defeated by critics.
He would not put a date on his retirement and has been busy this summer helping to prepare the largest class of recruits in MPD history and promoting almost all of the department's leadership positions.
Koval has also submitted his proposed 2020 capital and operating budgets and is learning to navigate a City Hall that is pretty different from when he was confirmed as chief.
This interview was edited for clarity and brevity.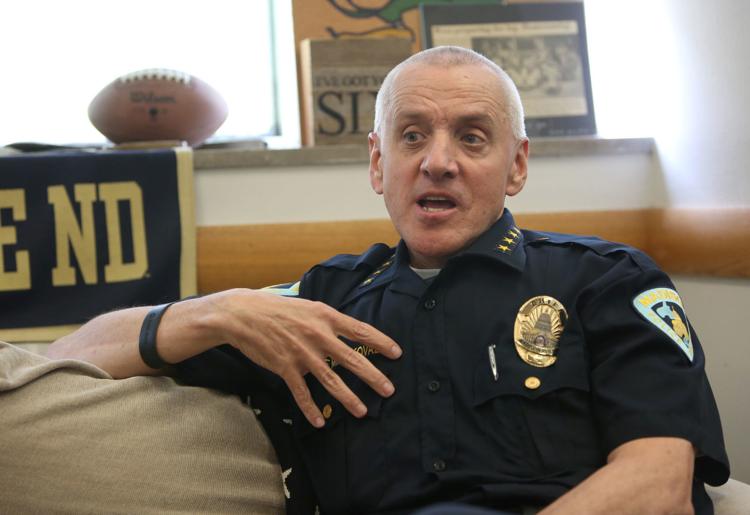 Mayor Satya Rhodes-Conway has been in office for about four months and the City Council saw a lot of  turnover. As chief of police, how are you navigating the changes in leadership, especially as budget season approaches?
I would say that obviously the mayor is extremely goal-driven. She is very clear in her messaging to me and other city staff. I think that because sometimes reputations can precede you, I think she was a little perhaps wondering, apprehensively, what my role was going to be to her. Was it going to be confrontational, was going to be adversarial or what would that role be?
I view my role as being a complementary piece. She ran a platform based on social policies or initiatives that she wants to pursue. And then when she decides which initiative she's going to engage in, and along the way, if there's a public safety component, I or my team will provide her the subject matter experts that will provide her the information that she needs to be aware of before she makes critical decisions that might otherwise have unintended consequences. 
You've made a case for more officers and have said you will remove 12 officers from community engagement work and assign them to patrol because of staffing concerns. Are you preparing for a tough budget conversation? 
The city has two strikes in the sense that we have a $9 million shortfall. That makes it really difficult to try to negotiate. When you're looking at those austerity parameters, the notion of thinking pragmatically that we're going to somehow buck that fiscal reality and think that we're going to nevertheless pound my fist and show my statistical bottom line, and that somehow that's going to create an epiphany that everyone can galvanize around, it would be naive on my part. She, like others in the aldermanic groups, have inherited what we have here today.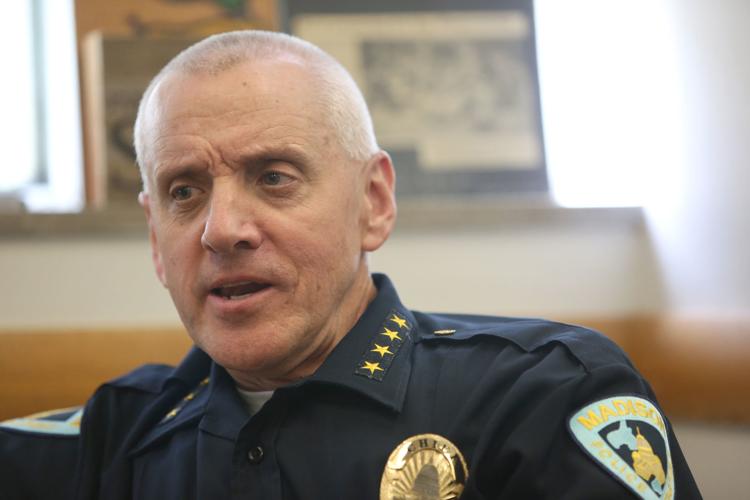 From the start of your tenure as police chief, you have promoted the vision of a "guardian" police department rather than a "warrior" one. How are your officers doing this today?
It starts with who do you identify as the hiring process goes. And does your hiring criteria reflect the mission goals, the values and that sort of culture? I'm literally looking for ways to disqualify that candidate. If I see vestiges or any sort of telltale signs that they're more of the Action Jackson variety — just want to go from call to call to call on the sort of television-esque calls for service — if that's talking about the opportunity to perhaps work in a neighborhood and be the face of a problem-solving venture … those are the kinds of people we're trying to select.
Once out in the field, however, are they given the sufficient booster shots? Are they given the reinforcements that suggests that no, this isn't just an anomaly that you find in the academy. We're not going to arrest or ticket our way out of modern day conundrums, so we have nothing to lose to try things differently.
Before you were promoted to chief, fellow officers gave you the nickname "Kumbaya Koval." However, your tenure has not been totally peaceful, particularly between yourself and members of the City Council as well as some community members. Do you think you've lived up to the nickname?
It seemed like I was sort of one of these, "OK, now, can we just talk about it or can we get along and move along?" And so I think some would rather me be, "OK, what's the most efficient way to make this problem go away?"
I think that because that was the initial moniker  — that I'm trying to look for alternatives — that was at least initially part of the casting call. However, over time, I think there's a lot of people who have issues or an agenda that is inconsistent with what I have tried to establish and say, "That's manifestly wrong. This guy is a wolf in lamb's wool."
There would have been a time, quite honestly, when I first became chief, like everyone who was living out the days of the Ferguson narrative and the days which followed it in terms of preparation for trial and all that stuff, when I would have literally worked and looked at my beloved workforce and would have said … I can never see myself in the same paragraph, much less the same sentence as Ferguson.
And then fast forward six months into my tenure, and I realized that there is no escaping the fact that as much as I think we are infinitely better, superior and more engaged than the culture of the Ferguson Police Department, whenever a young black man is killed, is killed while being unarmed by a white male police officer, whether I like it or not, whether I can prove distinctions  or try to draw differences, you're in the Ferguson boiling pot. And so Tony Robinson made us, you know, kissing cousins unfortunately to the same narrative that has unfortunately been played out all too often in our nation.
The more outspoken detractors would say, you know, Koval is no better than anything we've seen in a Ferguson or a South St. Paul or a New York in that he is just another figurehead who was there and basically not attuned or engaged or sensitive to the disparities, the gaps or the mistrust. And that is per everybody's prerogative.
In fact, however, I think that because this has been my second family since July 11, 1983, since I was a recruiter and a trainer for 18 years, is that I expect more of the Madison Police Department. I just think that if we are going to ever change the needle and be impactful and create those authentic conversations that can be had, that we have to hire a superior workforce, be very conscientious in what we train, how long we trained, the emphasis of those trainings.
And so to that extent, I'd like to believe that aspirationally, I haven't lost sight of what it means to strive to be that agency committed to community policing. Now, whether our ship has come in — clearly it has not — I think that's ever evolving. And at times, to my displeasure as well as I'm sure to community members, we wish we could accelerate the pace of that growth of trust and wished that we had done more and had more to demonstrate over the course of time.
It also takes two to tango. It takes an opportunity to suggest that not every police officer is what we see streaming through the news clips.
I view the notion of a Kumbaya Koval as something that I would consider a badge of honor. Although I'd be the first to say that there are many in this community who would say he has not earned that badge.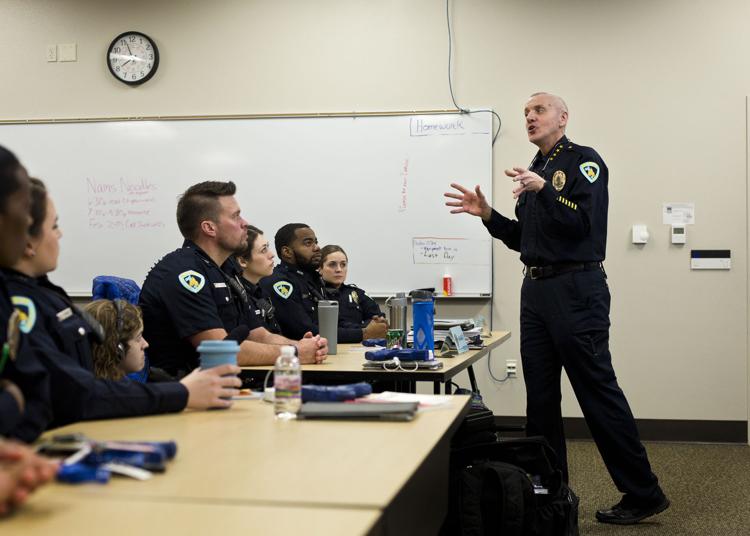 How do you reconcile moments when you have been confrontational with the aspiration of Kumbaya Koval?
I think there are some who have an expectation that all chiefs must be this complete caricature of restraint. No emotion. Every hair's in place, boots are polished, wears the uniform, says the right thing at the right time. I'm not that guy. I am a person who also has very strong feelings, very strong emotions and some have said or characterize it as this guy is way defensive.
If I have someone who has made what I believe is a spurious comment about the Madison Police Department and I respond to it, identity politics in Madison is, "There goes that white chief being defensive again." And I would say, there goes that person who has committed his entire life to the service of this community not being defensive. I'm being in defense of the women and men on the front lines who are sacrificing a great deal for complete strangers and they do not deserve the attributions that are being foisted upon them. And I will not sit idly by and allow them to be sucker punched against the ropes with no one there to fight back.
How have you worked to restore trust with the community and how do you think use-of-force events — fatal and nonfatal — affected that trust?
Every time there's an officer-involved critical incident elsewhere, but specifically here, we definitely have a diminishing element of public trust in us. Everyone would like to see — as would I — every possible option short of lethal force be used to restore order. And so when use of force is used, whether it be deadly or even highly suggestive nonlethal force, that is for sure a deal breaker when it comes to trying to craft trust.
We get that and we do everything in our power not to put ourselves in that situation or others in that situation. But anytime there's a use of force it calls into question: Has our department done all that it could? Were they properly trained? Were there options short of going hands-on or using force? Does the particular officer have a proclivity to use force and should that have somehow, some way been detected or discerned along some part of the employment past? Should they have ever been hired?
There is a lot of, by default, by necessity, a lot of sort of reconstruction after the fact to say where in the pathology of this death could it have been prevented. And I think that conversation is always healthy because we're committed to systems improvements and we're committed to the sanctity of life. So to that extent, we're all on board but I think some in this community will — and I'm not asking that they necessarily forget — never forgive. Some will never allow for reformation.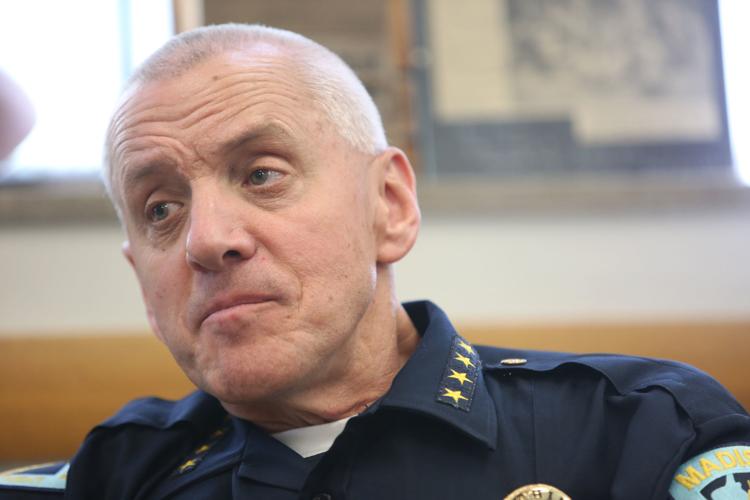 Do you think civilian review of police could help build trust in the community?
Two things have to be benchmarks for engendering trust: Are you transparent and are you accountable?
Some people suggested that body worn cameras was a quick fix to trust. You'd have transparency and you'd have accountability. And I'd say, hold on. Eric Garner (who died after being put in a chokehold by a New York police officer in 2014 in an incident caught on video, spurring protests nationwide) suggested that that's not necessarily a quick fix. But to your point on oversight and community boards, to the extent that that would advance notions of transparency and accountability, I've got no problem with it. As long as it's not my budget that's being tapped because I'm already triaging what I have. If the community feels arguably that that's the best way to engender trust moving forward, we have nothing to hide. This is not a closed shop and we will do whatever we have to do in order to meet and exceed those expectations the community has.
Is there anything you would have done differently over the past five years in your role as police chief?
When I wrote a blog basically saying, "Public officials: just as I am expected to be transparent and accountable, so goeth the same lesson for you," that was viewed as "I'm watching you," meaning, I'm literally stalking you, I'm surveilling, you. It was taken to such a literal extent when it was mostly sort of a metaphor for transparency and accountability is a door that should swing both ways. And while all the scrutiny is currently on the MPD and what we have or haven't done for you lately, can I also say that I'm not overwhelmed by what you have or haven't done to support this institution and the guardians who serve this community. So I guess I would have wordsmithed elements of that differently.
But in terms of my animation over the $400,000 study, to be clear, I didn't have, nor do I have, a problem with the police being studied. What I was doing at that time — and timing meant all of it — is that you are asking for a $400,000 study at a time when literally we were down to our capital reserves.
There was a subsequent council meeting where, because of their perceptions of how I comported myself, I think I was the public whipping post for a good two hours. The problem is people think that everything is personal. It's not. I have to develop a sort of a teflon, if you will, and say, "Ok, if I've offended you. I will say affirmatively, I apologize because that was not my intention." But if you think that trashing me and trashing the MPD is somehow a payback opportunity, well you know the sticks and stones things works for me.
I certainly have a temper. I certainly lead with my chin at times on some of these conversations because quite frankly, I reached saturation points where I say, I am tired of seeing the police blamed for everything in this community. I'm not the reason kids aren't graduating. I'm not the reason people are homeless. I'm not the reason people can't find jobs. I'm not the reason that the economic haves and have-nots is becoming more and more pronounced.
What I can control is that I'm trying to create less victims. I'm trying to deflect and redirect those people who should not be in the path of the criminal justice system away from the system. I'm trying to create a workforce that leads with heart and their empathy and their caring and the commitment to better outcomes. And for those efforts, no one's looking for a pat on the back.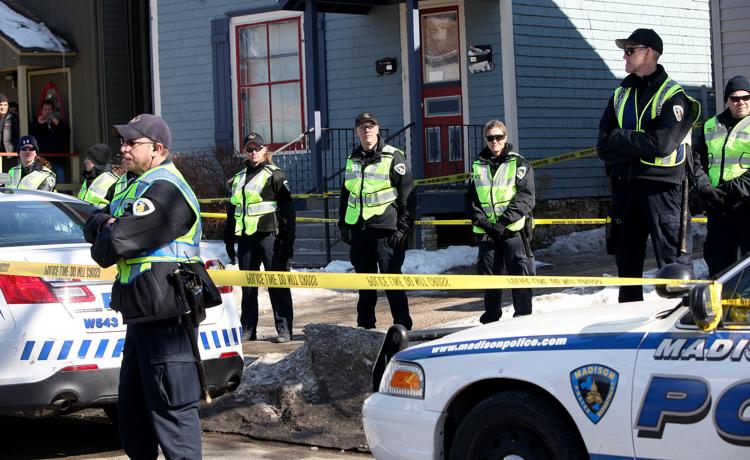 Have you learned anything through your experiences as chief that has changed your thoughts on policing?
I do believe that now, more than ever, in order to do community policing, you can't do it in a silo. You can't do it by yourself. You come to understand that community policing, and while I've always understood it philosophically and from a standpoint of aspirational goals, but as chief, you've actually seen that it's an opportunity where you have to build relationships.
Where do you think the MPD falls short? 
I think we're cutting down on tickets. I think we're cutting down on arrests, but the proportionality of those who are caught in tickets and arrests are still disproportionately high in terms of the disparities issue. And as much as we try to create mechanisms of deflection or redirection or looking at root causes, at the end of the day, there are still behaviors out there that that must be addressed. And to some extent where we're falling short is that we don't have enough complimentary pieces to divert people from the criminal justice system.
Clearly we're not choir girls and choir boys completely because every day I'm dealing with professional standards. There are instances when officers have lapses in judgment, do not exercise appropriate restraint in terms of their use of authority, misapply the law, are not hospitable or are downright incivil to people. So there are those very tangible instances. We still generate complaints on a weekly basis and that does not live up to the expectations of a guardian. Having said that, I'd say overwhelmingly officers are doing good, are living within the parameters of behavior that's expected and do not fall prey to ending up in complaints.
I think that I'd like us to be able to do more in terms of domestic violence follow up. I think we're really good with being there in a timely fashion, doing good interventions, which result in victims being made safe and people who are doing harm being extracted. But my concern is that the nature of victimology is that I wish we could do more follow up with victims in hours and days that follow up and that can be somewhat hit and miss. And so if you're truly committed to being a guardian for victims, I wish we could dedicate more time and more resources to follow up with domestic violence.
Back in 2014, you said, "This isn't my next job — this is my last job." How long do you plan on being Madison's chief of police?
It's been over five years now. I have now, over the course of five years, replaced one-third of this workforce and I've hired the biggest class in MPD history. But there'll be a time when all good things should come to a conclusion. I've decided there is no perfect exit strategy because this place is always busy.
Some people said, "Well, why didn't you leave on your five year anniversary? Just leave, just go." Well, I'm not going to have some poor unsuspecting chief interview 80 people and go through all of the promotion process and the portfolio interviews. That would just be completely unfair. I've completed a capital budget that's been submitted. I've completed an operating budget that's been submitted. This class is well empowered.
I will be candid: I feel outnumbered on many fronts. I feel outnumbered from the standpoint of those who are critical. I feel that there are those in elected offices that are intensely critical of the police. I have grown weary of the constant defense of people like (school resource officers) who do incredibly good work being scapegoated for everything from soup to nuts at a school district which has its own issues and they should just as soon deal with their own house before they start throwing stones at mine.
When all you feel like you're doing is fighting on so many fronts, it's taken a toll on me. I work 10 to 12 hours every day. The weekends are sort of my respite, where it's down to four to six a day, because that's an opportunity for community engagement. Thankfully my children are adults, grown with careers. My wife, Jane, is a consummate saint. She has literally put our lives on hold for over five years and I feel badly about that because Jane has seen only the residuals of Mike Koval after a day at the office.
Interestingly enough, some who would decry, "Well once we can get Koval out the door is a brand new ballgame," I got news for you. I've hired (every commissioned officer) but two. I would like to believe that since I'm committed to our mission, our goals and our values, that they too share a common mission, goal and values. The commanders I have put in place have been hand selected. The leadership of tomorrow is basically then all of my promotions.
That has been by design that I have outlived and outstayed more than those people who are in elected office because throw what you may, the Madison Police Department, its legacy and its culture of caring and commitment to the constituents of this community ... will not be defeated. They will continue to come back and they will rise above. And it'd be nice if they had the support of elected officials, but we're going to survive even in spite of elected officials.
What do you hope your legacy is? 
Our people and our innovative programs. When I can look at our mental health unit, when I can look at our (Community Outreach and Resource Education) officers who are doing engagement, when I can see the profound outcomes every day from patrol officers who are taking and making the time and effort to create outcomes … I see altruistic acts of selfless servanthood everywhere I look. And I think the legacy is that starts with the people that you put in these positions of trust to the community.