One calls himself the "education governor." The other actually oversees public education for the state.
Both Republican Gov. Scott Walker and Democratic challenger Tony Evers, the state superintendent of public instruction, have staked a claim as a champion of K-12 education. Yet there is perhaps no issue that presents a clearer contrast between the candidates.
Over the last four budgets, Evers has proposed providing $6 billion more in state aid to K-12 schools than Walker, while calling for an overhaul of the way that aid is distributed to school districts. His proposal for the next two-year budget seeks $1.6 billion more in state aid than the current budget with the goal of restoring a defunct state commitment to fund two-thirds of the cost of public education. It also continues to push for loosening state-imposed property tax caps.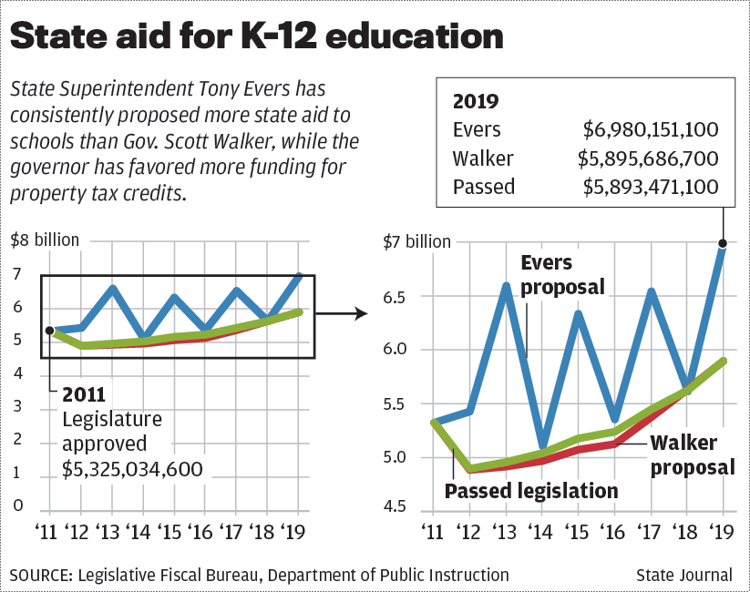 Walker has rejected Evers' budget requests and instead provided $4 billion more in property tax credits, an indirect form of school funding that reimburses property owners for a portion of what they pay to support schools. He also has added cumulatively more than $1 billion for a new type of aid that circumvents the state's school funding formula, while not raising property taxes. He has not yet proposed a 2019-21 budget but has emphasized that keeping property taxes frozen will continue to be a priority.
Both approaches are a departure from the state's historic emphasis on distributing state aid to balance the disparities in how much high-property value districts and low-property value districts can raise through local property taxes.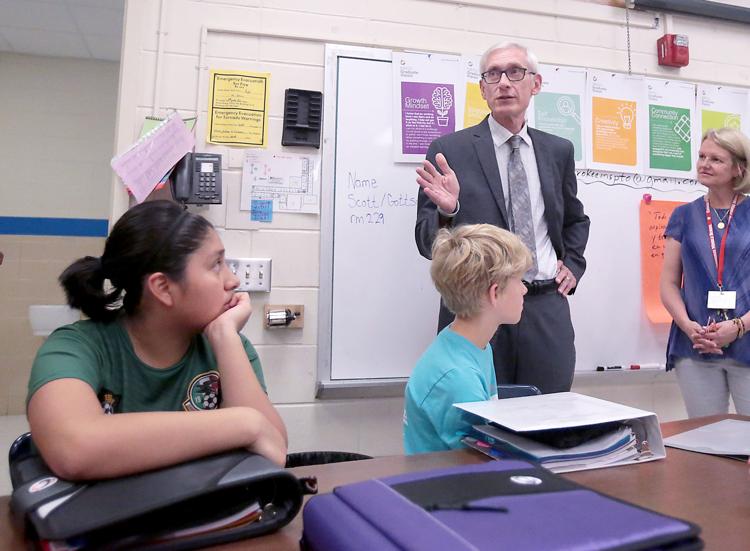 Evers favors giving more money to schools with greater needs, which is an approach more and more states are pursuing, according to Mike Griffith, a school finance consultant for the Education Commission of the States.
"What we've seen the trend over the last couple of decades is when more money becomes available in a state, they tend to distribute those dollars in a way to target high-need kids or low-wealth districts," Griffith said. "There's greater focus every year over the last 20 years on realizing there needs to be additional resources for at-risk kids to get them up to speed."
Walker's approach — giving the same amount of state aid to a student from a wealthy suburban district that can collect more from property taxes as a student from a rural or urban community — is an outlier among the states, Mitchell said.
Yet Walker blames Evers for not doing enough to close the state's yawning achievement gap among students from different socioeconomic backgrounds, tweeting earlier this month: "In Evers' failed effort to address the achievement gap all he's given Wisconsin is excuses."
Evers, who wouldn't identify how he plans to pay for his increase in education funding if elected, says Walker has rejected proposals to help close the achievement gap in each of his budgets.
"I'm prepared to make the tough decisions as governor to reallocate funding from other areas and will do whatever is necessary to ensure we're doing what's best for our kids," Evers said in a statement.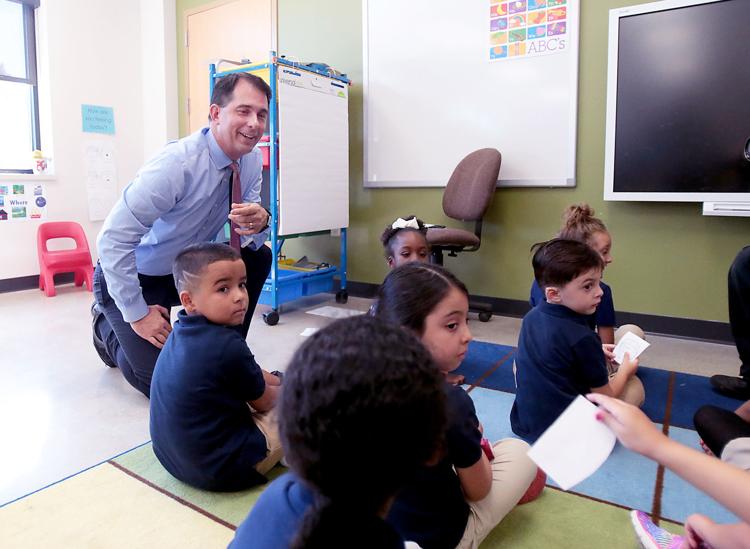 Walker and Evers both declined an interview for this story.
Education governor?
Walker has referred to his record-spending on education in the latest budget, a figure that isn't adjusted for inflation and included an $87 million per year increase in property tax credits, as evidence that he has been a "pro-education governor."
He has called for several new programs, including extending youth apprenticeship programs into middle school, that fit with his goal of directing more students into technical education fields to help address a worker shortage in the state.
"The governor is dedicated to connecting students with careers no matter their background to help make Wisconsin's graduation rate the best in the nation," his campaign spokesman Austin Altenburg said.
His focus on freezing property taxes has yielded an average annual school levy increase of 0.8 percent, compared with 5 percent annual increases under his Democratic predecessor.
But critics point to an increasing reliance on school funding referendums as evidence that Walker has passed the buck to local property taxpayers. There have been 483 referendums in Walker's second term, with voters approving 75 percent of them. In the previous five gubernatorial terms the highest passage rate was 54 percent in the late 1990s when there were 704 referendum on the ballot.
Eighty-two school funding referendums are on the Nov. 6 ballot seeking $1.4 billion. If enough pass, the dollar amount could set a new inflation-adjusted record, surpassing the $1.8 billion approved in 2016.
Julie Underwood, former dean of the UW-Madison School of Education, said a closer look at recent budgets shows it would be more accurate to call Walker the "private school education governor and definitely not the public education governor."
"On one hand you have somebody who values tax cuts over investment in public education," Underwood said of Walker. "On the other hand you have (Evers) who values putting state money into public schools to benefit individual children as a way to invest in communities."
Todd Berry, former president of the Wisconsin Taxpayers Alliance, said Walker has gotten a "bum rap" for cutting about $800 million in school aids in his first budget. Other states also made cuts during the recession, but former Gov. Jim Doyle was able to use federal stimulus money and transportation funds to keep K-12 funding at previous levels. Most of the cuts Walker imposed came out of teacher paychecks in the form of higher pension and health insurance premium contributions, rather than program cuts or school closings.
But Berry also said education is Walker's "biggest vulnerability." His latest budget may have increased funding for schools, but it punched some holes in the state budget by relying on deficit spending and committing funds from the next budget, which Berry refers to as "accounting tricks."
Jim Bender, president of School Choice Wisconsin, said Walker's approach to education recognizes "there's not just how much gas you're putting into the car, but how efficiently it moves down the road."
He touted Walker's signature Act 10 law — which eliminated collective bargaining and interest arbitration laws that critics say caused new K-12 money to unduly fund teacher salaries and benefits — for giving school districts more flexibility at the local level to better manage their budgets.
"You don't have to put as much money into or gas into that car and it's going to move at the same level," Bender said. "Tony would rather have a car with all the bells and whistles in it, but it's also an expensive model to run."
School funding complicated
Wisconsin's school funding system is complicated and unlike any other in the country. The key elements are:
The equalization aid formula, which distributes money to districts based on a number of variables with the goal of ensuring districts with higher property wealth aren't spending more on education than districts with less property wealth;
Categorical aid, which delivers additional aid to districts for certain needs, such as special education and rural transportation; and
Revenue limits, which cap how much a district can receive in combined state aid and property taxes per pupil. They were imposed in the 1990s and have locked in place disparities between how much certain districts spend per student.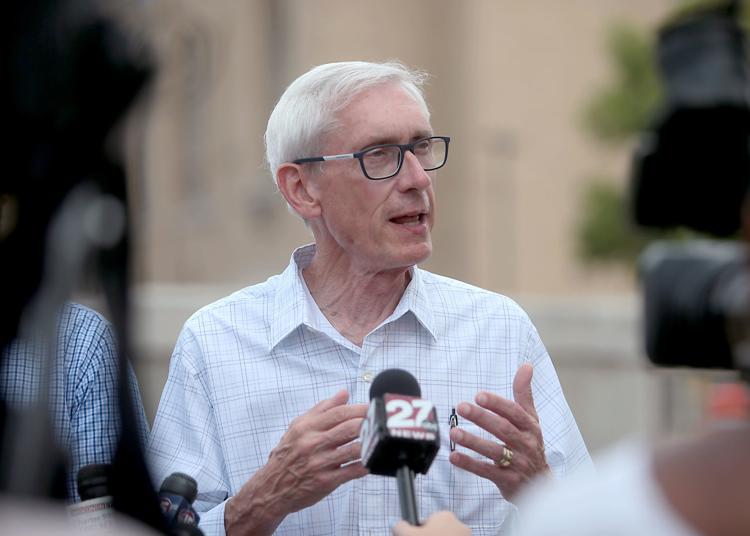 The state has tried to address disparities between districts and among students through categorical aid payments, but which areas to fund are some of the key disagreements between the Walker and Evers in their budgets.
Evers, for example, has called for more money for special education with each budget, including an 82 percent increase in his 2019-21 budget request. Walker has kept levels frozen, even in his most recent budget that adopted other spending increases Evers had requested. Evers' new budget proposal includes $60 million more for student mental health services, up from about $8 million in the current budget.
Walker, meanwhile, has expanded the private school voucher program statewide, sending millions of dollars from general school aid to private schools, including for many students whose parents were already not planning to enroll in public schools. Evers has called for scaling back the program, something that has never happened since the state pioneered the modern voucher program in Milwaukee more than 25 years ago.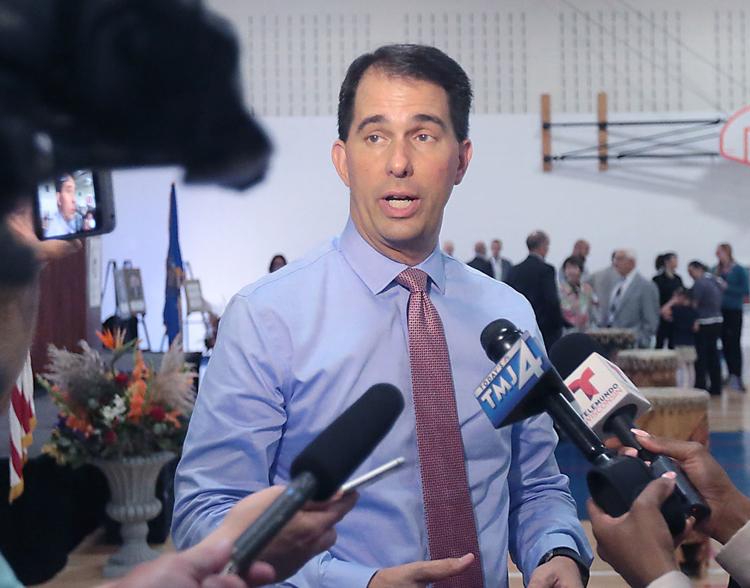 A more recent type of categorical aid pushed by Walker and Republicans, known as "per pupil aid," is now delivering $654 per pupil to each district in the state outside of the funding formula and revenue caps.
Not all districts have the same revenue level. DPI spokesman Tom McCarthy highlighted some differences:
The Beloit School District, with higher poverty and lower property values, can receive $9,626 per student, about 83 percent of which comes from state aid. So when revenue limits increase, the district typically uses all of the extra funding without having to raise property taxes much.
The more rural Plum City School District in northern Wisconsin can collect $10,271 per student, about half of which comes from aid and half from property taxes, so when limits increase the district has to engage with its community about whether to raise property taxes.
The Nicolet Union High School District in a higher property value district Milwaukee suburb receives $15,344 per student, only 5 percent of which comes from state aid, so in order to raise funding levels the district must raise property taxes.
McCarthy added, "per pupil aid subverts all of these considerations."
Funding changes eyed
Evers introduced his "Fair Funding for Our Future" proposal in 2010, when Walker was first running for governor. It takes all of the money being used on property tax credits and puts it into the school funding formula. Because of revenue limits and increased state aid, property taxes would remain stable statewide, though in some districts they would rise and others they would fall.
Similar to per-pupil aid, the new formula would give every district at least $3,000 per student, but it also would give a 20 percent aid bonus for each student living in poverty. So districts such as Madison with high property wealth but 50 percent low-income students would see a 34 percent boost in funding, while Nicolet with high property wealth but far lower poverty would get no increase.
Rep. Joel Kitchens, R-Sturgeon Bay, who is leading a bipartisan commission reviewing the state's school finance system, said he likes elements of Evers' plan such as varying aid based on student needs, but he worries about the price tag.
In the last budget Walker proposed more money for schools than Evers, even with the high price tag of the Evers funding formula change, but most of the increase went to per-pupil aid and property tax credits. Kitchens said the Legislature didn't use the funding increase to back Evers' plan because "politically there wasn't a will to come back and change it."
He also acknowledged that continuing to pump money into per-pupil aid is problematic.
"If we keep doing that, we're defeating the purpose of the formula," Kitchens said. "I know politically there may be advantages to giving everybody something so everybody's happy, but that does defeat the purpose."