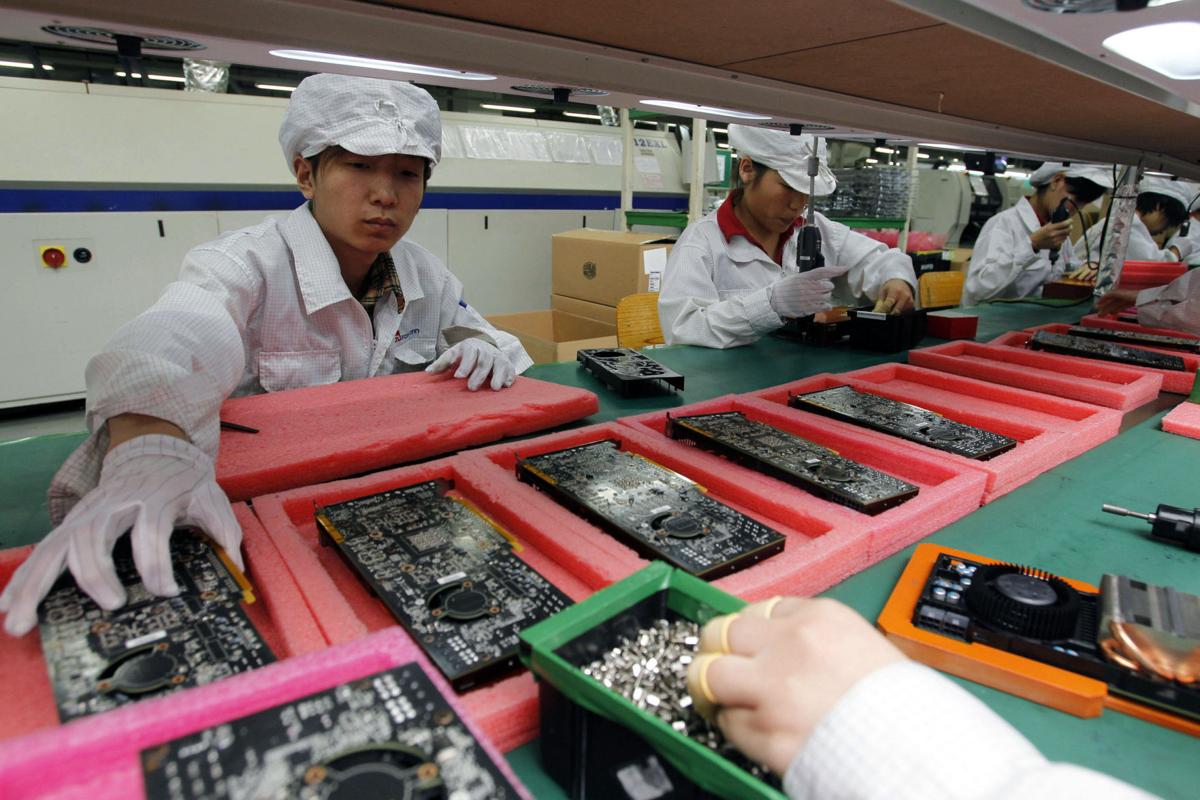 Dane County and much of Wisconsin could get a transformative economic boost if Taiwanese electronics giant Foxconn brings thousands of manufacturing jobs to the state.
But building a plant in the state also spurs questions about whether Wisconsin can supply the number of workers Foxconn may need — and whether taxpayers can shoulder the cost to land the company that may run in the billions.
Foxconn is likely to speak publicly this week about its potential plans in Wisconsin, though it remains unclear what sort of commitment to the state it will make, if any.
On Monday, the Wall Street Journal reported Foxconn was "nearing a decision to invest in Wisconsin" and could announce its plans this week in Washington, D.C. President Donald Trump's Wednesday schedule shows he will make a job-related announcement at 4 p.m.
"If Foxconn plants a flag in Wisconsin, it could be a game-changer to the state's economy," Still said.
Foxconn, formally called Hon Hai Precision Industry Co., is a contract manufacturer for electronic products such as iPhones and iPads. Reports say it's eyeing Wisconsin to manufacture flat screens for a range of devices, from phones to TVs.
Such a facility or facilities, even if located in southeast Wisconsin, could create myriad economic opportunities in Dane County, said Still and Paul Jadin, president of the Madison Region Economic Partnership. Jadin said there would be potential links for local medical-device manufacturers and for UW-Madison.
"Certainly there would be opportunities for our supply chain. We also would be a very significant player in research and development" at UW-Madison, Jadin said.
Others say state officials must not promise Foxconn too much from taxpayers.
Still's estimate of what it may cost Wisconsin to land Foxconn, based on comparable offers by other states to lure other companies, was between $2 billion and $3 billion over a period of decades.
You have free articles remaining.
Such a sum might not be outweighed by the economic benefits of landing Foxconn, said Steven Deller, a UW-Madison economist.
"If it's in the billions in terms of incentives, I think that's going to be a bad deal for Wisconsin," Deller said.
State Sen. Alberta Darling, R-River Hills, said Monday that Gov. Scott Walker's administration and Wisconsin Economic Development Corp. officials are spearheading negotiations on the state's behalf. State Senate Majority Leader Scott Fitzgerald, R-Juneau, has said lawmakers may have to pass a bill with incentives for Foxconn.
Some questioned if Wisconsin, with its modest population and low unemployment rate, could supply the workers Foxconn needs. State Assembly Republicans, in a recently released memo, said "Foxconn has indicated its desire to locate in southeastern Wisconsin with up to 10,000 jobs."
That's where Illinois may come in. The sites reportedly being eyed by the company are within commuting distance from at least part of the Chicago metro area.
"We've got to be in position to partner with Illinois" to supply workers, Jadin said.
But if a sizable number of Foxconn workers and suppliers are from Illinois, that could dilute its economic impact on Wisconsin, Deller said.
Wisconsin isn't the only state in the running for Foxconn. In June, a Foxconn executive said other states being considered were Illinois, Indiana, Michigan, Ohio, Pennsylvania and Texas, according to the Wall Street Journal report.
That means state-to-state competition for Foxconn will be fierce, Still and Deller said.
"If I was a shareholder of Foxconn, I would expect management to be playing these states off each other," Deller said. "They're in the driver's seat."
State Journal reporter Molly Beck contributed to this report.
"If I was a shareholder of Foxconn, I would expect management to be playing these states off each other."
Steven Deller, economist