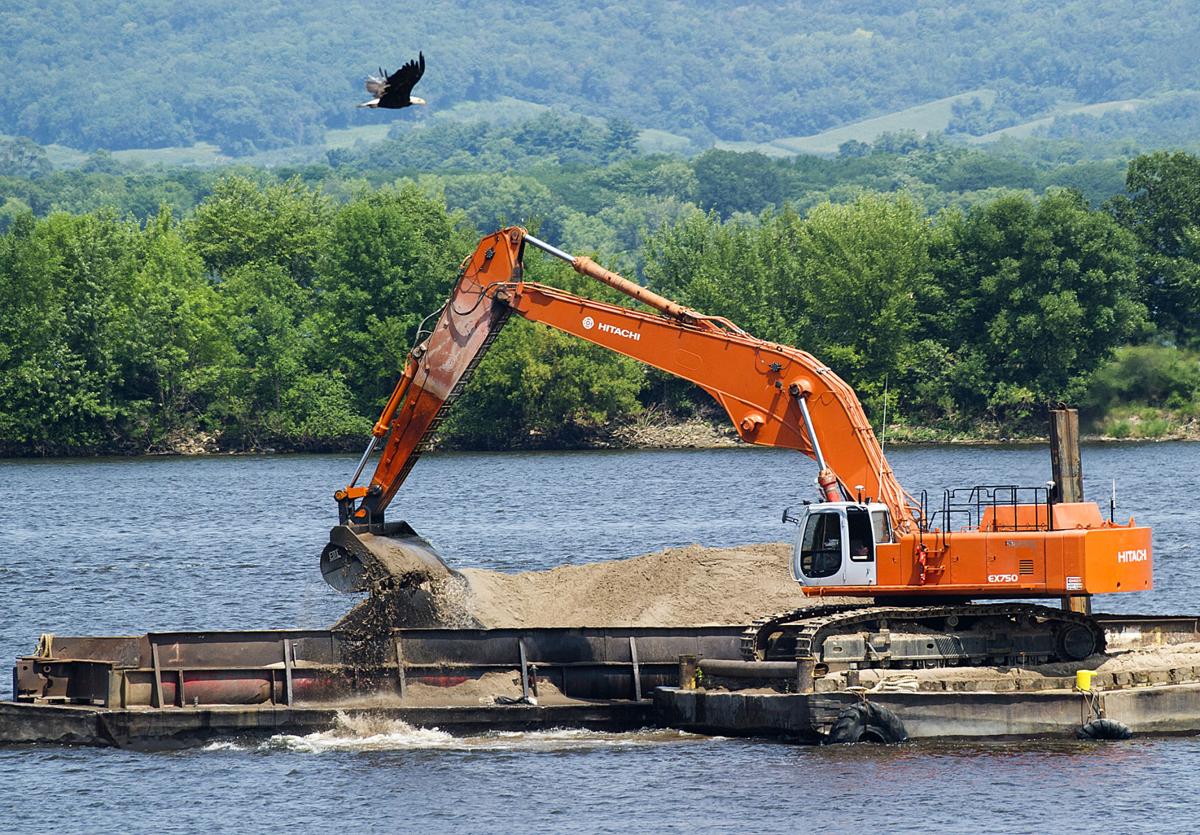 The U.S. Army Corps of Engineers usually waits until the spring floods have receded before dredging. This year, it's making an exception.
A larger-than-usual snowpack, waterlogged soils and intensive rains have led to prolonged flooding and multiple crests on the Mississippi River — and more sediment and dredge work for the crews tasked with keeping the channel clear for navigation.
"It's a tremendous amount of sand," said Dan Cottrell, corps dredging manager for the St. Paul district, which spans from St. Paul, Minn., to Guttenberg, Iowa, on the Mississippi River. "On a crazy year like this, it's likely to be above average."
How far above average depends on what the river does next, Cottrell said.
This year, the corps started dredging April 29, despite challenging conditions caused by the high water, Cottrell said.
Sediment, washed into the river and carried by the current, is deposited when the river retreats and resuspended when the river rises, Cottrell said. Changing river conditions make sediment accumulation and movement more unpredictable.
In a typical dredging season between April to November, the corps removes about 980,000 cubic yards of sediment from the St. Paul district, enough to fill Lambeau field, Cottrell said.
As of Thursday, it has dredged about 160,000 cubic yards of sediment from the river, enough to fill 16,000 dump trucks.
All but one of the 13 completed dredge sites were marked emergency dredge sites, Cottrell said. An emergency designation means there's so much sediment in the river bottoms that if the water levels were to fall that day, the channel would be closed, Cottrell said.
About another 160,000 cubic yards of dredging is ongoing or scheduled for the near future. And there's up to 1.1 million cubic yards more material for dredging this year that has yet to be scheduled, Cottrell said.
You have free articles remaining.
To keep pace with the extra sediment, the corps has brought in extra help.
It temporarily borrowed a dredge plant, since returned, from the neighboring Rock Island district. The corps announced Thursday a multimillion-dollar contract with LS Marine Inc. of St. Paul to bring two more dredges online. The contract allocates $1.25 million though the end of 2019, with the option for additional dredge support through 2024.
Once the contracted dredges are assigned, the corps will have up to six dredges operating on the river. The St. Paul district normally runs four dredges in a season, said Paul Machajewski, the St. Paul district's dredge material manager.
"I've been with the corps for 30 years and this is some of the worst conditions we've seen," Machajewski said. "We're trying to stay ahead of it."
It's too early to tell how much more the extra dredging will cost, Machajewski said. The corps spent $26 million last year on dredging in the St. Paul district, including river surveys and studies to support dredging, Machajewski said. This year, it's been allocated $29 million.
"We've got three million dollars more this year," Machajewski said, "but we're going at an accelerated pace and we're not sure where we're going to end up."
And then there's the problem of where to put all the extra sand.
Having enough storage will be an issue, said Machajewski, whose responsibility includes finding a home for all the sand.
The corps plans where to store dredged material — which can be used for habitat development to bank protection, concrete production, road maintenance, general purpose fill, and cow bedding — about 20 to 40 years in advance, Machajewski said.
There are about 20 sites where dredged sediment is stored, half of which are islands, Machajewski said. The rest of the sand goes to more permanent locations farther inland, including excavated gravel pits.
The gravel pit in Wabasha, Minn., has less than two years of capacity left, Machajewski said. "With the extra dredging we're doing now, that makes (the timeline) even shorter."The corps is talking with the city of Wabasha to figure out where to put dredged materials for the next few decades, Machajewski said. The plan should be ready for public review in the winter.
Jennifer Lu is the La Crosse Tribune environmental reporter. You can reach her by phone at 608-791-8217 and by email jennifer.lu@lee.net.