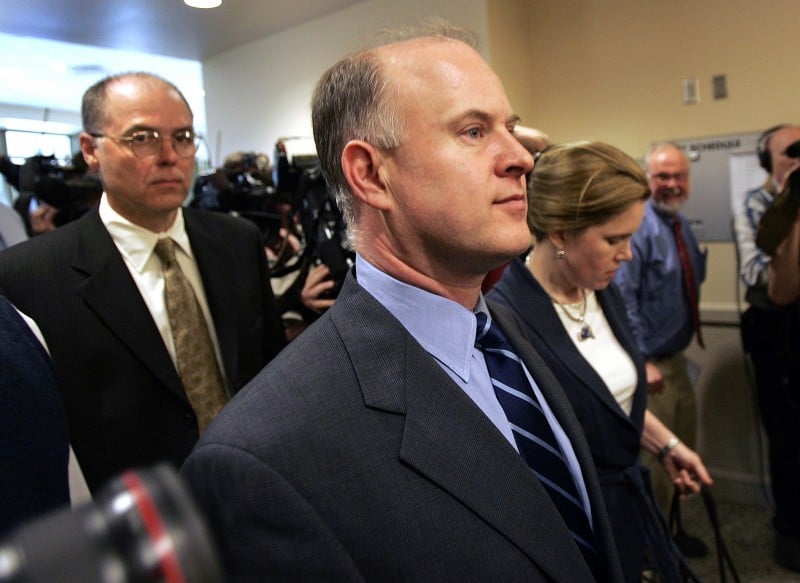 The criminal case against Former Assembly Speaker Scott Jensen ended Monday with a $5,000 fine and the assurance that the former top-ranked Republican can never run for office again, according to a plea agreement reached between Jensen and Waukesha County District Attorney Brad Schimel.
The deal, which dismissed two felony counts against Jensen and reduced a third to a forfeiture, was approved by Waukesha County Circuit Judge Patrick Snyder. The agreement was the final step in a case that had dragged on for more than eight years. One good-government advocate called the result a "miscarriage of justice."
Jensen was charged with three felonies and a misdemeanor in 2002 following an investigation into illegal campaign activity at the state Legislature. The probe was sparked by a 2001 investigation by the Wisconsin State Journal that showed the taxpayer-funded partisan caucuses in the state Assembly and Senate were operating as secret campaign machines.
In 2006, Jensen was convicted in Dane County Circuit Court on all counts after a three-and-a-half week jury trial and sentenced to 15 months in prison. The conviction was overturned in 2007 when a state Appeals Court ruled that the trial judge gave an improper jury instruction and failed to justify excluding testimony that Assembly Democrats had engaged in similar campaigning at the Capitol.
The case was moved from Dane County to Waukesha County in June after the Wisconsin Supreme Court found that a new state law allowing elected officials charged with ethics violations to be tried in their home counties applied to Jensen's case. Observers noted that Jensen was likely hoping for better treatment from fellow Republican Schimel than he got at the hands of Dane County's former district attorney, Democrat Brian Blanchard.
'A reasonable middle ground'
In a statement, Schimel said the case had dragged on long enough, and bringing it to trial would have overwhelmed his office.
But Schimel said those weren't the only considerations. The prosecutions against Jensen and four other former top leaders — Senate Majority Leader Chuck Chvala, D-Madison; state Sen. Brian Burke, D-Milwaukee; Assembly Majority Leader Steve Foti, R-Oconomowoc; and Assistant Minority Leader Bonnie Ladwig, R-Pleasant Prairie — caused "systemic change" at the Capitol, Schimel said.
"The problem has been eliminated at the root," he said. "Many involved, including Mr. Jensen, now stand convicted of crimes. These factors weigh in favor of resolving this matter with something less than a felony if a reasonable middle ground can be found."
In his own statement, Jensen, 50, said the scandal had taken a toll on him and his family. Monday marked the 2,985th day since Jensen was charged.
"For nearly a decade, this investigation has been a dark cloud over our lives," he said, thanking family, friends and supporters for their emotional and financial support. Quoting the 1972 song "I Can See Clearly Now" by Johnny Nash, Jensen called it a "bright, bright sunshiny day,"
Jensen's attorney, Robert Friebert of Milwaukee, called the agreement "a fair and just result" that was "a long time coming."
Barred from public office
Schimel noted that the agreement includes a stipulation that Jensen will not appeal the misdemeanor for which he was previously convicted in Dane County. Under the state constitution, Schimel said, Jensen's conviction of a misdemeanor for violating the public trust bars him from appearing on the ballot.
Jensen also will be required to repay the state the $67,174 in legal fees it spent defending him before he was charged.
Mike McCabe of the Wisconsin Democracy Campaign called the deal "an absolutely outrageous miscarriage of justice."
"He (Jensen) basically gamed the legal system for over eight years and was able to turn a 15-month prison sentence into a $5,000 fine," McCabe said. "He's no longer under indictment, but I think the criminal-justice system is for affording that type of treatment."
Schimel said he hopes others see it differently.
"Our criminal justice system has expended hundreds of thousands of dollars pursuing these matters," the prosecutor said Monday in a statement read in court. "The resolution today enables the citizens of Wisconsin to move forward from this matter before the end of another year. I am convinced it is the right thing to do at this time. I hope this court and the public I serve will agree."
---
May 20: The Wisconsin State Journal reports that the four legislative caucuses — one for each party in the state Senate and Assembly — operate as secret campaign machines.
June 1: Dane County District Attorney Brian Blanchard confirms he is investigating alleged open records law violations by the Assembly Republican Caucus.
Oct. 11: The state Elections and Ethics boards approve a deal to eliminate the caucus offices.
June 26: State Sen. Brian Burke, D-Milwaukee, a leading contender for attorney general, is charged with 18 felony counts, including misconduct in public office and concealing and altering subpoenaed documents. Two Burke aides also are charged, one criminally and one civilly.
Oct. 17: Senate Majority Leader Chuck Chvala, D-Madison, is charged with 20 felony counts, including extortion, misconduct in public office and filing false reports with the state Elections Board.
Oct. 18: The Assembly's top two Republicans — Speaker Scott Jensen of Waukesha, and Majority Leader Steve Foti of Oconomowoc — are charged with felony misconduct in office. The No. 3 Republican, Bonnie Ladwig of Racine, is charged with a misdemeanor. Former Foti aide Sherry Schultz is charged with a felony for allegedly using her position to raise money for GOP candidates. Jensen is also charged with the same misdemeanor as Ladwig.
Oct. 5: Burke pleads guilty to felony misconduct in public office for using state employees to run his failed bid for attorney general and to misdemeanor obstruction. The remaining 11 charges are dropped.
Oct. 25: Chvala pleads guilty to two felony counts as part of a plea deal that includes dismissal of the remaining 17 felonies against him.
Nov. 30: Burke is sentenced to six months in jail with work release.
Dec. 15: Chvala is sentenced to nine months in jail with work release.
Dec. 28: Ladwig pleads guilty to a misdemeanor ethics violation and is later sentenced to 30 days of electronic home monitoring.
Jan. 13: Foti pleads guilty to a misdemeanor for hiring Schultz to raise money for campaigns. His plea deal calls for him to spend two months in jail with work release and to testify at Jensen's trial.
March 11: Jurors find Jensen and Schultz guilty. Jensen is sentenced to 15 months in prison and banned from the Capitol for five years.
Nov. 8: A state appeals court orders a new trial for Jensen and Schultz, citing an improper jury instruction and other grounds. Blanchard later announces he will retry the two
Dec. 21: Citing a new law, Jensen asks that the new trial be moved to his home county of Waukesha. 
Feb. 21: Dane County Circuit Judge David Flanagan rules the law allowing elected officials to be tried in their home counties doesn't apply to Jensen's case. 
Jan. 15: The state appeals court upholds Flanagan's ruling. Attorney Robert Friebert announces Jensen will appeal to the high court. 
May 20: The Wisconsin Supreme Court orders the case moved to Waukesha County.
Dec. 20: Waukesha County District Attorney Brad Schimel reaches a plea agreement with Jensen to dismiss the felonies, impose a $5,000 fine, require repayment of $67,000 in legal fees and ban Jensen from seeking public office.
Source: State Journal archives