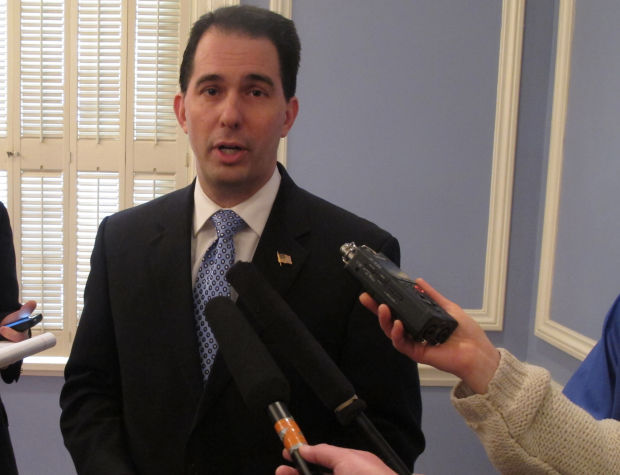 In May 2010, when Scott Walker learned one of his employees was promoting his gubernatorial campaign on county time, he told his staff in the Milwaukee County executive's office that it could not happen again.
Internal documents collected as part of a criminal investigation show county staffers then ditched a secret wireless router that had allowed them to trade campaign-related emails from their personal laptops without leaving traces on the county's computer system.
But they and Walker continued to use private email accounts to conduct campaign business during regular work hours, a State Journal review of more than 28,000 pages of emails released Wednesday shows.
Even county business was conducted largely on private emails, often with the Friends of Walker campaign staff included. Hiring and firing decisions, crafting the county budget and responding to several crises during his 2010 run for the governor's office all were coordinated between Walker's campaign and county staff.
The emails released Wednesday were used to prosecute Kelly Rindfleisch, Walker's deputy chief of staff who pleaded guilty to felony misconduct in office in October 2012 for doing
campaign fundraising during the time she was receiving a county paycheck. Rindfleisch is appealing her conviction, arguing that prosecutors used unconstitutionally broad search warrants and subpoenas. The records were released as part of that appeal after the State Journal and other media outlets sought them.
Five other Walker aides and associates were also convicted of various crimes. Walker was not charged.
The blurred lines existed both before and after Walker ordered staff to stop campaigning on county time when his constituent services director, Darlene Wink, was discovered on May 13, 2010, to have been posting pro-Walker comments online while at work.
She resigned and later pleaded guilty to two counts of political solicitation by a public employee.
Before and after that time, email exchanges show Walker campaign staff directed county staff to collect information for them, some of which was done during county work hours, although many of the requests were sent early in the morning or late at night, outside of work hours.
State law prohibits anyone from soliciting or receiving any contribution or service for any political purpose during "established hours of employment or while the (government) officer or employee is engaged in his or her official duties."
On March 16, 2010, after his campaign staff flagged an upcoming article about the Milwaukee airport as an opportunity to promote himself, Walker told his campaign team that "Fran" could put together research for the article.
Campaign communications director Jill Bader then asked county spokeswoman Fran McLaughlin and then-deputy chief of staff Tim Russell to put together information in response to a reporter's question. She followed up the next morning at 9:47 a.m.
"Fran and Tim — can you please gather of the materials Scott references below?" Bader wrote in an email also sent to Walker. "The sooner, the better."
On March 29, Walker asked campaign staff and Russell in the same email for a county report that would help Walker's campaign. "The sooner, the better (if they exist)," Bader wrote in a follow-up email asking for additional documents.
"I will get on this one first thing this am," Russell responded to Bader, Walker and others from the campaign the next morning at 6:05 a.m.
On May 13, Walker sent an email to both campaign and county staff at 6:22 a.m. suggesting the use of county resources to attack Milwaukee Mayor Tom Barrett, his eventual opponent in the gubernatorial election.
"We need to go after Barrett on the water rate hike," he wrote. "How about a letter to the Mayor calling on him to halt the water rate hike? It can come from the CE office and be given to the public."
Later, chief of staff Tom Nardelli suggested and Walker agreed the letter should remove a reference to Barrett's candidacy for governor.
"We shouldn't be using such references from our office," Nardelli wrote to county and campaign staff.
Dozens of emails showed Walker coordinating routine county business from his campaign email at various hours of the day.
In some cases, he communicated solely with county staff. In others he answered questions, critiqued media reports, coordinated schedules and talked strategy with both county and campaign staff.
For example, on May 31, Walker traded emails with his county and campaign staff to get information to counter a story that the county parks were littered with trash.
"I'm assuming the dems have called all the stations trying to pitch this story and that they've taken more pics and videos of trash all day long," Bader wrote in an email addressed to both campaign and county staff.
On July 1, Walker sent an email at 1:21 p.m. asking Cynthia Archer, head of the Department of Administrative Services for Walker, to do research for him to counter a coming negative attack by his primary challenger, Mark Neumann. "Get me all the facts I can get on the debt," Walker wrote.
Boyd McCamish, executive director of AFSCME District Council 48, which represents about 80 percent of Milwaukee County employees, said the emails are "validation of what we've known for many years."
"If people aren't prosecuted, then what does this say about this place?" McCamish asked. "If this suddenly becomes acceptable behavior, then what does that say about Wisconsin or America?"
Assembly Speaker Robin Vos, R-Rochester, said Thursday that if something was done wrong, then those people would have been prosecuted.
"What was done by staffers on public time was wrong," Vos said. "Nobody wants to say that we would condone people doing things that are wrong. At the same time, the release of all these emails is kind of old news in a lot of ways."
District Attorney John Chisholm said in March 2013 that the probe had not uncovered sufficient evidence of additional wrongdoing beyond the six people charged.
"After a review of the John Doe evidence, I am satisfied that all charges that are supported by proof beyond a reasonable doubt have now been brought and concluded," Chisholm, a Democrat, said in a statement.
Walker was traveling to Washington, D.C., on Thursday for the National Governors Association. His campaign did not respond to questions about the emails.
Mary Spicuzza contributed to this report.