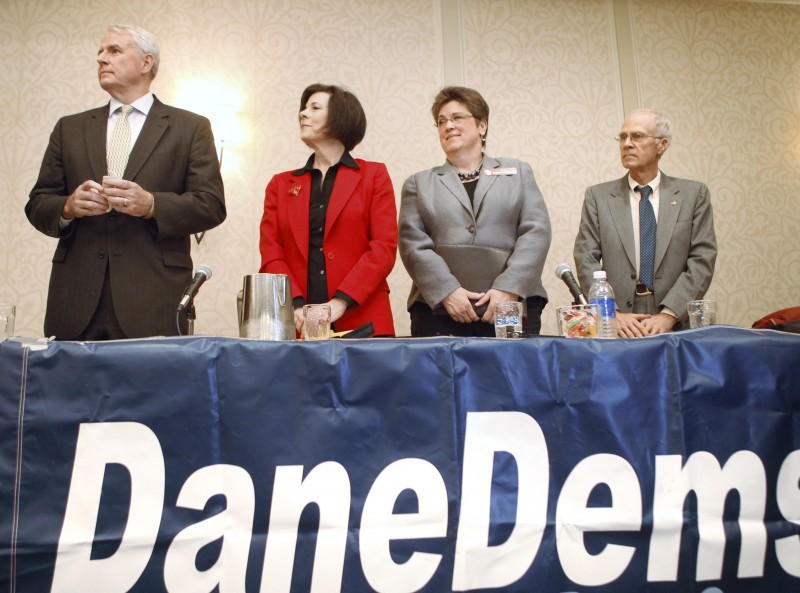 On Tuesday, voters from across the state will head to the polls to decide which of four Democratic candidates will take on Republican Gov. Scott Walker in the state's historic recall election June 5.
The attempt to oust a sitting governor prematurely from office has only been tried twice before in America. Both times, it was successful.
Whether Wisconsin voters make that statistic three-for-three or elevate Walker to being the only governor to withstand a recall attempt will be known in a month.
Vying to try to take him down are Milwaukee Mayor Tom Barrett, former Dane County Executive Kathleen Falk, Secretary of State Doug La Follette and Sen. Kathleen Vinehout, D-Alma.
Barrett and Falk have emerged as the race's clear front-runners. Although Falk has the backing of the state's largest public unions — and nearly $4 million worth of ads they've run on her behalf — Barrett is leading her in recent polls.
The most recent poll by Daily Kos/Public Policy Polling showed Barrett ahead of Falk by 14 points among 1,136 likely voters. The poll, conducted April 13-15, had a margin of error of plus or minus 2.9 percentage points.
The same poll showed Walker garnering 50 percent of the votes against either of the candidates.
We asked the Democratic candidates to highlight their views on significant state issues and describe what sets them apart from each other.
Tom Barrett
A referendum on the governor. That's how Barrett views the upcoming recall election against Walker.
The Democratic primary is the final hurdle between Barrett and a political rematch against Walker. He lost to the governor by some 125,000 votes in November 2010.
His strategy is to focus on Walker's failure to create a promised 250,000 jobs and the "ideological civil war" Walker started when he stripped collective bargaining rights from public unions..
His strategy to restore the rights to public workers is threefold.
As early as the summer, Barrett says he would call a special session of the Legislature to pass a bill to restore collective bargaining. If Republicans prevent that from happening, Barrett says a free-standing bill would be introduced when the Legislature reconvenes in January, after November legislative elections.
If those two options fail, Barrett says he would consider including a provision to restore worker rights in the next budget. But given that a stalled new state budget merely keeps the old one in effect, Barrett sees no incentive for Republicans to sign off on a budget that would repeal Walker's work.
"What the Republicans have right now is their dream budget," Barrett says. "They would have zero, zero incentive to give me, or any other governor, what we want."
Barrett, the only candidate who had to put together a major budget subsequent to Walker's new state budget, saw a $15 million cut in shared revenue from the state with no other revenue sources in 2011.
His options: Lay off city workers in an economy with no jobs or make workers pay more toward their health care, as Walker's collective bargaining provision allowed. Barrett chose the first option, which has drawn criticism from his Democratic opponents.
As for job creation, Barrett says the first order of business is to "stop the bleeding."
That means encouraging, not discouraging, industries from coming to Wisconsin.
He says since Walker took office, seven wind projects have been either canceled or suspended, costing the state more than $1 billion in investment and up to 900 construction jobs.
He points to Walker's decision not to accept federal money to expand high-speed rail as a reason Spanish train manufacturer Talgo recently issued layoff notices to its workers in Milwaukee.
Barrett says he'd also look at the tax cuts passed under Walker to see which, if any, are leading to job growth. "He said those cuts were meant to spur development," Barrett says. "Well, they didn't work."
Reviving the economy through job growth would bring increased tax revenue that could be used to restore cuts to education, the mayor says.
As for changes made under Walker to women's reproductive and overall health care, Barrett says he would restore funding to Planned Parenthood for cancer screening and would work to restore the Healthy Youth Act and the pay equity enforcement law and to repeal a new law that threatens doctors with felony charges if they don't follow certain procedures in cases of pill-induced abortions.
"In the end, the voters will decide if they want to end the ideological civil war and if they are satisfied with Wisconsin being dead last in job creation," Barrett says. "I know the answer to those questions is 'no.'"
Kathleen Falk
Falk's pitch to Democratic primary voters is simple: She is consistent and she is progressive.
She gives two key pieces of evidence to support this claim.
The first is her support from a variety of traditionally left-leaning organizations, including labor unions, environmental groups and women's advocacy groups.
The second is that she has been an outspoken supporter of the fight against Gov. Walker's agenda since its inception and is the only candidate who has pledged to veto the next state budget if it does not restore collective bargaining rights to public workers.
"When Gov. Walker dropped the bomb, I filed the first lawsuit to challenge that action, while Tom (Barrett) sent a letter to the Joint Finance Committee urging them to make it even worse," she says, referring to Barrett's criticism of Walker for exempting police and firefighters from the collective bargaining changes.
Falk also dismisses Barrett's claim that he could restore collective bargaining without forcing the Legislature to put it in the budget. "If anybody's telling you that's the answer, they either don't know (what they're doing) or they're not committed," she says.
The former Dane County executive points to the 14 county budgets she balanced during her tenure, and notes the concessions she negotiated with union workers in recent years, to the benefit of taxpayers.
But Falk's candidacy is not all about labor. Education, honesty in government and health care are what she describes as her top three priorities. Like the other Democratic candidates, Falk deplores the deep spending cuts made to schools, universities, technical colleges and BadgerCare.
How she will realize her vision to reinvest in education and health care is less clear. The only new source of revenue she is willing to commit to is the reinstatement of combined reporting, a tax law approved by Democrats in 2009 that prevents companies with headquarters in other states from evading state taxes. Walker has since rolled back part of the law.
"That's $40 million that it cost all the rest of us taxpayers," she says, noting that Walker's $71 million cut to technical colleges may not have been so severe if not for the rollback. To Falk, the tech college cut was one of the worst possible at a time when there are thousands of jobs that businesses cannot fill because not enough applicants have the necessary technical skills.
As for how she would raise money to restore the hundreds of millions cut from schools, universities and health care, Falk is unspecific, saying only that she will examine every possible tax break given to businesses and undo those that "aren't working."
"I won't raise taxes," she insists.
One of the truly unique aspects of Falk's platform is her proposal to harness Wisconsin's scientific resources to create jobs. Specifically, she has identified three resources Wisconsinites have access to that other states do not: lake water, wood pulp and stem cell lines.
"Not only is (stem cell research) life saving but it requires equipment that I want manufactured in Wisconsin," she says.
The other unique part of Falk's platform is her promise to address what she terms the "student loan debt crisis." Although she does not have specific proposals on how to lower the main driver of debt — the ever-growing cost of tuition — she has proposed appointing an overseer of student debt, which affects two-thirds of Wisconsin university and technical college students.
"By designating a key person it helps develop an infrastructure" to address the problem, she says.
As the primary approaches, polls show Falk needs an eleventh-hour comeback to catch up with Barrett. In response, she and supporters have been casting her as the "only one" who has been fighting against Walker since the beginning and getting the support of progressive organizations.
Douglas La Follette
He has virtually no money and virtually no political allies. Two glaring weaknesses by conventional political calculations, but to La Follette, they are the makings of a strong, unique identity.
He thinks his ability to win over moderates not only makes him the most viable candidate against Walker, it would make him the governor most able to bridge the divide Walker has created in the state.
"I'm not a Madison liberal, I'm not a big city mayor," he says. "I get elected when other Democrats do not get elected."
Although La Follette has indeed won every election for his office since 1982, the position he occupies has little power. He oversees an office with four employees, largely charged with keeping various government records.
However, La Follette insists he can gain support from independent voters and leverage that to create a dialogue with Republican legislators, many of whom he believes will want to work with a governor to restore the "Wisconsin way," which he describes as a respect for public institutions, the environment and workers' rights.
Unlike Falk and Barrett, La Follette does not commit to a specific means of restoring collective bargaining rights, instead saying it can be accomplished by bringing everybody, from unions to Republicans, together to discuss a way forward.
While most other Democrats have said they are in favor of the increased contributions for health care and pension benefits that Walker demanded of public workers, La Follette criticizes the measures as regressive, since they hit low-wage workers hardest.
La Follette also thinks important issues, most notably the environment, have been left out of the debate in the Democratic primary.
The environment "is not only something I care about, it's something very important for our economy," continues La Follette, who founded Clean Wisconsin, an environmental organization, 40 years ago. "This famous choice between a good environment and a good economy is false."
To the end of improving the environment, La Follette says he would "fire" the Natural Resources secretary and return the power to appoint that person to the department's board of directors.
As for restoring funding to education and other important programs, La Follette says he would "fly to Washington, D.C." to try to reclaim funding for high-speed rail that Walker nixed, as well as close tax loopholes that exempt certain properties and services from taxation.
Kathleen Vinehout
Since Walker was elected to office, Vinehout says she has been fighting much of his agenda from her seat in the Senate.
"I've been on the frontline fighting this legislation," says Vinehout, who was first elected to the Senate in 2006. "No one else has been on the Senate floor, in the committees trying to delay these bills, or trying to make what he was doing known quickly to the public."
It's one thing that sets her apart from the other three Democrats in the primary, she says.
The other is the alternative budget she drafted shortly after Walker introduced his budget last year.
Vinehout's budget arguably provides more details than any other candidate has offered as to how she would govern. Her budget, like Walker's, doesn't raise taxes. Instead, it spends $500 million on different priorities.
Unlike Walker, Vinehout would not fund school voucher and charter school expansion programs. She also would eliminate Walker's tax breaks for corporations and the wealthy.
By cutting those alternative education programs and returning tax revenue to the state, Vinehout says, there would be enough money to restore 85 percent of the roughly $790 million cut to K-12 education, the entire $71.5 million cut from the technical college system and cuts to state programs for veterans, to name a few examples.
"Walker said the state didn't have money so we had to make all these cuts," she says. "Well, that's wrong. He made these cuts for ideological reasons."
If elected, Vinehout says she would push for an emergency funding bill for K-12 schools prior to the start of fall classes.
Her long-term solution to solving the state's perennial struggle to fund public education calls for implementing state Superintendent Tony Evers' "fair funding for schools" plan over the next five years.
That plan holds state funding at its current rate for the wealthiest districts while changing the funding formula to reflect the fact that not all students cost the same to educate.
Vinehout prefers to restore collective bargaining rights through a standalone bill introduced when the legislative session begins again in January.
Once the tone changes and public workers are no longer pitted against private workers, and the state again begins to invest in "human capital" through education at all levels, Vinehout says the job market will grow.
"My Republican colleagues believe if we reduce taxes, eliminate regulation and slash programs, the private sector will be set free to thrive," Vinehout says. "But that promise hasn't been kept."
As for the so-called war on women, Vinehout is in agreement with her Democratic rivals in believing that much of what's been passed under Walker needs to be reversed.
"For abortion to be safe, legal and rare, we have to educate children on how babies are made, we have to make sure women as well as men have access to birth control and we have to make sure everybody has access to affordable health insurance," she says.
To fix what she calls "the division among us," Vinehout says she'll replace Walker's "Open for Business" signs across the state with signs that read "Open for Everyone."
Get Government & Politics updates in your inbox!
Stay up-to-date on the latest in local and national government and political topics with our newsletter.