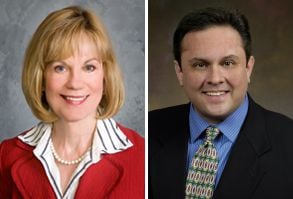 Two Republican lawmakers on Wednesday began signing up co-sponsors for a bill that would end Election Day registration, which is used by hundreds of thousands of Wisconsin voters each general election.
The move came the same day Gov. Scott Walker said the controversy over eliminating same-day registration was a "ridiculous issue," Dane County leaders said they want county voters to weigh in on the proposal, and advocates decried it as an "anti-democratic" move to suppress the vote to benefit Republicans.
Rep. Joel Kleefisch, R-Oconomowoc, said he and Sen. Alberta Darling, R-River Hills, are drafting legislation to kill same-day registration. A message forwarded to Kleefisch by his aide was not returned Wednesday.
Assembly Minority Leader Peter Barca, D-Kenosha, called news of the possible legislation "especially surprising after a campaign focused on bipartisanship that the first bill idea to come out of the gate is an extreme, social bill, not a jobs bill."
The disclosure came about half an hour after Walker, who has called for ending same-day voter registration, complained to reporters that critics "are trying to make a huge distraction out of something that isn't a legislative priority."
The governor insisted there have been problems with Election Day registration "for years" but was unable to cite any examples.
"This is a ridiculous issue," Walker said. "My priority is about creating jobs. It's not one of my legislative priorities."
A spokeswoman for the Wisconsin Municipal Clerks' Association has said the group opposes ending same-day registration, while a spokesman for the state's election agency, the Government Accountability Board, has said he knows of no problems caused by it.
Also Wednesday, Dane County Executive Joe Parisi and incoming County Clerk Scott McDonell said they favor an advisory referendum on the county's April 2 ballot. The Dane County Board is scheduled to discuss the issue Thursday.
McDonell said the proposal is an attempt "to suppress turnout for partisan advantage." Parisi, who served as Dane County clerk for eight years, said same-day registration is one of the reasons for the county's extremely high voter turnout.
"Dane County's nearly 85 percent turnout in last month's election was among the best, not only in the state but the nation," Parisi said in a news release.
Government and community leaders in Milwaukee also held a news conference Wednesday to oppose any attempts to kill registration at the polls.
— Bill Novak of the Capital Times contributed to this report.
Get Government & Politics updates in your inbox!
Stay up-to-date on the latest in local and national government and political topics with our newsletter.