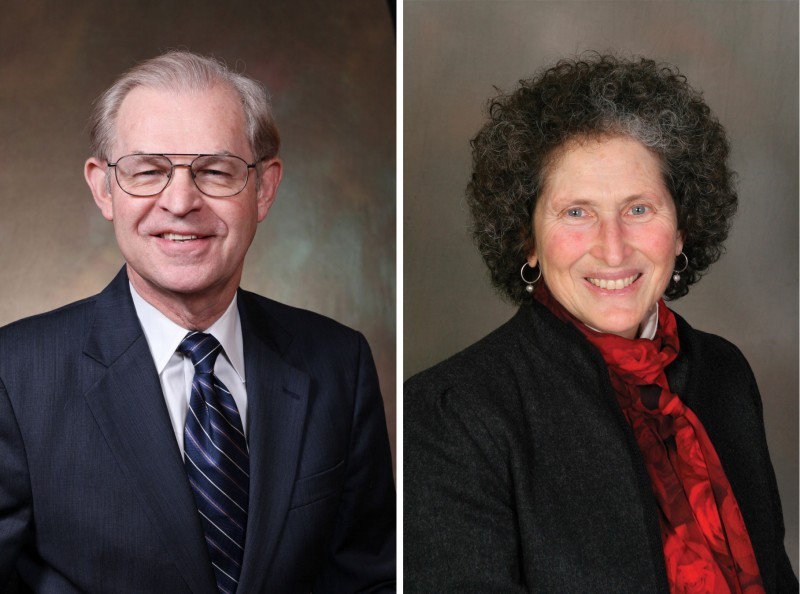 You've seen it before. A liberal and a conservative vying for a seat on the state Supreme Court. But this year it's different. Both candidates will be trying to get their messages to voters with public money.
Both conservative incumbent Justice David Prosser and challenger JoAnne Kloppenburg of Madison have pledged to adhere to the state's new Impartial Justice law, which hands candidates in the general election $300,000 each in exchange for curtailing their own fundraising efforts. For Kloppenburg, it's a chance for Wisconsin voters to "be confident that the justice they elect is truly independent and impartial," she said after winning the chance to take on Prosser Tuesday night.
Prosser's reason for taking public funds? "If I had not accepted the public financing scheme I would have been roasted alive," he told NBC 15 last week.
Prosser has clearly taken public financing with a grain of salt. As a 12-year incumbent with political connections dating back to his 18 years as a Republican state legislator, he likely would have easily won the fundraising battle with Kloppenburg, a relatively obscure prosecutor with the state Department of Justice. But he would have had to raise the first $300,000 just to break even. Then he would have seen Kloppenburg rake in matching funds of up to $900,000 for any expenditures above $300,000, or expenditures spent on his behalf by special interest groups.
And that's supposed to level the playing field. Does it?
The primary election, which Prosser won comfortably, was a test case. Two of the challengers, Kloppenburg and Madison attorney Joel Winnig, accepted public funding, and both ran television ads. Marla Stephens, an official with the office of the State Public Defender, rejected public financing and raised only about $37,000 as opposed to the $100,000 the public financed candidates got. She didn't run television ads.
That fulfilled Prosser's wish. During his interview with NBC 15 he said, "If there's going to be independent expenditures, well I hope I'll be the beneficiary of some of them."
You have free articles remaining.
With the balance of the court at stake — it's currently split 4-3 split in favor of conservatives — and the potential for inflamed liberal emotions as a result of the current epic struggle between Gov. Scott Walker and public employees, there will likely be much more to come. We could see a massive special interest spending spree, just like the one that beat out liberal incumbent Louis Butler in 2008. In that race, Butler and Michael Gableman together spent $1.18 million, while special interests spent $4.8 million. Special interests also outspent the candidates in the 2007 smackdown between Annette Ziegler and Linda Clifford, which Ziegler won.
While last year's race between Chief Justice Shirley Abrahamson and Jefferson County Judge Randy Koschnick was a bit of a reprieve — few thought Koshnick stood a chance against Abrahamson's fundraising juggernaut — this years bout is likely to bring out the big spenders.
Wisconsin Manufacturers & Commerce, the big business lobby that pumped $1.2 million into defeating Butler, sat out the Abrahamson race. While messages seeking comment on the group's plans this year were not answered, they spent $4 million to tip the court, and the group is likely to protect its investment.
Also likely to weigh in are the liberal leaning Greater Wisconsin Committee, which spent $1.1 million in 2008, and the conservative Coalition for America's Families, which spent $381,881.
"I think it's safe to assume this is an extremely important race, and you're going to see a good deal of activity from both the campaigns as well as outside interest groups," says Brian Nemoir, Prosser's campaign manager.
The only question is, will the groups try to skirt the law by omitting the words and phrases that trigger rescue funds, like the Wisconsin Club for Growth's effort in the primary, or will they just push matching fund payouts to the limit, then operate as if the law were never enacted?
If it's the latter, the state's campaign finance law could usher in another Supreme Court campaign with record-breaking spending, but less of it done by the candidates themselves.
"I think it's a challenge when you restrict the spending in a race because in effect, what it does is it prevents you from getting your message out and in turn it empowers others who have bigger wallets and aren't restricted," says Nemoir.
Editor's note: This story has been amended to reflect the fact that Prosser did buy campaign ads.