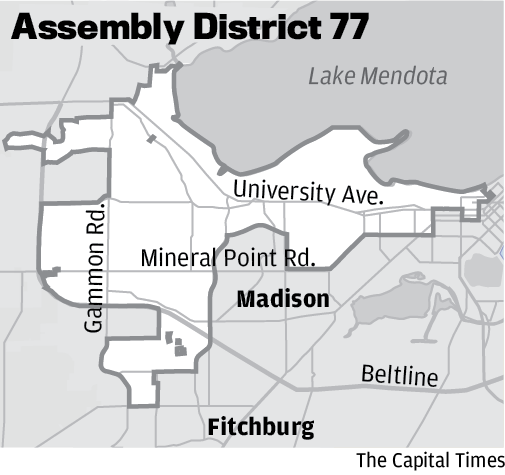 Four candidates are running for the 77th Assembly District seat on Madison's West Side being vacated after 26 years by Spencer Black, who has endorsed Democratic nominee Brett Hulsey.
Brett Hulsey
Family: Married with two children
Address: 110 Merrill Crest Drive, Madison
Current job: Energy and environmental consultant
Political experience: Dane County Board supervisor since 1998, member of Public Protection and Judiciary Committee, Lakes and Watersheds Commission, Madison Area Transportation Planning Board, and Madison Development Corporation Board of Directors; chairman of Yahara CLEAN Committee; member of National Association of Counties Green Government Advisory Committee; environmental policy advisor to President Clinton and energy conservation advocate for President Carter.
Other public service: Glenn Stephens Elementary Parent Teacher Organization co-president, Memorial Band and Sports booster, Middleton High School Rugby Team sponsor, past president of Madison Nordic Ski Club.
Education: Master's in natural science and science education, University of Oklahoma; graduate researcher, Dartmouth College's Thayer School of Engineering; bachelor's in political economy, Middlebury College.
Ben Manski
Address: 410 Ridge St., Madison
Current job: Public interest attorney
Political experience: Former co-chairman, Green Party of the United States and UW-Madison Shared Governance Committee; former member of Associated Students of Madison Council, Student Affairs Committee and Madison School Board.
Other public service: Founder, Liberty Tree Foundation; associate fellow, Institute for Policy Studies, Washington, D.C.; executive committee, MovetoAmend.org; Individual Rights and Responsibilities Board, Law Related Education Committee, and chairman, Legislative Affairs Committee, Young Lawyers Division, State Bar of Wisconsin; president of Progressive Communities Foundation; national coordinator, No More Stolen Elections!; co-founder, United for Peace and Justice; anti-mining organizer, Wisconsin's Environmental Decade; national coordinator, Democracy Teach-Ins; board member, Wisconsin Community Action Center.
Education: Law degree, UW School of Law; bachelor's in sociology, UW-Madison.
David Olson
Address: 201 S. Yellowstone Drive, Apt. 208, Madison
Current job: Safety coordinator
Political experience: Volunteer on Rob Taylor for U.S. Senate Campaign, political activist that worked to defeat the DISCLOSE Act, the DREAM Act, Police and Firefighter Monopoly Bargaining Bill, and the GAB 1.28 ruling.
You have free articles remaining.
Other public service: Six years in Army National Guard, one tour in Afghanistan; Habitat for Humanity.
Education: Bachelor's in health promotion, UW-Stevens Point.
David Redick
Family: Divorced, two daughters
Address: 923 Hampshire Place, Madison
Current job: Energy consultant
Political experience: Candidate for Congress, California, 1982 and 1984; California Assembly, 2004; and U.S. Senate, Wisconsin, 2006.
Other public service: My website Forward-USA.org and books "Rebuild America Now" and "Monetary Revolution-USA" educate the public and government on better government, more peace, prosperity, justice, liberty and morals.
Education: Bachelor's in engineering, University of Michigan; master's in business administration and economics, Santa Clara University.
---
Q&A
Should the state do more to improve the quality of its lakes?
Hulsey: Absolutely, this is a top reason I am running for Assembly. My plan will build five more manure treatment facilities, clean up 100 more storm sewers, create 1,000 rain gardens, install safety booms at impaired beaches, restore 400 miles of stream banks and 4,300 acres of wetlands, and strengthen and enforce runoff rules against developer and factory farms.
Manski: The number one source of toxic mercury poisoning our lakes is pollution from coal-burning power plants. My opponent (Hulsey) took $192,000 to lobby for coal. The lesson? Corporate money is polluting both our lakes and our politics.
Olson: The state overstepped its authority with the shoreland zoning regulations without doing a proper economic evaluation of the economic impact to its citizens. The Legislature needs to ensure greater oversight of its agencies to ensure that agencies do not usurp the rights of citizens.
Redick: Yes. Those who dump pollutants are violating the property rights of others and must be stopped and correct the harm at their expense. Manure digesters and conversion of the methane to electricity is a good example.
How should Wisconsin finance public education?
Hulsey: I support keeping the Legislature's promise to fund two-thirds of primary funding, increasing funding for UW and MATC, reforming the funding formula to help Madison and Middleton schools, preventing school gangs and increasing efficiency to cut school energy costs.
Manski: I will work toward achieving a constitutional mandate for the full funding of public education through the university level. I will work to eliminate local property taxes as a basis for school financing and to derive school financing, instead, out of general revenue.
Olson: Property taxes should only fund local programs. The state should work to reduce the mandates on programs to only those that are necessary to an individual being able to be productive and law abiding individuals in society.
Redick: Replace property tax with tuition. Allow complete freedom in creation of private schools with no government controls.
What's the best way to stimulate economic growth?
Hulsey: My plan creates a Clean Energy Revolving Loan Fund to help pay for upgrades, expands Focus on Energy for homeowners, businesses and manufacturers, and expands programs like the Madison Development Corporation Venture Debt Fund to increase investment.
Manski: My economic agenda prioritizes community and green business growth, and the creation of a state bank to protect and reinvest in Wisconsin's economy.
Olson: Reduce overregulation and reduce over taxation of Wisconsin's employers.
Redick: Reduce taxes and spending.