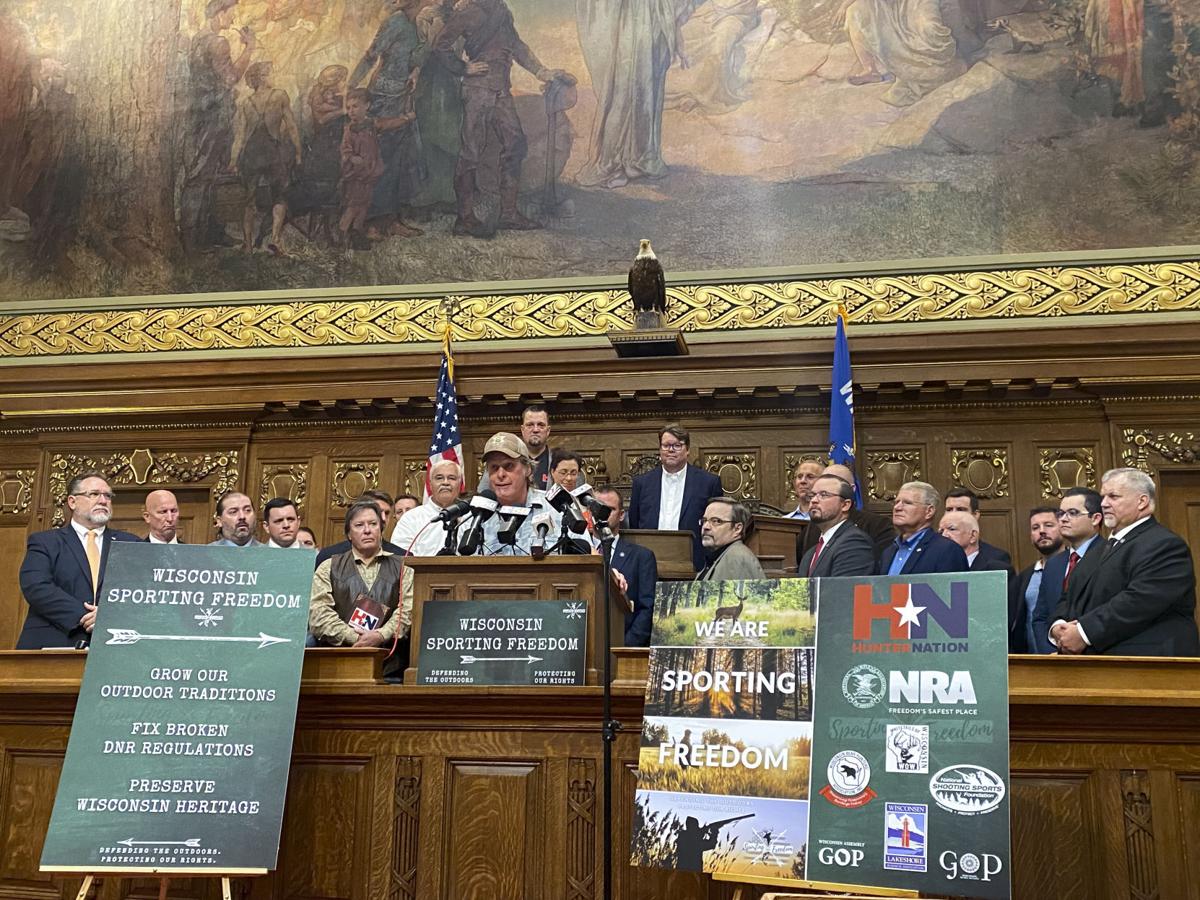 Wisconsin Republicans got a little help from the Motor City Madman on Wednesday as they promoted a package of bills designed to expand gun rights and opportunities for hunting, fishing and trapping.
The outspoken rocker, best known for 1977's "Cat Scratch Fever," joined a group of lawmakers at the state Capitol to discuss the recently introduced "Wisconsin Sporting Freedom" package. 
"We're going to cleanse the arbitrary, punitive, capricious overregulation creating attrition, failure to retain and failure to recruit (in sporting)," Nugent, a spokesman for the Kansas-based hunting rights group Hunter Nation said.
The set of 13 bills includes measures to allow adults to carry a concealed weapon without a license, hunt sandhill cranes and hunt non-native bovids, such as buffalo and antelopes. It also includes proposals to streamline regulations from the state Department of Natural Resources and to set minimums for the number of pheasants stocked and brook trout raised by the agency.
"Our sporting heritage is worth fighting for, worth preserving," said Senate Majority Leader Devin LeMahieu, R-Oostburg. Now, more than ever, Nugent said, "in these treacherous crazy times in 2021, we need that spirit of participation in the healing powers of nature."
Wisconsin, like the rest of the country, has seen a decline in hunting over the last two decades. The trend is troubling for conservationists, as much of the money generated by sporting activities funds conservation efforts. A 2016 DNR study found that nearly 90% of the state's fish and wildlife budget comes from state licenses and federal excise taxes purchased or paid by hunters, anglers, trappers and shooters.
A 2018 Wisconsin Policy Forum analysis found that, between 1999 and 2017, total deer licenses issued in the state decreased by 5.8%. During the same time period, fishing licenses increased by 3.7%; however, the report notes, "the state population grew about two and a half times faster than fishing licenses over the period, suggesting anglers are shrinking as a share of the state population."
Hunting and fishing license sales contribute to the management of public lands, management and protection of endangered wildlife, funding for research and more.
The decline in sporting activities has been tied to factors including an aging population, lack of access to land and the popularity of indoor hobbies — especially as technology advances. But lawmakers behind the sporting bills also blamed "overregulation, burdensome rules and increasing permit costs."
Other bills in the package would require the DNR to eliminate three rules for every one new proposed rule, simplify the state's turkey hunting framework, allow a person to satisfy the in-person field testing requirement for a hunter safety program by going on a mentored hunt, and require several reports from the DNR on issues including access to public lands and opportunities to partner with the private aquaculture industry.
No Democratic lawmakers appeared at the event, although Hunter Nation founder Keith Mark said he is a Democrat, and said the measures being proposed shouldn't fall on party lines.
But Rep. Nick Milroy, D-South Range, said in a statement that he was "extremely disappointed" Republican lawmakers "neglected to work on their newly introduced Wisconsin Sporting Freedom Package in a way that was bipartisan, transparent or inclusive." 
"Wisconsin's sporting heritage is a rich part of Wisconsin's culture with a significantly positive impact on the economic development of the state, specifically in northwestern Wisconsin," Milroy said. "It's imperative that we continue to work towards ensuring our state's pristine beauty and sporting heritage for future generations. But we need to do it in an inclusive, bipartisan manner. Wisconsin voters deserve better than the current partisan practices of the majority party."
Wisconsin Wildlife Federation executive director Mark LaBarbera said the organization, along with several others including the Wisconsin Conservation Congress, Pheasants Forever, the National Wild Turkey Federation and Trout Unlimited were not consulted on the bills. The Wisconsin Wildlife Federation looks forward to reviewing the bills and sharing its expertise throughout the legislative process, LaBarbera said.
Previous legislative efforts to authorize a sandhill crane hunting season and to eliminate concealed carry licenses have failed in Wisconsin. 
Nugent — who has earned notoriety over the last few decades for racist, misogynistic, anti-Semitic and homophobic comments — said he spoke for the "millions and millions of American families who pursue this lifestyle of hands-on conservation that literally is God's work."
"The deer was made the perfect size for my arrow. The beaver pelt is perfect for my grandchildren's Christmas gift," Nugent said. "Hunting, fishing and trapping is perfect, and when they're overregulated, people quit. People don't participate, and that's what's happening."
A spokeswoman for Gov. Tony Evers did not respond to a request for comment on the bills when lawmakers first announced them last week. A spokeswoman for the DNR said the agency is reviewing the bills and has no immediate comment.
Evers, who has pushed for tighter restrictions on guns while in office, would almost certainly veto the "constitutional carry" bill, which Sen. Mary Felzkowski, R-Irma, argued would "empower law-abiding gun-owners to give them the rights to enact their freedoms that are given to them under the Constitution." Felzkowski also noted that it is already legal for adults to openly carry firearms without a license in Wisconsin.
The last time a sandhill crane hunt was proposed, in 2012, it faced opposition from environmental groups. 
Currently, Wisconsin farmers whose crops are damaged by sandhill cranes are allowed to obtain a permit to shoot them, but they cannot legally eat the meat.
"We've learned over the years that there's been so much depredation by cranes on agricultural crops that farmers are given permits to shoot them, but are not allowed to use the meat. So that seems like such a waste of a resource," LaBarbera said. "(The Wisconsin Wildlife Federation) supports a legal, scientifically managed and safe sandhill crane hunt in Wisconsin."
Now that the bird is no longer considered an endangered species, Felzkowski said, its population should be managed just like other wildlife.
Plus, Nugent added, sandhill cranes are often referred to as "the ribeye of the sky."
"I recommend garlic and butter," he said.
Share your opinion on this topic by sending a letter to the editor to tctvoice@madison.com. Include your full name, hometown and phone number. Your name and town will be published. The phone number is for verification purposes only. Please keep your letter to 250 words or less.