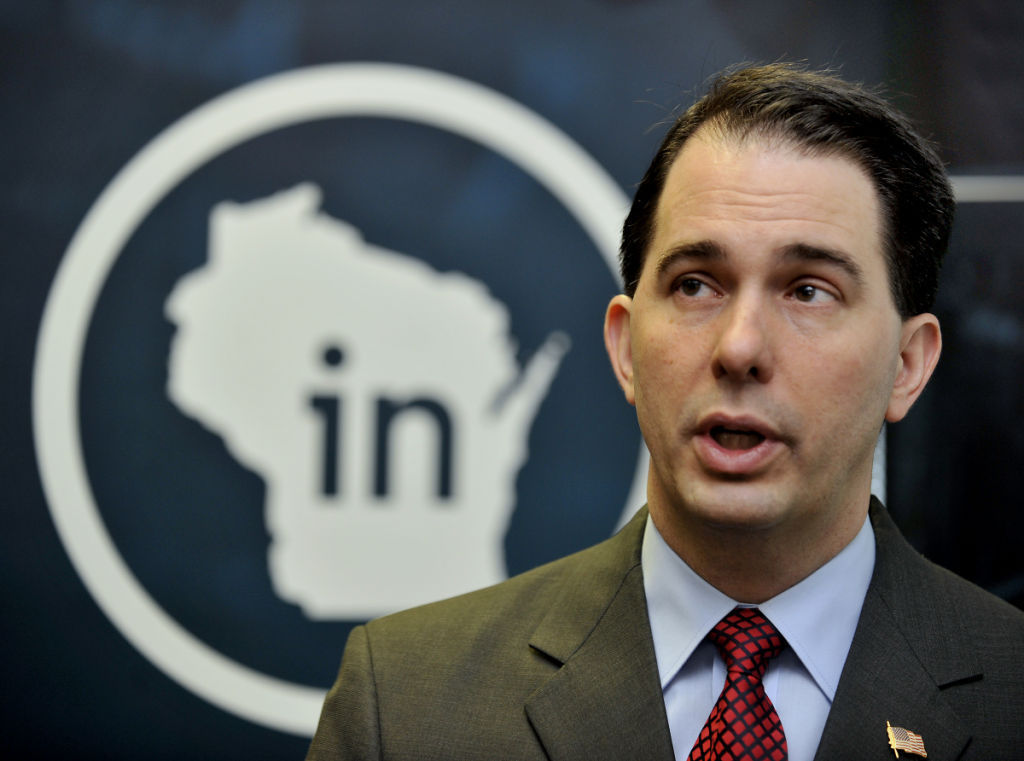 A national report released this week detailing $1.5 million in political contributions made by Wisconsin's wealthiest person in an effort to boost Gov. Scott Walker's 2012 recall campaign has raised questions on both sides of the aisle.
Was the story fair? Did Walker ask for the money? Did billionaire John Menard, Jr. later benefit from his contributions? And could the governor really have had nothing to do with contracts and regulatory decisions that worked in Menard's favor?
Yahoo News reported Tuesday that Menard gave more than $1.5 million to the Wisconsin Club for Growth in 2011 and 2012. The group, which does not disclose its donors, spent heavily defending Walker in the 2012 recall election. The state Supreme Court is set to hear three cases next month related to a John Doe investigation into whether the group and Walker's campaign committee illegally worked together during the recall campaign.
The Yahoo report noted that Menards — Menard's big box home improvement store chain — was awarded up to $1.8 million in tax credits by the Wisconsin Economic Development Corporation, the public-private jobs agency chaired by Walker, in 2013 and 2014. 
It also suggested Menard may have benefited from a reduction in environmental enforcement actions from the Department of Natural Resources, as his company has received millions of dollars worth of fines for environmental infractions over the last 20 years. 
Walker's office says the article left out key facts about the WEDC contracts and DNR actions, muddying the waters to make an inaccurate point.
The governor's detractors on the left argue that it's an illustration of the way Walker operates, and a negative one at that.
"We asked for the article to be updated as it clearly does not provide a full and accurate account of interactions between the state and Menard under both Republican and Democratic governors, as well as the reasons for decline in DNR enforcement actions," Walker spokeswoman Laurel Patrick said in an email.
Patrick reiterated points she made in the Yahoo article, noting that Menards had been eligible for $1.5 million in tax credits during Democratic former Gov. Jim Doyle's time in office, through the former Department of Commerce. The company received $1 million, as it failed to meet some requirements of the contract.
Under the 2013 and 2014 contracts with WEDC, Menards has earned a combined total of $164,500 under both contracts, Patrick said.
"The tax credits were strictly performance based with strong contractual requirements to meet performance objectives. WEDC contracts for tax credits, grants, and awards are tied to job creation, job retentions, and/or capital investment," Patrick said.
She added that companies failing to fulfill their contractual obligations are subject to clawbacks or denial of tax credit claims.
"In the case of tax credits, they are earned after WEDC staff confirms performance metrics have been met, as is the case with the tax credits that Menard received tied to job creation," she said.
WEDC announced last month that it will award $9 million in tax credits to Exact Sciences Corp., a company headed by Democrat Kevin Conroy, Patrick noted. Conroy's wife, Sheila, served as campaign treasurer for Walker's 2014 opponent Mary Burke.
Patrick stressed that Walker was "not involved in either contract with Menard, Inc." The contracts were handled exclusively by the company and WEDC, she said.
WEDC policy only requires a vote from the full Board of Directors for credits worth $10 million or more. Although it was for less than $10 million, because the Exact Sciences credit was an Enterprise Zone designation, a full Board vote was required. Walker voted to approve that credit, Patrick said.
"So as you can see, these contracts truly are performance-based and are tied to job creation, retention, and capital investment in Wisconsin," Patrick said. "WEDC's focus is on helping to grow our economy and create jobs."
The liberal advocacy group One Wisconsin Now isn't sold on the governor's dismissal of the report. His response suggests either he is unaware of what his economic development agency is doing, or he's more involved than he lets on, said OWN deputy director Mike Browne.
OWN research director Jenni Dye said that's a pattern of behavior dating back to his time as Milwaukee county executive, when six of his aides and associates were criminally charged as part of a John Doe investigation.
"WEDC is the perfect microcosm for the way in which Gov. Walker operates. He has all of the power, he gets everything he wants, and he blames the failure, the utter abject failure, on everything else," said OWN executive director Scot Ross. "It's so bad that after almost four years, every time WEDC comes out of his mouth, you know an excuse is on its way."
Dye noted that through September 2014, just 2.2 percent of the tax credits awarded by WEDC were for $10 million or more, which would suggest the governor had no involvement in somewhere around 97 percent of the credits granted the agency.
"He's aggressive in taking credit for the activities of WEDC when it suits his political purposes. And when he gets caught with his hand in the cookie jar, he claims he has no idea what was going on there," Browne said.
Something made clear in the documents released through the John Doe probe was how closely involved Walker has been, historically, with publicity decisions and other matters in his administration.
And when it comes to WEDC, Browne said, a pattern exists. 
An OWN analysis published in May 2014 found that recipients of WEDC aid donated more than $1 million directly to Walker's campaign, along with $1 million to the Republican Governors Association. Those donors received nearly 60 percent of economic development dollars.
Walker converted the Department of Commerce to the the quasi-public WEDC in 2011, shortly after he took office. It was one of the governor's top priorities, touted as a way to spur job growth in Wisconsin. 
"WEDC ... was a radical change to get a result," Ross said. "And he got the radical change, we're not getting the result and he won't take responsibility."
"There have been more excuses for why he hasn't created jobs than jobs created," Dye said. "This is a man who literally could not even take ownership of his own male pattern baldness. He found a way to blame that on a cabinet."
Share your opinion on this topic by sending a letter to the editor to tctvoice@madison.com. Include your full name, hometown and phone number. Your name and town will be published. The phone number is for verification purposes only. Please keep your letter to 250 words or less.
Get Government & Politics updates in your inbox!
Stay up-to-date on the latest in local and national government and political topics with our newsletter.