Marian Krumberger says it is a little early to gauge Scott Walker's chances in the 2016 Republican presidential primary. But she doesn't think Wisconsin's economy poses a problem as he pursues the nomination.
The Brown County Republican Party chairwoman, noting that the state has a low 4.6 percent unemployment rate, thinks the state economy is humming along nicely.
"I think there is enthusiasm out there for him because they see that about Wisconsin," she said.
But Krumberger's rosy assessment isn't shared by some economists and budget watchers who point to Wisconsin's lagging job numbers, slow wage growth and budget deficits. And as the race for the nomination gets underway, Walker's Republican rivals are likely to give that record close study and use it to their advantage.
"There's no question that Walker's economic record in Wisconsin will be fair game in the GOP nomination battle and, if he makes it that far, in the fall campaign," said Larry Sabato, a University of Virginia political science professor and founder of Sabato's Crystal Ball , a well-regarded, nonpartisan online political analysis newsletter. "A two-term governor owns his state's economic realities, and the public generally sees it that way too.
"So Walker can be sure his record in Wisconsin will be a target," he said. "Whether the attacks actually damage him depends on the eventual context and structure of the election."
Walker has consistently enacted policies under the banner of fiscal conservatism, slashing spending and taxes alike, assuring voters that the jobs would come.
They have, but not nearly as fast as in other states. After hovering for years in the 30s, the latest figures rank Wisconsin's job growth at 40th in the nation, adding jobs at half the national average, according to the latest numbers from the federal Bureau of Labor Statistics. And the state has a dismal BLS ranking of 42nd for wage growth.
When he came to office in 2011, Walker promised to add 250,000 jobs to the economy. He has added 59 percent of that.
Walker criticized his predecessor, former Democratic Gov. Jim Doyle, for leaving him with a $3.2 billion budget deficit. Heading into the 2015-17 budget process, Walker faced a $2.2 billion deficit. But Doyle left office at a time when the vast majority of states saw shortfalls from plummeting revenues caused by the recession. Walker's deficit comes when only a handful of states are still struggling to make ends meet, in part because of $2 billion in tax cuts the governor signed into law since 2011.
"We pretty much dug a hole," former Senate President Mike Ellis told the Wisconsin State Journal earlier this year.
Walker's budget proposal, currently being considered by the Legislature, would patch the deficit with controversial cuts that include $127 million in K-12 funding, $300 million to the UW System and $15 million from the popular SeniorCare program. Walker also plans to skip $100 million in debt payments, which means higher payments down the road.
On his official website, Walker maintains that his reforms – including business tax breaks, neutering unions and shielding businesses from legal liability – "have created certainty for job creators, giving them the confidence to hire, expand, and grow in Wisconsin."
"I think that's the story they're holding to and still believe, and they expect that fantastic job growth to be just around the corner," said Kevin McGee, an economist at the University of Wisconsin-Oshkosh.
The conventional wisdom is that while governors often take credit, or get blamed, for job creation performance, they usually don't have a lot to do with it.
But McGee said Walker has structured the state's economy along supply-side theories that directly counter the federal government's stimulus spending, which aimed to pull the country out of the recession by fueling demand.
While the federal government is the economic tide that lifts all boats, governors, McGee said, "can have some impacts at the margin."
"I think we've seen that in a negative sense in the past four years here in Wisconsin," he said. "Mostly Wisconsin has recovered. We've just recovered at a slower rate."
He cited Walker's 8 percent cut in take-home pay for the state's 380,000 public workers, just as the state was pulling out of the recession, as one factor that dampened demand for goods and services and killed jobs. Also a factor was Walker's rejection of hundreds of millions of job-creating federal stimulus dollars, including $810 million for high-speed rail and $23 million to expand high-speed internet service in schools, libraries and government agencies.
McGee said cuts to university funding are driving away tech sector jobs that tend to cluster around universities. And Walker policies have undercut renewable energy jobs, most significantly in wind energy industry development, which has come to a standstill in Wisconsin while thriving in surrounding states.
According to Jon Peacock of the Wisconsin Budget Project, a non-profit initiative by the Wisconsin Council on Children and Families, the income gap is an economic liability. While it's a national trend, he said, "it's getting worse a little faster here."
"Increasingly you see the Federal Reserve and even bond rating agencies starting to be concerned about growing inequality," urging caution that "growing disparities are a drag on the economy," Peacock said.
Some studies suggest that wages will likely see another hit in the long term as a result of recently enacted right-to-work legislation in Wisconsin. In addition, a current proposal would repeal the state's 80-year-old prevailing wage law, which requires that workers on state public works projects are paid a wage set by a state formula.
"Certainly a good case can be made that the sum of the Walker administration policies have had the effect of increasing income inequality in Wisconsin," said Andrew Reschovsky, professor of public affairs and applied economics at UW-Madison's La Follette School of Public Affairs.
A Pew Charitable Trust report from March 2015 found that Wisconsin's middle class is shrinking faster than any other state. When the study was released, Walker spokeswoman Laurel Patrick noted the Pew report covered the period from 2000 through 2013 and included only the first three years of the Republican's first term, and said "other income indicators also show that Wisconsin is heading in the right direction under Governor Walker."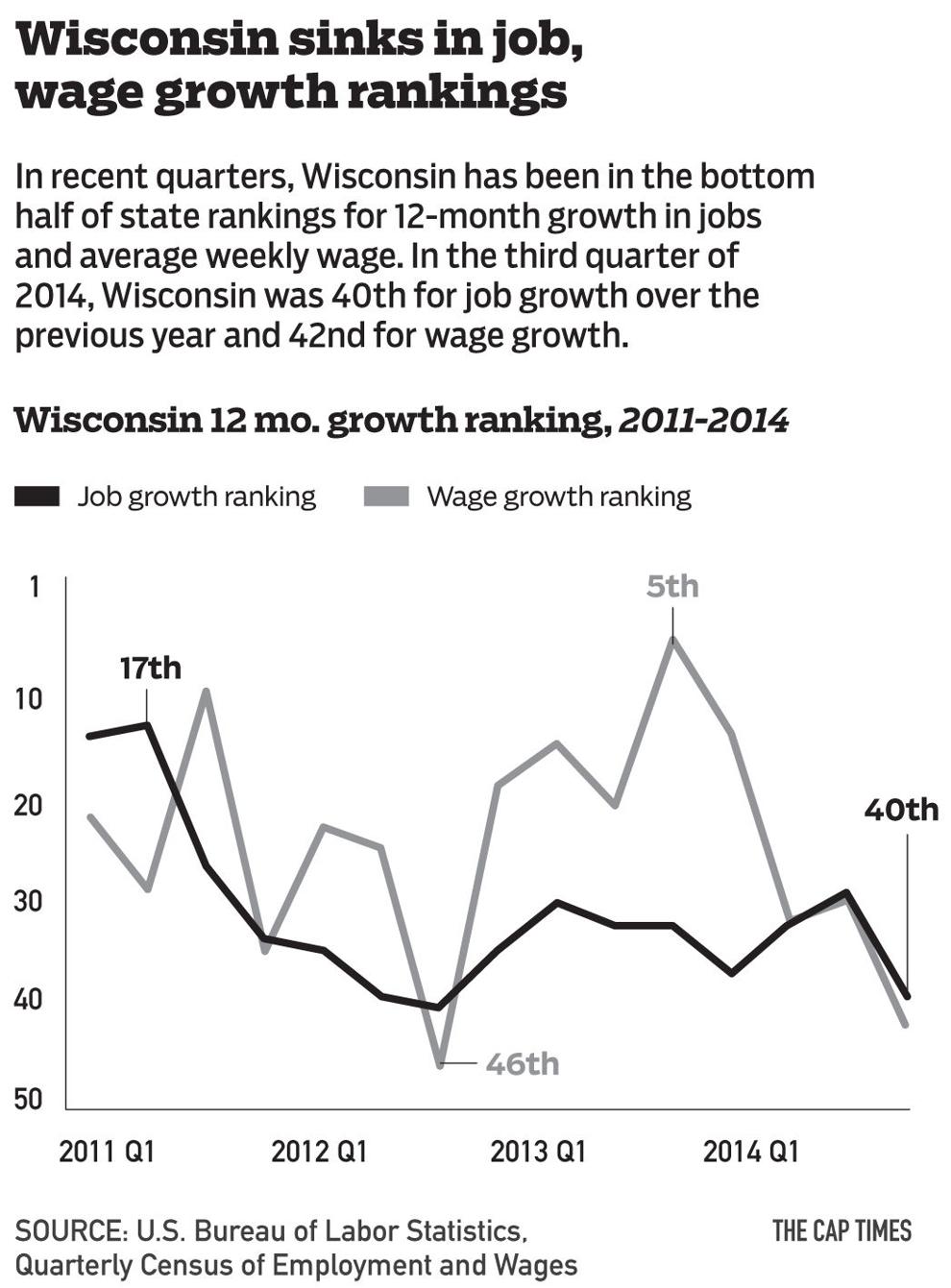 Patrick pointed out that from 2011 to 2013, Wisconsin's median household income grew by 2.7 percent, 15th best in the nation. Patrick said that indicates progress under Walker's leadership, which has emphasized tax cuts for business owners and regulatory reform to grow the private sector. Average weekly wage growth in the state was 17th best in the U.S. from the fourth quarter of 2010 through the fourth quarter of 2013, according to the Census of Employment and Wages, considered the most reliable measure of economic performance.
In addition, a 1.8 percent growth in personal income in 2013 in Wisconsin was 12th best in the U.S. and above the nation as a whole (1.3 percent), Patrick noted at the time.
Dan Judy knows a thing or two about finding a candidate's weak spot. He's worked on successful campaigns for Republican U.S. Sens. Lamar Alexander, Bob Corker, Lindsey Graham and Marco Rubio, as well as Tennessee Gov. Bill Haslam and several members of the U.S. House.
"Each candidate is going to be running on his or her record, and certainly struggles in economic growth and development in Wisconsin would put a blemish on the record that (Walker's) trying to run on," said Judy, who works for Virginia-based North Star Opinion Research.
North Star has signed on to the campaign of Rubio, the U.S. senator from Florida who recently announced he will seek the Republican nomination.
Wisconsin's sluggish recovery from the recession might not be a "killer," Judy said, but "it's just going to make it a little bit harder for him to make his case."
Washington, D.C.-based strategist Keith Appell said it would be unlikely for Walker's opponents not to exploit his economic record. His outside-the-beltway, can-do conservative image is gaining traction, but ultimately, voters care about their pocketbooks. In the past two presidential elections, the economy topped the list of voter issues.
"The economy is always a top issue, perhaps even the top issue," said Appell, who's working for a super PAC for former Hewlett-Packard CEO and potential Republican contender Carly Fiorina.
Appell said a perception that Walker isn't able to deliver on economic issues "could be a real problem for him."
"If things start to turn at home, that will undercut some of the claims he has been making," he said.
Recent polling data indicate that even as Walker enhances his image nationally, the jobs picture is hurting him in Wisconsin. In the latest Marquette Law School poll released last week, Walker's approval rating is at 41 percent, an 8-point drop since October. Fifty-three percent say the state has gotten off on the wrong track. And 52 percent feel that Wisconsin's job growth is lagging other states.
Walker's liability could be magnified if a governor with a better economic story enters the race, according to Marquette University political science professor Charles Franklin, who heads up the Marquette poll.
Franklin said he's thinking specifically of John Kasich, the Republican governor of Ohio, a state that the latest figures rank 29th in job growth and 13th in wage growth.
Kasich, who has taken a more conciliatory approach toward unions and has accepted federal stimulus money, recently announced his formation of a presidential exploratory committee to eye a run.
Noting that Walker's Democratic challenger in last November's election failed to make the case that Walker's policies are holding the state back, Franklin suggested that a fellow Republican might have more success.
"Then the critique is not coming from a Democrat — Gov. Walker is very skilled at rebutting partisan critique — but it would be coming from other Republicans," Franklin said. "And as a result it would be Republican voters hearing two Republicans telling different stories about the economy."
In appearances around the country, Walker has touted his record, but hasn't stressed his stewardship of the economy. At his speech at the Conservative Political Action Conference in February, Walker pointed to his record on unemployment, taxes, tort reform, pro-life legislation and gun rights. And he talked a lot about taking on unions.
He said nothing about his record on jobs.
An email to Walker's fundraising committee, Our American Revival, seeking comment was not returned.
AshLee Strong, spokeswoman for Our American Revival, recently told the AP that Walker "wasn't afraid to set big, bold goals to get Wisconsin back on track. The governor is now taking his reform ideas that led to this economic success in Wisconsin and sharing them nationally."
UW-Madison political scientist Ken Mayer said ultimately, Walker record's on the economy may not matter. He expects that Republicans will be focused on one goal: winning the presidency. And issues like Walker's economic record will likely be overshadowed by his ability to win.
Walker has proven three times that he can prevail in a purple state. And a growing contingent of Republicans, pointing to stinging losses by GOP moderates John McCain in 2008 and Mitt Romney in 2012, wants to field a "real conservative" candidate with a record of beating Democrats, said Mayer. That faction, Mayer said, holds that "what Romney and McCain show you is you can't win with a moderate."
And Walker is positioning himself not only as a hard-line conservative, but as a conservative who can win.
Appell, the Republican strategist, said attacks on Walker's economic stewardship might cause some damage, but the governor has already proven that he's a resilient political fighter.
"I don't think anybody is under any illusions as to how formidable Gov. Walker will be if he gets into this race," he said.
Share your opinion on this topic by sending a letter to the editor to tctvoice@madison.com. Include your full name, hometown and phone number. Your name and town will be published. The phone number is for verification purposes only. Please keep your letter to 250 words or less.