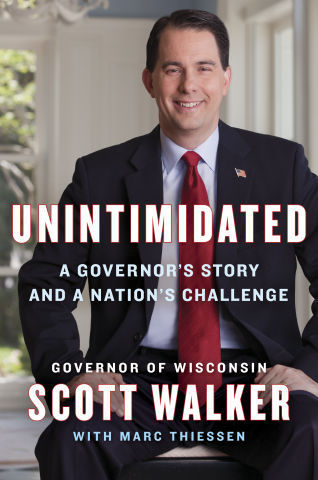 In some ways, Gov. Scott Walker's financial disclosure form filed with the Federal Election Commission this week answered some unresolved questions about the deal he made to publish his book, "Unintimidated: A Governor's Story and a Nation's Challenge."
But with those questions now mostly resolved, new ones take their place. 
Walker's book, a biographical tale of his 2011 battle with labor unions that catapulted him to national prominence, was co-written with conservative writer Marc Thiessen and published in November 2013. 
Thiessen, a speechwriter for former president George W. Bush, heads the firm Oval Office Writers LLC with "Clinton Cash" author Peter Schweizer. He did not respond to a request for comment.
When asked in 2013 and 2014 how much he received upfront for the book, Walker declined to say. Both he and his campaign told reporters the information would be included in his ethics statement, a form required by the state Government Accountability Board. 
At the time, the liberal group One Wisconsin Now was critical of Walker's refusal to answer, noting that state ethics laws prohibit elected officials from using public office for private gain. An exception in Wisconsin Statutes 19.56 allows an official to receive "reasonable" compensation for published work. The group argued that the public — and ethics officials — had no way of knowing whether the compensation was "reasonable" unless Walker disclosed the details of the deal.
As a presidential candidate, Walker is required to disclose to the FEC more specifics than the state ethics form demands. 
On his recently filed statement, Walker lists an advance of $45,000 from Penguin Group, whose imprint Sentinel published "Unintimidated."
The statement also lists Walker's royalties agreement. Under the agreement, Walker is set to receive 5 to 15 percent of hardcover editions, 7.5 to 10 percent of paperback editions and 10 to 20 percent of audio and downloadable editions.
Walker did not report how much he has received in royalties since his book was published. 
"Scott Walker hid the details of his book deal for two years and now we know why," said Scot Ross, executive director of the liberal group One Wisconsin Now. "Every time his campaign arms buy or pitch his book, it puts money right into his personal bank account."
Royalty deals vary depending on the contract. Essentially, the advance covers the royalties up to the point determined by the contract. When the book's sales exceed the amount covered by the advance, the author starts to receive royalties for each book sold beyond that point.
It's difficult to determine whether Walker is earning royalties beyond his advance. 
According to a July 7 BuzzFeed report, Nielsen's BookScan, a service that tracks most book sales, showed 19,096 hardcover sales of Walker's book. The hardcover list price is $28.95, but it sells for about $21 on Amazon and Barnes & Noble. 
Using the 19,096 figure and a $21 price tag, at 5 percent of hardcover sales, Walker would have earned a little more than $20,000 — less than half his advance, and not enough to bring in new royalties. At 15 percent of hardcover sales, though, Walker would have earned more than $60,000 — a figure beyond his reported advance, which would likely trigger additional royalties. 
What's unclear is the exact percentage of hardcover earnings Walker receives, since a range of 5 to 15 percent is listed, and how many paperback, audio and electronic editions have been purchased beyond the hardcover copies recorded by BookScan.
It's not unusual for a campaign to give away copies of the candidate's book to donors. The FEC has addressed a variety of issues related to such scenarios, said Paul S. Ryan, senior counsel for the Campaign Legal Center. He added that federal law prohibits a candidate from converting campaign funds into his or her own personal use.
Wisconsin state statutes also prohibit such activity, specifying that "no moneys solicited for political purposes and reported under this chapter may be invested for the purpose of producing income..." In the 2014 gubernatorial election, a business owner cited this law in a complaint against Democratic candidate Mary Burke, alleging she improperly used campaign funds to air an ad prominently featuring a company in which she was an investor. The complaint was promoted by the Republican Party of Wisconsin.
One Wisconsin Now argues the same standard should apply to sales of Walker's book through his campaign. The group noted that a July finance report filed by Friends of Scott Walker lists two payments of about $49,000 each to Penguin Random House in May and June. Our American Revival, which has also given away copies of the book, doesn't list any book purchases on its IRS report. If books were donated to the committee to be given away to supporters, they should be listed as in-kind donations, Ryan said.
The bottom line is, it's above-board for Walker's campaign to sell copies of his book as long as Walker doesn't receive royalties from those sales. That could be achieved through a deal between the publisher and the campaign to determine that books purchased or sold by the campaign don't contribute to Walker's royalties agreement, Ryan said.
A Walker spokeswoman did not respond to requests for confirmation that such a deal was made or to comment on the arrangement. 
Share your opinion on this topic by sending a letter to the editor to tctvoice@madison.com. Include your full name, hometown and phone number. Your name and town will be published. The phone number is for verification purposes only. Please keep your letter to 250 words or less.