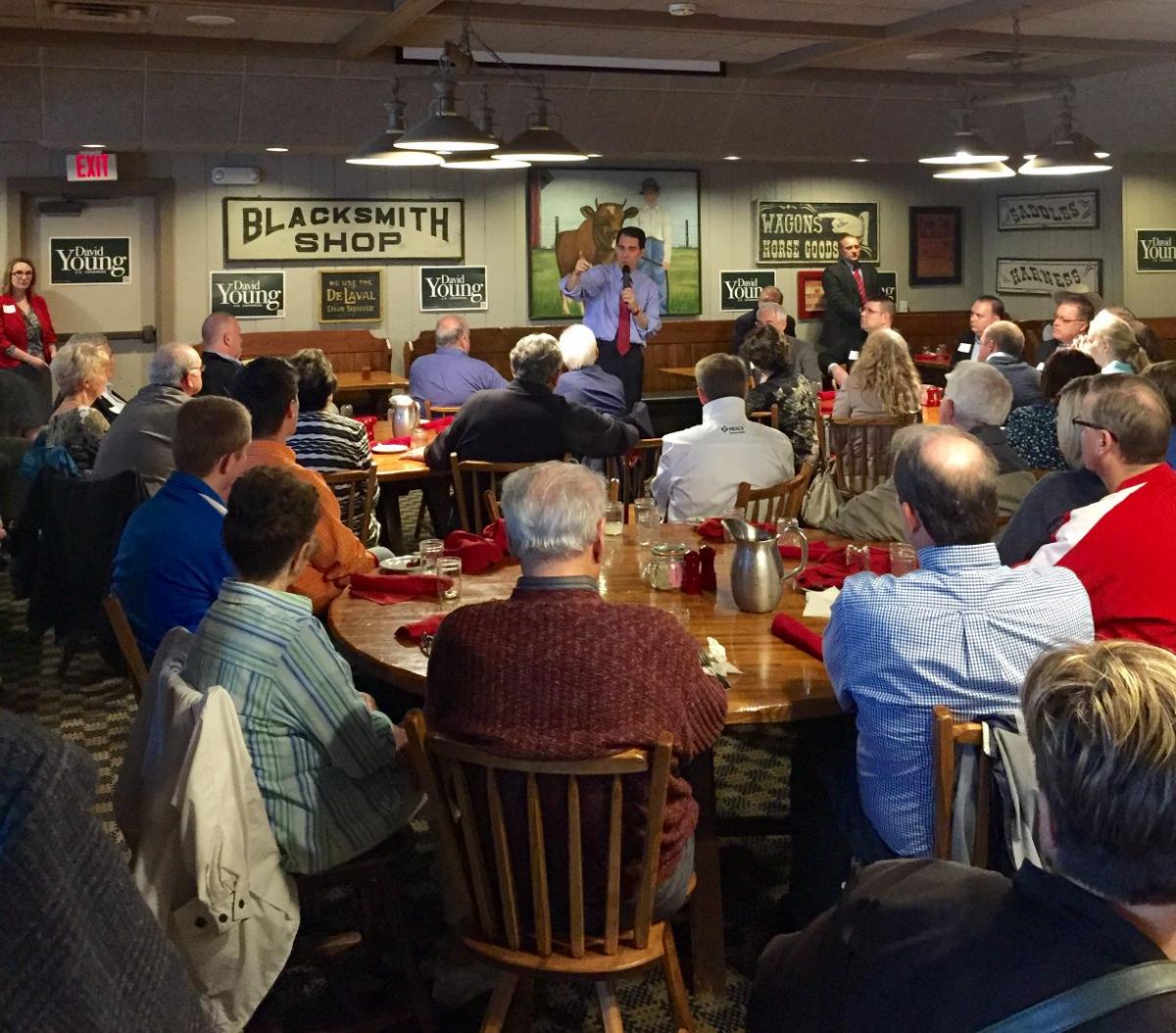 URBANDALE, IOWA — When James Pellett met Wisconsin Gov. Scott Walker on Saturday, he had one question for him: When will he announce his candidacy for president?
But although an announcement is some time away, some Iowa caucus voters already have their minds made up: Scott Walker is their candidate. 
"I really like him," said Michele Peters, who works at the Machine Shed restaurant where Walker spoke with U.S. Rep. David Young, R-Iowa, before headlining the Iowa Faith & Freedom Coalition spring kickoff that evening. "He's down to earth."
Peters has spoken with Walker on both of his trips to the Machine Shed this year, and hopes he'll come back to join the Westside Conservative Club — a group of conservatives living in Des Moines' western suburbs — at one of its meetings held at the restaurant. She was too busy working to hear Walker's speech on Saturday, but snagged a photo with him, dressed in her Machine Shed overalls and checked shirt.
Lee Stein, of Beaverdale, also posed for a photo with the governor, donning an Iowa State Cyclones cap. Stein came to be a Walker acolyte by way of another Wisconsin Republican with a national following: U.S. Rep. Paul Ryan.
Ryan caught Stein's eye as Mitt Romney's running mate in 2012, and Stein hoped he would seek the GOP nomination in 2016. When he announced he wouldn't, Stein started reading up on Walker.
"The more I've learned about him, the more impressed I am," Stein said. "I just think that he's maybe head and shoulders above all the other candidates. I like Huckabee, but he started out real good in Iowa the last time he ran, and then he kind of faded. Jindal is pretty good. Bush is probably all right, but we've had quite a few Bushes."
Walker's electoral record in Wisconsin has Stein convinced the governor can attract votes from independents and Democrats. 
Stein said he's looking for someone who can turn the country around. It's going to take "a lot of wisdom" to straighten things out, he said.
"I just think, we've had probably the worst president, for the last six years, the United States has maybe ever had," Stein said. "I just shake my head."
At least to some extent, Walker agrees.
Addressing the crowd and in comments after his speech, Walker pushed back on suggestions that a governor can't be prepared to handle foreign policy as president. In a meeting with the Des Moines Register editorial board on Saturday, Sen. Marco Rubio, R-Florida, said there's "no way" a governor can be prepared to manage foreign policy on day one.
Walker told reporters Rubio was effectively questioning whether former President Ronald Reagan was ready.
"In my lifetime, the best president when it comes to foreign policy was a governor from California," Walker said in his speech. "In my lifetime, the worst president for foreign policy was a freshman senator from Illinois. I'm not saying being a senator or governor makes you better or worse automatically, because Jimmy Carter was a governor and he wasn't that great, either. But what it's about, it's about leadership."
He touted Wisconsin's pension system, its 4.6 percent unemployment rate and the changes enacted through his signature Act 10 legislation, which eliminated collective bargaining rights for most public employees. The protests it sparked first propelled him to the national stage.
Walker also boasted of defunding Planned Parenthood, passing right-to-work legislation, castle doctrine, restrictions on abortion and a voter ID law. 
He said voters want someone who "will look them in the eye, tell them exactly what they plan on doing, and go do it."
"That's a very Midwestern thing," he said.
He closed with a story about visiting Independence Hall as an adult, after not having the opportunity to go as a child. It was a long overdue chance to connect with the history of the founding fathers, whom he elevated to "superhero" status when he was young.
After sneaking away from a governor's conference in 2011 to see Independence Hall and the Liberty Bell, Walker said, it dawned on him that the founders fathers were "ordinary people" who did something extraordinary.
"I think he hit all the right notes," said Tyler De Haan, chairman of the Dallas County Republican Party. "I think he's hitting much more on the emotional side of people. The first couple times I saw him speak, he was much more on the policy side. He ended on a very good note with the story about Independence Hall. That's the type of story that really inspires people, really gets them engaged."
De Haan said there's no question Iowans are interested in Walker, but "only time will tell" whether he can handle the level of scrutiny that comes with being a top-tier candidate.
Connor Pellett, 14, of Atlantic, won't be old enough to vote in 2016 — but he's still listening to candidates as they appeal to caucus voters in the state that holds the first nominating contest of the presidential election.
If someone like Walker is elected, Pellett said, it'll be a "good first step in the right direction" for the country.
"I'm looking for someone who is going to do a good job of being open with us," Pellett said. 
This weekend marks Walker's fourth trip to Iowa this year. On Saturday night, he'll join Sens. Ted Cruz, Rand Paul and Marco Rubio, Louisiana Gov. Bobby Jindal, former Texas Gov. Rick Perry and former Arkansas Gov. Mike Huckabee, former Sen. Rick Santorum of Pennsylvania and former Hewlett-Packard CEO Carly Fiorina at Point of Grace Church in Waukee. 
Share your opinion on this topic by sending a letter to the editor to tctvoice@madison.com. Include your full name, hometown and phone number. Your name and town will be published. The phone number is for verification purposes only. Please keep your letter to 250 words or less.
Get Election 2020 & Politics updates in your inbox!
Keep up on the latest in national and local politics as Election 2020 comes into focus.