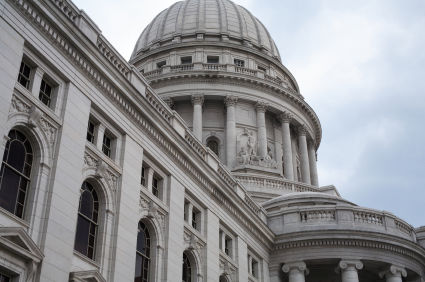 State agencies submitted their budget requests for the 2017-19 biennium to Gov. Scott Walker this week. Walker's staff will now use those requests to shape the executive budget he proposes in February.
Here's a brief overview of some agencies' requests.
Department of Health Services
The state DHS is requesting an additional $452 million in general purpose revenue (GPR) for Medicaid in the 2017-19 budget.
"While still a significant amount of funding, this increase is small by historical standards," wrote DHS Secretary Linda Seemeyer.
Seemeyer noted the last three biennial budgets increased Medicaid funding by $650 million, $685 million and $1.6 billion. DHS also expects Medicaid costs to come in below budget in the current biennium, with a $260 million surplus set to lapse into the general fund at the end of the next fiscal year.
"These slowing Medicaid growth rates reflect the success of Governor Walker's entitlement reforms, efforts to improve health outcomes through better care coordination, and initiatives to identify and eliminate waste, fraud, and abuse," Seemeyer wrote. "They also result from improved oversight of managed care contracts and reforms enacted by the Governor and Legislature."
Department of Public Instruction
Superintendent Tony Evers is asking for $588,000 to fund grants for teachers who are nationally board certified or who have a Wisconsin master educator's license and opt to teach in high-poverty school districts. Those who teach at high-poverty schools in the Milwaukee school district would be eligible for a $10,000 grant, up from $5,000, while teachers in other districts would be eligible for $7,500 rather than $5,000.
The DPI request also calls for $33.4 million over the biennium to fund public library system aid.
DPI will submit the rest of its request later this fall.
In his cover letter, Evers pointed to several struggles faced by school officials: staffing shortages, mental health challenges among students and flagging state aid. At the same time, he touted a 100 percent participation rate in ACT testing, high graduation rates and a growing number of students taking Advanced Placement classes.
UW System officials have developed a strategic plan called "2020FWD" based on feedback from listening sessions throughout the state.
Cross is requesting $42.5 million in GPR to fund 2020FWD initiatives, about half of which would fund a "Focus on the Educational Pipeline" initiative designed to help lead more students to pursue a college education. The initiative would offer more college credit options for high school students, expand access to academic, career and financial advising, make transferring credits easier, expand access to financial aid and help prepare students for the workforce.
Department of Corrections
The DOC request submitted by Secretary Jon Litscher incorporates an 80-cent per hour wage increase for front-line security staff.
Litscher calls for "modest investments" that could have a "significant positive impact" including about $600,000 over two years for additional mental health staff at correctional institutions in Green Bay, Waupun and Columbia.
The DOC request would also provide $2.4 million over the biennium to fund a treatment and diversion unit for inmates with serious mental illness at the Oshkosh Correctional Institution.
The Lincoln Hills and Copper Lake youth facilities would be given more front-line security staff to help bring the facilities into compliance with the federal Prison Rape Elimination Act, along with additional mental health staff at Copper Lake. Litscher is also requesting hiring licensed nurses to administer medication to the youth at the facilities.
A program that offers integrated case management and mental health services to eligible offenders with serious mental illness would be given $1.3 million to expand to Eau Claire, Langlade, Lincoln, Menominee and Shawano counties. Opening Avenues to Reentry Success currently operates in 37 of the state's 72 counties. The DOC request would also add staff for the program in Dane and Milwaukee Counties.
DOC is also working with the Department of Workforce Development to offer job skills training to inmates, Litscher wrote.
Department of Natural Resources
DNR Secretary Cathy Stepp submitted a budget request with a 2.1 percent decrease from the 2016-17 base. 
Any increases included in the DNR budget would be paid for by the Conservation Fund and would be used to maintain park and forest operations, Stepp wrote.
The proposed budget includes a two-year decrease of about $23.4 million compared to the 2015-17 budget, stemming mostly from differences in amounts budgeted for salaries versus actual salary costs and removing one-time items from the previous budget.
The request would cut 9.5 full-time positions from the DNR's base staffing.
The budget would also reallocate four full-time staff positions to increase its CAFO (concentrated animal feeding operation) program staff. There are currently 285 permitted CAFO operations in Wisconsin, up from 40 in 1995. 
Also included in the request is an analysis on the cost of relocating the Division of Forestry's headquarters to a northern location.
Department of Children and Families
The state DCF is requesting a GPR increase of 1.54 percent in 2018 and 1.9 percent in 2019. 
The department's budget request includes $12.4 million over the biennium in funding for victims of sex trafficking, in compliance with a law that requires child welfare agencies to investigate all cases of alleged child sex trafficking and to provide victims or children who are at risk with housing, treatment and services.
DCF would spend less on some Temporary Assistance for Needy Families programs and more on others, based on new estimates of the cost to continue them. 
Share your opinion on this topic by sending a letter to the editor to tctvoice@madison.com. Include your full name, hometown and phone number. Your name and town will be published. The phone number is for verification purposes only. Please keep your letter to 250 words or less.