A dozen staffers — most of them women — crowd around a table in a windowless meeting room in Gov. Tony Evers' sprawling office on a recent Thursday morning.
After checking in with the governor, chief of staff Maggie Gau begins her day here, surrounded by her three female deputies, executive assistant, the office's scheduling director and others.
The hour-long morning meetings are a relatively new addition to the daily schedule. Though they began in the spring during the budget process, they're now seen as indispensable, as attendees provide updates about the Legislature and state agencies and discuss Evers' day-to-day plans and travel schedule.
The structure is relaxed, the discussion free-form. Points about policy and strategy are peppered with complaints about the lack of media coverage on certain executive orders. As they discuss the logistics of providing notice for events, staffers occasionally poke fun at one another.
Gau doesn't actively facilitate the meeting — it doesn't seem like anybody does, though everyone is engaged and taking notes. But as the conversation turns to an upcoming pickleball event in Sun Prairie that will include Evers and his wife, Kathy, she jumps in. 
"Are they actually playing?" she asks with some animation, as the room bursts into laughter, adding jokingly that maybe they shouldn't because Kathy would beat Evers. 
The point is one Evers himself isn't shy to admit. He said in a previous Cap Times interview that when the pair plays together on the driveway of the executive residence, "she goes into this deep funk and just absolutely annihilates me." 
Later in the meeting, as staff discuss a planned visit to Lambeau Field, Gau noted they should "probably go over some of the roster with him" ahead of time given changes to the team's lineup. They also planned Evers' wardrobe, a topic that ended with Gau volunteering to buy a new Green Bay Packers polo at Kohl's.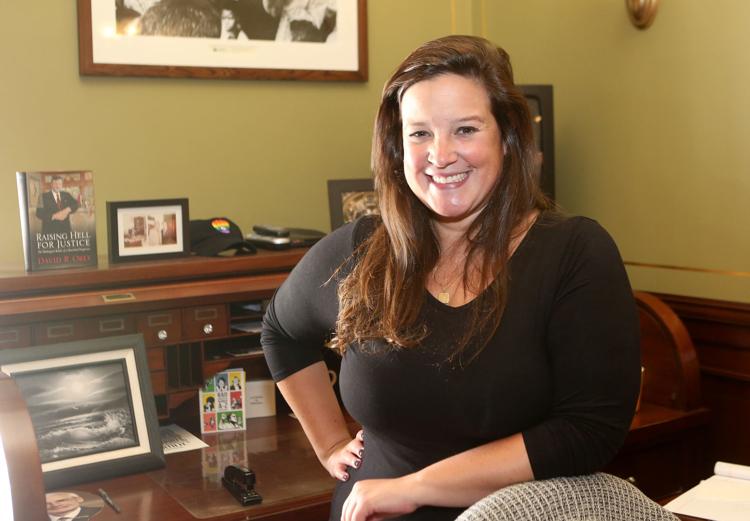 Gau, 32, has been working closely with Evers since she officially started with his gubernatorial campaign in fall 2017 as political director. She quickly became his campaign manager, and after the former state superintendent won the office over then-Gov. Scott Walker last fall, was almost immediately named his chief of staff.
Over that time, which included early mornings and late nights on the campaign trail and hours of travel by car, Gau said she and Evers came to realize they share similar upbringings and values. They developed a working relationship in which "we're completely honest with each other." 
"I like to joke sometimes we're kind of like sugar and spice," Gau said. "Because of those shared values and our shared outlook on how we approach situations when we are having conversations, we kind of think alike and we talk alike in a lot of ways."
Evers' ties to his staff have been under some scrutiny during his first nine months in office. Critics alleged his top advisers pushed him to be a more partisan Democrat during the budget process.
Evers' office has also struggled in navigating its own relationship with Republican legislative leadership in an era of divided government, with tensions rising over perceived allegations of sexism against GOP leaders, a seeming lack of communication and missed opportunities for bipartisanship.  
Still, through it all, Gau and Evers stress they're keeping the focus on "working for the people of Wisconsin," in Gau's words, a constituent-centric theme that has marked the first year of the new administration. 
'I had it in my blood'
Politics has always been a part of Gau's life, extending to before she was born. Both sets of the Wausau native's grandparents were politically active, but that was particularly true on her dad's side of the family. 
Noting that the couple was close with former U.S. Rep. Dave Obey, a Democrat who represented the northwestern part of the state for four decades, Gau relayed a story about a family trip that included piling everyone into the car for a drive to the nation's capital. 
"And (my grandparents were) like, 'We're going to Washington, D.C. We're going to visit Dave Obey.' And the kids were like, 'Really?'" she said with a laugh. 
"People would say that I had (politics) in my blood, like from the second I was born," she said.  
But it wasn't until high school, during her four years involved in Wausau West's debate program where "politics were a part of that sort of narrative and our strategy," that Gau got to experience "a taste of it" herself. 
Gau ran for student council secretary in middle and high school and got involved in various efforts, including one where students sought to keep their lunchtime open-campus privileges. She touted that push in her 2005 high school graduation speech which was then mentioned by the local newspaper.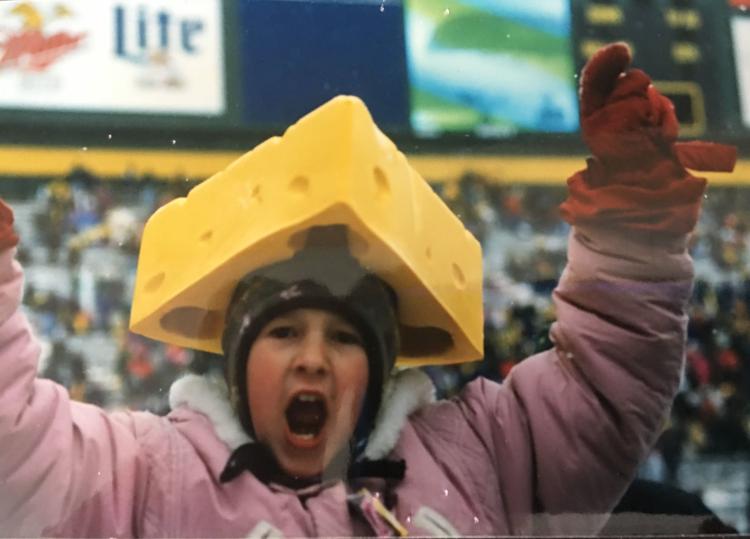 Gau's aunt, Mary Seidl, a Madison elementary school principal, recalled Gau playing with a portable microphone toy growing up: she "loved using that to be able to elevate herself."
"If she believed in something, she just throws her whole passion behind it and sometimes at the expense of herself," Seidl said. "When you're growing up, that's hard. (During school), if you get behind something, some people may see that as intimidating or may not get behind that, but that never mattered to her."
But Gau said she wasn't necessarily interested in running for office herself, opting to maintain her sense of privacy while working "behind the scenes." 
"One of the most valuable things that you can give to someone is your time and your labor and to be able to help promote and support and help others in that capacity," she said. "That's exactly where my strength is and why I'm where I am."
Asked if Gau would run for office at some point, Seidl said it's something she's repeatedly asked her niece, who she views as someone who "really, really wants change, like at her core."
But, she added: "She recognizes that she doesn't want to be the people giving the speech, she wants to write the speech because there's more power in writing the speech than giving it."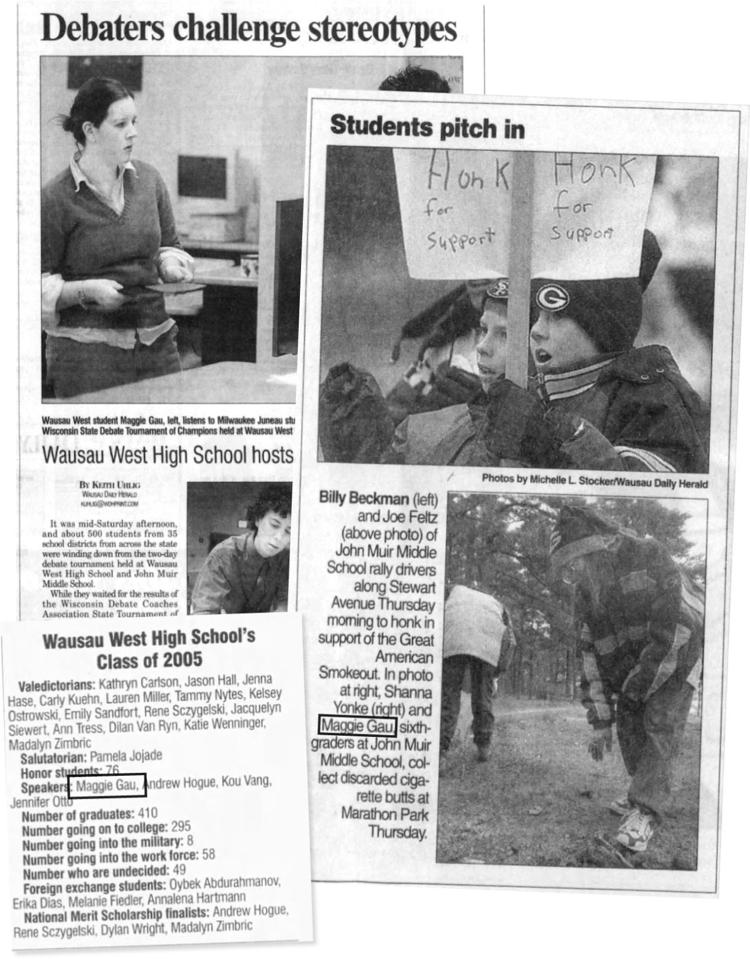 Running with Evers
It wasn't just Gau's experience with Evers' campaign operation that led him to appoint her as his chief of staff, though Evers in a recent interview noted that working with her on a daily basis at the close of 2017 and throughout 2018 didn't hurt.  
But in addition to seeing Gau's "decisive, collaborative (and) thoughtful" approach on display in the midst of a 10-way primary, followed by a competitive general election, Evers pointed to her political experience and connections as assets. 
That experience includes interning with then-U.S. Sen. Russ Feingold and former state Rep. Ann Hraychuck while in college at the University of Wisconsin-Madison, followed by the 2010 campaign of 87th Assembly District candidate Dana Schultz, who lost. She then worked in the office of Rep. Janis Ringhand, D-Evansville, and ran her re-election bid.
In 2012, Gau took a leave for two months to work as Wisconsin's deputy political director for President Barack Obama's re-election campaign, before returning to Ringhand's office and later serving as her campaign manager for her state Senate bid in 2014. Ringhand went on to win a three-way primary and the general election. 
Gau was then offered a job in Madison state Rep. Chris Taylor's office, where she worked until joining Evers' campaign in fall 2017. Taylor is a member of the Legislature's powerful budget committee. 
Gau said she has assembled a variety of lessons from her campaign experience. She learned from Schultz's bid "to always trust my gut." And in Ringhand's first Senate race, she "learned the value of authenticity and letting people be who they are."
That primary pitted Ringhand against former Assembly Speaker Mike Sheridan and Janesville native Austin Scieszinski, though Ringhand went on to win it with nearly 40% of the vote. She then bested Republican Brian Fitzgerald in the general with nearly 60% support. 
"We could have tried to make Janice be something that she wasn't, especially running against the former speaker," Gau said. "We didn't do that with Janice. Her authenticity and who she was as an individual, we sort of championed (that) and because people knew her and they liked her and they saw her as being one of them — and she was one of them — that was really successful."
Evers said on his campaign, he watched Gau lead a slimmed-down operation during the primary and a broader one with a larger staff as the race continued.
"Navigating that during times when we had little money and fewer human resources to running your full campaign, I wouldn't have been elected without her leadership," he said.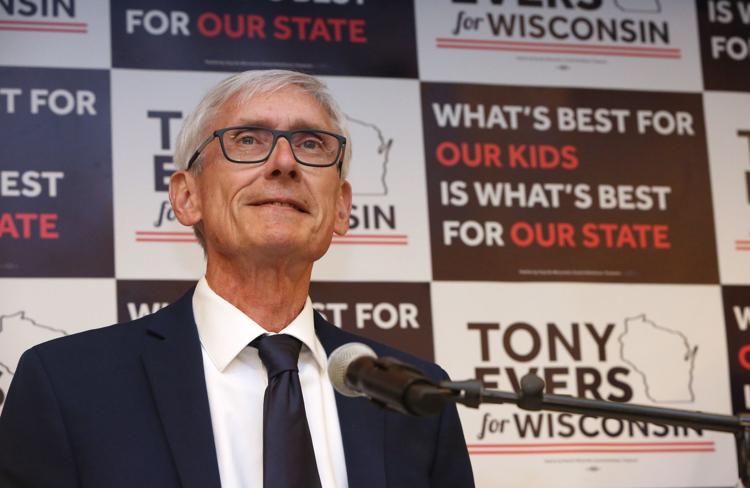 The Evers-Gau dynamic
But Gau, Evers said, "is clearly not either one of those." 
"You know where she stands right away, but she is thoughtful about it too," he said. "She makes decisions, she's pretty resolute about where our principles lie. But she's also thoughtful and collaborative, and so that's kind of a unique combination."
Gau and Evers agreed, however, that the staff doesn't push the governor one way or another. Instead, the two said in separate interviews, it's the issues themselves that drive the administration's decision-making.
Gau, who called herself Evers' "closest adviser" on a number of topics, said that during budget deliberations, the governor would sit with staff and hear recommendations and information they had gathered. 
While he's eager to listen to input and is open-minded in his approach, Gau said Evers is ultimately "the decider." 
"At the end of the day, his name is on the door," she said. 
Gau stressed the office's operation is "very much a collaborative" one that prioritizes communication among staff members and "not every decision goes through me." 
She said the idea for creating a model with three deputy chiefs of staff came from the National Governors Association. The structure, she said, was important given Gau's background and ties to the Legislature. 
"That can sort of be a blind spot for me because I have so many relationships over there (in the Legislature)," she said.  
Perceived by some as a moderate and pragmatic figure, Evers was accused, particularly during the budget process, of letting his staff push him to be more partisan. 
Both Evers and Gau — who called it "total BS" — dismissed the idea. 
"I think that's ridiculous," Evers said. "I don't buy that notion that the staff is pushing me in any direction. I'm just not pushable, frankly, so I just don't buy it. I think that's what the other side wants to believe or wants to portray. I don't see that. I don't feel any pressure to do anything."
Asked about whether Evers may be more partisan than some think, Gau — who labeled the governor, a Plymouth native, as "a Plymouth progressive" — said he's "open-minded, but he also believes that we need to follow what the people of the state want to see."
"I don't consider that to be liberal and he wouldn't consider that to be liberal," she said. "I think that that's giving the people what they want. We don't try to box ourselves in, in terms of ideology or labels or things like that."
Evers' administration has pushed people- and constituent-centered rhetoric in its messaging. For example, Evers called his two-year spending proposal "The People's Budget," a document that was crafted after a series of listening sessions throughout the state.
And his office regularly touts the public support that some of his policy priorities, including universal background checks for gun buyers, draw. The latest Marquette University Law School poll showed 80% support for such a bill, a result Evers' office highlighted as further substantiating "what the governor has said all along: the people of Wisconsin want elected officials to do something about gun violence."
"The vast majority of Wisconsinites are with us on these issues and that's not being partisan," Gau said. "And I think that it's unfortunate that the Republicans try to throw that out there as sort of a red herring to what we're doing, but we're just listening to what the people want."
GOP observers, though, argue the approach insults Republican lawmakers and comes off as arrogant. They noted that those legislators are also elected officials who were chosen to represent their constituents in the Assembly and Senate.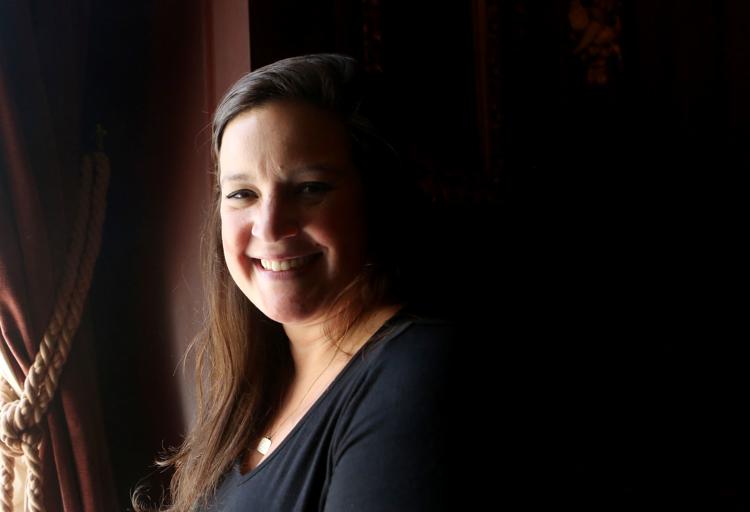 Operating in divided government
Gau is the first female — and Democratic — chief of staff to work in the East Wing since Susan Goodwin left in early 2011. And at 32, she's one of the youngest to hold the office in recent administrations. 
While Gau said the conversations were valuable, she added the current state of divided government "with the climate the way that it is now" means that "there are a lot of differences and challenges that we have in this administration" that weren't present under the previous two. 
That includes, she said, the so-called "lame-duck" laws, or legislation Republicans passed in December 2018, during Walker's final full month in office, that sought to limit the power of the incoming Democratic governor and attorney general.
"The Republicans had straight one-party rule for eight years (under Walker)," she said. "If you got everything that you wanted for eight years, it's really hard to have to sort of start to share again."
Challenges have persisted in the Evers administration, as concerns about the lines of communication and the lack of meetings between Evers' office and the staffs of Senate Majority Leader Scott Fitzgerald and Assembly Speaker Robin Vos continue. 
Observers have pointed fingers at both camps for the breakdown, noting each side has now "dug in." 
Evers defended his office's efforts: "We're trying as hard as we can," though he admitted "there's no middle ground we found on some really important issues."
"We take our cue from the people of Wisconsin and if the Republican leadership doesn't want to do that, we could meet 24 hours a day, seven days a week, and I'm not sure I could change their mind," he said. 
Asked if the office would try a different approach going forward, Evers said: "We'll just continue to do whatever we can. There's no magic sauce here."
Gau, meanwhile, touted the office's commitment to having "a good relationship with the entire Legislature" and its "open door policy" on working with lawmakers.
That hasn't always been the case, as some observers complained the office initially struggled to loop in legislative Democrats, though they noted those outreach efforts have improved in recent months.  
On meetings with Fitzgerald and Vos, Gau said they would continue, but she added staffers have tried "a number of different avenues to work on those relationships," including a May euchre night at the governor's mansion for legislators. But Gau said just one Republican lawmaker, Rep. Travis Tranel, showed up. 
"We're going to treat people the way we want to be treated regardless of the rhetoric or the temper tantrums that may arise from the Legislature," she said. 
Still, tensions have risen repeatedly in the relationship between Evers' office and those of the GOP leaders. 
The comments prompted Evers spokeswoman and deputy chief of staff Melissa Baldauff to respond, saying Evers had told GOP leaders they should work with Gau "just like they did under the previous governor." 
"That directive wasn't confusing to them when the chief of staff was a man," Baldauff said at the time. "Vos and Fitzgerald are clearly uncomfortable or simply unwilling to work with a leadership team made up entirely of women."
The pair, who met regularly with Schutt, Walker's chief of staff, slammed the remarks. On Twitter, Vos pointed to the women who work in his office, including his own chief of staff, policy director and communications director. 
Asked about it in a recent interview, Gau reiterated that Evers told Vos and Fitzgerald "several times" to work with her and that while the governor will meet with them, Gau is "their point of contact in this office."
"Read between the lines and tell me why that is," she said. "But I think that's a choice that they're making. We're going to continue to lead by example and to continue to work, you know, to try to have a good relationship with them. But to say that they don't know, they have been told several times and they have chosen not to follow that."
The offices of Vos and Fitzgerald didn't reply to requests for comment.
Gau, Evers, Fitzgerald and Vos have met together "on several occasions," according to the governor's office. Gau has also met with Fitzgerald and his chief of staff without Evers present, as well as separately with the chiefs of staff from Vos' and Fitzgerald's offices, also without Evers there. 
Moving forward
Gau said her biggest accomplishments in the last nine months include staffing up the office and administration, as well as getting the biennial budget done, a document she called "a down payment on 'The People's Budget.'" 
The action, she said, freed up the office to move onto other priorities, including the signing of an executive order laying out the goal for the state to be 100% carbon-free by 2050. 
Looking to the next few years, Gau said it will be important for the office to maintain the focus on its priorities. 
That, though, could be challenging with an intensifying 2020 presidential election cycle, "backbiting" with the Legislature and more, she said. 
"I think it's important for us to not lose sort of the larger objective that we're working on," she said.
Noting that preparations for the next biennial budget would begin in September 2020, Gau said the "top priority" will be to keep moving forward and "continuing to execute and to continue to hold true to the values and the goals that we have for this office.