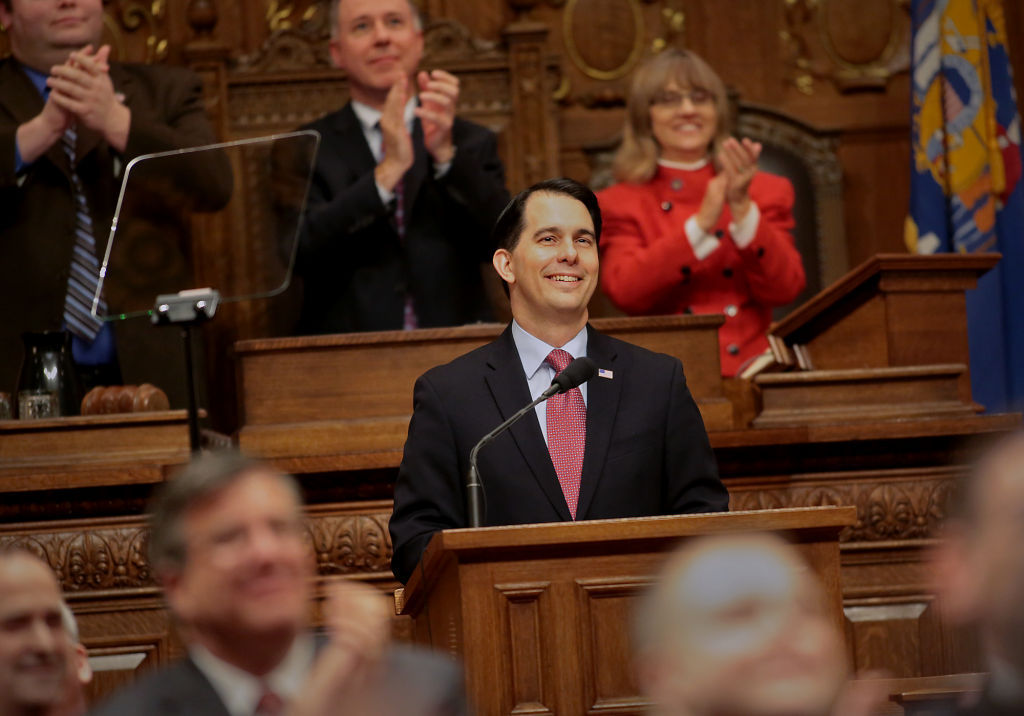 Disability rights advocates in Wisconsin are concerned and surprised by a number of proposed cuts and changes to care services in Gov. Scott Walker's two-year budget.
"We are really surprised by this, because there was no indication that changes of this magnitude were going to take place," said Beth Swedeen, executive director of the Wisconsin Board for People with Developmental Disabilities. "This seems to be a surprise to everybody: managed care organizations, the IRIS program, participants. Nobody seems to have known that this was coming."
Swedeen said her organization is receiving calls from the people it represents with "a lot of fear and a lot of questions."
The state's Family Care program is set to expand statewide, with all counties required to participate by January 1, 2017. The long-term care program is designed to offer flexibility to disabled and elderly people, keeping them out of more expensive nursing homes.
But although disability advocates have advocated for the expansion of the program,  Swedeen said under Walker's budget it would no longer be the program advocates thought it would be.
Once the Family Care program has expanded, Walker's proposal would allow the Department of Health Services to cease operation of other long-term care programs or waivers, including IRIS — a program for self-directed long-term care. IRIS currently has more than 11,000 participants, who choose the program because of their ability to self-direct their supports, including hiring their own caregiver. Participants are given a budget which they can use "in ways that make the most sense for their lives," Swedeen said.
Swedeen said it looks like enrollees would be able to self-direct their care through Family Care, but it's unclear how the proposed changes to Family Care would affect the ability to do that.
The ability to hire one's own caregiver is especially useful in rural areas, Swedeen said, where it can be easier to hire a family member or neighbor than to work with an agency for help with things like transportation and bathing.
Jason Endres and his wife live in Eau Claire, and both have disabilities. Through IRIS, they receive help cleaning their home — everyday maintenance like changing sheets, vacuuming and washing — and preparing nutritious meals. 
Endres's wife also receives personal care through IRIS, which means she receives help with showers and other personal needs. 
The elimination of IRIS would have a "drastic" effect on the couple, Endres said, because they wouldn't qualify to receive those services through any other existing programs. 
He echoed Swedeen's concerns that the ability for self-directed care through Family Care would not be a possibility for them because of the budget's significant changes to the program.
"I'm really disturbed. Saddened. There's just a lot of emotion that I really can't put into one word," Endres said of the budget.
He and a group of IRIS participants, family members and care providers have organized to mount a "Save IRIS" campaign, by which they will urge lawmakers to remove the program's elimination from the budget.
You have free articles remaining.
Endres said most people using IRIS hire at least two caregivers. He questioned whether eliminating the program would cause all of those caregivers to lose their jobs.
"If IRIS is eliminated in the budget, people currently enrolled in the program would be required to join a managed care organization in Family Care. The governor is also proposing major changes to the Family Care program that will reduce the number of managed care organizations operating in the state and open the door to large, for-profit, managed care/insurance companies," DRW said in a statement.
Under Walker's proposal, managed care organizations (MCOs) would no longer be regulated by DHS or the Legislature. They would instead be regulated as insurance entities by the Office of the Commissioner of Insurance.
It is the belief of DRW that those changes would cause some MCOs to go out of business, opening the door for large, out-of-state MCOs to take their place.
"DRW believes these changes will decrease choice and competition in long term care and have the potential to severely limit community integration," the organization said.
According to the governor's budget recommendations, the reforms to Family Care are designed to "improve health outcomes by breaking down silos of care and enhancing the capabilities of members and their families to navigate the system."
Disability advocates are also concerned with a proposal to require an independent assessment for all prescribed fee-for-service care for Medicaid enrollees. The proposed changes to the personal care program are designed to reduce fraud and abuse in the Medicaid program, but advocates are concerned it will cause people to lose daily supports including help with bathing and dressing.
Barbara Katz lives in Dane County, where the Family Care program has not yet expanded. Her son uses long-term care and expected to use IRIS when it arrived in Dane County through the expansion.
"I worry that my son, under this new model, will not have the support for employment in the community to the depth and breadth which he has now," Katz said. "He is a small business owner, and also works several part time jobs. I also worry that my son, when he chooses to move out on his own, will not have much say where and with whom he lives."
Particularly puzzling to Swedeen and other advocates is the fact that the changes don't appear to result in a significant cost savings for the state. She said the satisfaction for quality of care and cost effectiveness in Family Care and IRIS has been very high in Wisconsin.
As evidence of the programs' cost effectiveness, Swedeen cited data from the Survey of State Intellectual and Developmental Disability Agencies' Day and Employment Services showing that Wisconsin spent a total of $605.1 million on day and employment supports in 2008, and $205.8 million in 2012.
"We're puzzled why you would dismantle a program that has worked so effectively," she said. "It's not broken."
Regarding the implementation of the changes, the budget provides few specifics. Swedeen said as far as she knows, no one in the disability community or provider community knew the changes were coming.
"And nobody seems to be able to answer the questions," she said.
A spokeswoman for the governor's office referred a request for comment to DHS. A spokeswoman for DHS did not immediately respond to a request for comment.
"Participants are feeling very vulnerable and afraid right now," Swedeen said. "They don't understand what's going on, and there isn't any clear message of a plan of what to prepare for or what to expect. That leaves a lot of people feeling very vulnerable."
Share your opinion on this topic by sending a letter to the editor to tctvoice@madison.com. Include your full name, hometown and phone number. Your name and town will be published. The phone number is for verification purposes only. Please keep your letter to 250 words or less.