Wisconsin's unemployment rate has hit an all-time low. Taxes have been cut by billions of dollars. College tuition has been frozen for years. Projected state budget deficits are almost half of what they were a decade ago.
Gov. Scott Walker has a list of reasons he says he should be re-elected to a third term. And over the past year he has traveled the state and spent millions on campaign ads to drive that message home.
But the eight Democrats running against him have their own list of reasons he shouldn't be re-elected.
The Wisconsin State Journal asked each of them to lay out their best case against a third Walker term. The written answers — from Tony Evers, Matt Flynn, Mike McCabe, Mahlon Mitchell, Josh Pade, Kelda Roys, Paul Soglin and Kathleen Vinehout — include many arguments that will likely be featured in TV ads and other campaign spots in the run-up to the Aug. 14 primary.
Many of the criticisms were echoed by multiple candidates, while others were unique to individual candidates.
For example, Flynn, a former Democratic Party chairman, was the only one to mention Walker's dismantling of the nonpartisan Government Accountability Board, which had been investigating Walker's recall campaign, and his attempt to gut the state's open records law in 2015.
Roys, a former state representative, brought up Walker's anti-abortion position and his turning down of federal high-speed rail and broadband funding.
Vinehout, a state senator, pointed to looser environmental, labor and consumer protection laws benefiting businesses.
McCabe, a political activist, was the only one to mention that farms in Wisconsin have disappeared at a rate of more than one per day.
Evers, the state superintendent of schools, pointed out the abuse scandal at the Lincoln Hills youth prison.
But in several areas, you can expect to hear Democrats ganging up on Walker.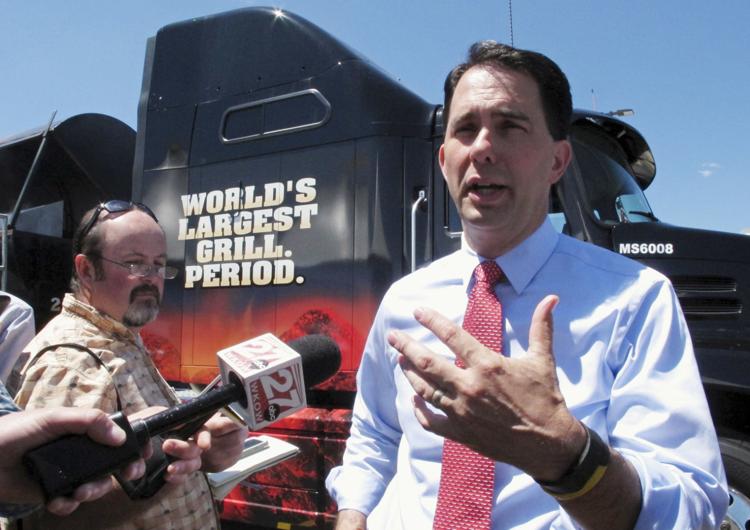 Roads and infrastructure were brought up by almost all of the candidates (everyone mentioned it except Soglin, the mayor of Madison, who provided the shortest response).
Mitchell, president of the state firefighter union, noted a 2017 Transportation Development Association study that ranked Wisconsin's roads 49th in the nation. McCabe said, "We can't have a good economy and bad roads."
Roys said, "Walker has allowed our infrastructure to fall apart during these last eight years, while dramatically increasing the share of our transportation budget that goes to pay for debt and borrowing."
Walker has resisted increasing the state's gas tax, instead opting to borrow and find efficiencies within the Department of Transportation.
'Underfunding public education'
Six of the candidates mentioned education funding, a prominent issue in several Marquette Law School Polls about the top concerns among voters. Walker himself has tried to turn the issue to his favor by calling himself "the education governor."
Roys criticized Walker's historic cuts to public schools and said, "Many of our school districts are being forced to fund basic services through referenda due to lack of funding." Evers noted that some schools are closing, though that's also a reflection of declining rural enrollment.
The cuts came mostly in Walker's first budget in response to a more than $3 billion budget deficit following the Great Recession. School districts were mostly able to offset the cuts by requiring teachers and other employees to pay more for health insurance and pension premiums.
Walker has noted that K-12 funding has increased as of his most recent budget to the highest dollar amount in state history, although that's not adjusted for inflation.
Five Democrats criticized Walker for his wealthy donor base and enacting policies that they said primarily benefit corporations.
A shuttered criminal investigation into Walker's recall campaign found he helped raise millions of dollars for a tax-exempt group coordinating the recall effort, including from a lead industry magnate who stood to benefit from changes in Wisconsin's liability laws. Walker has signed campaign finance laws that allow corporations to donate to political parties and fund so-called issue ads in coordination with campaigns.
"He has exposed himself as a mule for his party's donor cartel," Flynn said.
McCabe said "cronyism, corruption and legal bribery have been allowed to take root in our state," while Vinehout said Walker's "Open for Business" mantra has meant "billions of dollars have gone to corporate tax breaks and cash payments."
'Divide and conquer policies'
Shortly before Walker introduced his anti-union legislation later known as Act 10, which sparked weeks of massive demonstrations, the newly elected governor was recorded telling Beloit billionaire Diane Hendricks that the bill was part of a "divide and conquer" strategy.
Democrats pounced on the video when it surfaced a month before the 2012 recall election, but it didn't prevent Walker from winning two elections since then. Still, half of the Democrats running this year mentioned "division" in their critique.
Evers said Walker's "divide and conquer policies" are the worst thing he has done for the state. Pade, a corporate lawyer, said the worst thing Walker has done is create a "divide culture" in a state that is known for being progressive and bipartisan.
Mitchell said if given a chance to ask Walker one question in a debate, he would ask: "You once said your goal was to 'divide and conquer' and after nearly eight years of being in office, do you feel you've been successful?"
Half of the candidates mentioned wages as a key issue. Mitchell said "wages are stagnant" and Flynn said under Walker wages have been "suppressed."
Vinehout said, "Wisconsin trails other states in wages, in start-ups, in recovering from the last recession."
Since Walker took office, the state has added jobs at a slower rate than the rest of the country, but average wages have grown faster than the national average, according to the latest annual figures from the Quarterly Census of Employment and Wages. The average private-sector wage was $47,212, up from $39,556 in 2010. Adjusted for inflation that's a 6 percent increase.
The state has kept its minimum wage at the national rate of $7.25, while more than half of the other states now have a higher minimum wage.
'Health care costs skyrocketing'
Health care is another topic that public polling has found is on many voters' minds, and half of the gubernatorial candidates criticized Walker's handling of the issue.
Roys pointed to Walker's decision to turn down the expansion of Badgercare under the Affordable Care Act, saying if he had accepted the funding 79,000 more people would be insured, about 10,000 health care jobs would have been created and the state would have saved $1 billion.
Earlier this year Walker successfully applied for a federal waiver for a $200 million reinsurance program designed to reduce premiums in the Obamacare marketplace.
Half the Democrats also knocked Walker for running for president in 2015. He began exploring the possibility soon after his last election and at one point led in some polls but dropped out in September 2015.
During the short-lived campaign, Walker's job approval rating in the Marquette poll plummeted below 40 percent but has since rebounded.
"How do you expect the people of Wisconsin to trust you again when you keep putting the wishes of your donors and your presidential ambitions above them?" Flynn said he would ask Walker on a debate stage.
Soglin said Walker's "presidential ambition was more important than our families and schoolchildren."
In response to the criticisms, Walker campaign spokesman Austin Altenburg said the Democrats are making a "desperate attempt to win over primary voters" and "taking increasingly radical positions."
"In stark contrast, Scott Walker is focused on delivering real results for Wisconsinites," Altenburg said. "With historic actual-dollar investments in education, a plan to lower health care premiums, and skills training to develop our workforce, we're keeping Wisconsin working for generations to come."
The campaign also referred comment to Republican Party of Wisconsin spokesman Alec Zimmerman, who said, "There's no end in sight to the lengths far-left Democrats will run to oppose Scott Walker's reforms."
"From failing to protect children in our schools and places of worship, to their plans that would release violent criminals back onto our streets, these candidates have adopted reckless policies that are dangerous to Wisconsin families," Zimmerman said.
Takeaways: Here are the Democratic candidates' chief critiques of Scott Walker