One hundred days into his tenure, Democratic Gov. Tony Evers has drawn a line in the sand with Republican lawmakers on what the next state budget must include.
"We have to make sure we have affordable and accessible health care, we have to make sure we have increases in resources for our education system, and fix the damn roads," Evers said in an interview with the Wisconsin State Journal. "I would not be accepting of a budget that didn't make significant progress on all three of those."
Still, Evers said he thinks the likelihood is small that he will veto an entire budget passed by lawmakers.
The governor's comments come as he reaches 100 days in a tenure marked, so far, by his clashes with Republicans who control the Legislature. Flashpoints have included laws enacted by Republicans just before Evers took office that curtailed his powers, as well as complaints from Republicans that Evers has failed to reach out to them.
The policy changes the new governor has ushered through amid a Republican-controlled Legislature have been modest. He recently fulfilled his campaign pledge of removing the state from a lawsuit challenging the Affordable Care Act, a consequence of court orders that have thrown parts of state government into tumult.
Evers identified his biggest accomplishment so far as his approach to state politics.
"We're governing in a good way and an open way," he said.
But as for his agenda, there are few signs of agreement on Evers' proposal for the next state budget. Republican leadership long ago cited a list of "non-starters" from it: expanding Medicaid under former President Barack Obama's health care law, increasing taxes on large manufacturers and capital gains, significant hikes to the minimum wage, decriminalizing small amounts of marijuana, rolling back school voucher programs, expanding abortion rights and issuing driver's licenses to immigrants in the country illegally.
For several of those proposals, a recent poll suggests public opinion is on Evers' side. Seventy percent of respondents in the latest Marquette Law School Poll say they support taking federal dollars to expand Medicaid, 57% support increasing the minimum wage and 59% want marijuana to be legal.
Evers' expansive authority to veto spending bills gives him leverage in negotiations with GOP lawmakers. But Assembly Speaker Robin Vos, R-Rochester, has noted the governor has greater leverage to reduce spending than increase it, as Evers wants to do for schools, transportation and other budget areas.
Evers contends that if he has leverage beyond his veto authority, it's public opinion.
"If they ignore that, I think they ignore it at their own risk," Evers said, referring to the GOP's stance on his budget. "We just cannot operate under these circumstances where we don't care what the people of Wisconsin are saying to us."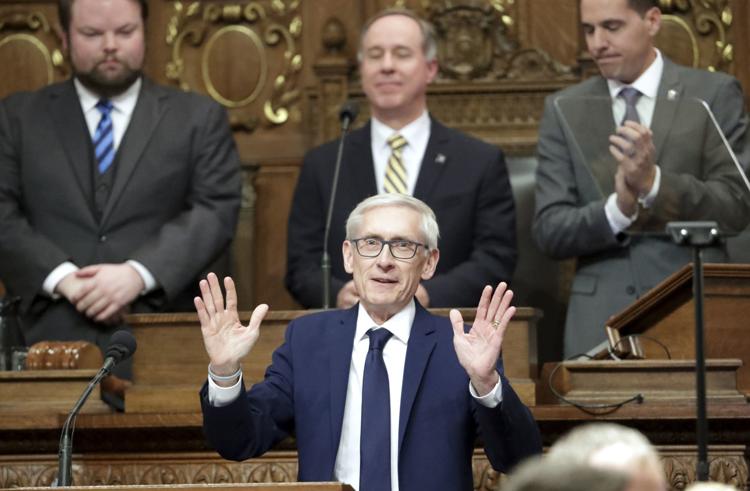 Connecting with people is a priority for Evers, who cited former Gov. Scott Walker's engagement with voters after his unsuccessful presidential bid as something positive he'd give him credit for.
"He connected with people," he said. "I thought he was pretty effective at that."
Senate Minority Leader Jennifer Shilling, D-La Crosse, said she's noticed Evers, too, has an effective style of communication.
"He's genuinely authentic," she said. "He is the same in front of an audience of one as he is an audience of 100."
Former Republican Gov. Scott McCallum, who served from 2001 to 2003, said Evers started his tenure trying to reach out to Republicans.
But McCallum said Evers faces a tough challenge to juggle today's political constraints with the need to govern. Any attempt to compromise with Republican lawmakers risks alienating his liberal Democratic base, McCallum said.
"Tony Evers has some good instincts. He's got to learn to trust his instincts," McCallum said. "You do what you think is right despite what the political consequences may be."
Brian Fraley, a Wisconsin GOP strategist, said Evers has achieved far less in his first 100 days than Walker, who by this point had signed the landmark Act 10, which curtailed collective bargaining for public workers, and created the Wisconsin Economic Development Corp.
Unlike Evers, Walker had the benefit of working with a Legislature controlled by his party.
Fraley said the start of Evers' term has been mired in "partisanship and gridlock," including a legal battle over whether he has the right to appoint 15 members of state boards and councils that Walker appointed and the state Senate confirmed in a December lame-duck session. During the session Republicans also passed laws curtailing Evers' powers before he took office.
But Fraley said it's early enough in Evers' tenure that public views of him are not yet deeply defined. He said transportation is the area of the budget where there's the greatest likelihood Evers could find common ground with Republicans.
"He still has the ability to craft the image of a pragmatist and less of a partisan ideologue," Fraley said.
For conservatives, the governor's first days in office haven't given them much to celebrate. However, there are some bright spots.
Some plaudits
Eric Bott, state director for the conservative group Americans for Prosperity Wisconsin, praised Evers' Secretary of Revenue, Peter Barca, for the administration's handling of regulation.
Bott said he's particularly pleased with the DOR's issuance of guidance documents allowing wedding barns to operate without a liquor license and applauded the governor's proposal to eliminate the minimum markup on fuel, although AFP supports a complete repeal, not just on fuel.
But beyond those topics, the list of grievances from those on the right is growing. Bott argued the image Evers created as a moderate Democrat is now tarnished, a sentiment shared by Senate Majority Leader Scott Fitzgerald, R-Juneau.
"The governor's first 100 days showed how far left he plans to govern," Fitzgerald said in a statement. Fitzgerald also tore into the governor's participation in lawsuits challenging the state's lame-duck laws, calling it an attack on the Legislature's authority, and veto of their tax cut for the middle class.
Democrats, however, say the budget of any governor is just a roadmap meant to stake out a negotiating position and is subject to change.
'Pathetic start'
But the grievances from Republican leadership go beyond his policy. The relationship with Fitzgerald and Vos has been icy. Vos and Fitzgerald have complained Evers won't sit down with them on a regular basis, as they did with Walker. The three did meet Wednesday, but Evers declined to discuss the details of their conversation.
"When it comes to his relationship with the Legislature, I'm hopeful that better days are ahead, but this has been a pathetic start," Fitzgerald said.
Evers said the expectation Vos and Fitzgerald should meet as frequently with him as they did with Walker makes little sense, and that he has no regrets about his relations with the two legislative leaders so far.
"It's a new day," Evers said. "Of course they're not going to have the same relationship with me as they had with Scott Walker."
For Democrats, the honeymoon period is still ongoing. Shilling praised Evers for his cabinet, budget and "swift action" in requesting Wisconsin be dismissed from the Affordable Care Act lawsuit. The lame-duck laws initially barred Evers from doing so, but a Dane County judge's order temporarily suspending the laws allowed Attorney General Josh Kaul to remove the state from the suit.
Shilling did, however, suggest a meeting between Evers and the four legislative leaders from both parties might help to smooth over relations.
A call for more
Some, particularly in the criminal justice sphere, are questioning why Evers hasn't pressed harder for change.
Angela Lang, executive director of Black Leaders Organizing for Communities, based in Milwaukee, said she's glad the governor has criminal justice reform on his mind, but wants more.
"We need very clear ways to just flip some of these policies and where we're at on its head," she said.
Bott, whose AFP has taken up an interest in changes to the criminal justice system, said Evers' proposals, which do not account for any substantial reduction in the prison population, were disappointing.
Shilling urged patience, underscoring there are more than three years left in Evers' term and another budget process.
"Tony Evers has some good instincts. He's got to learn to trust his instincts." Former Republican Gov. Scott McCallum