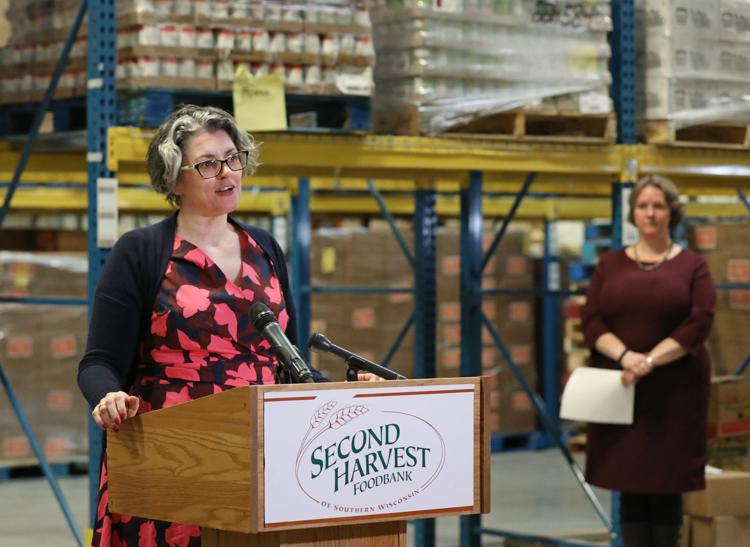 COVID-19 has left many Dane County residents grappling with financial hardships, and more people are having difficulty obtaining food.
In response to the growing need, Dane County Executive Joe Parisi signed a resolution last week for a new round of funding for the Second Harvest Food Bank of Southern Wisconsin, as well as an additional investment in the Badger Prairie Needs Network (BPNN).
Parisi's resolution follows a surge in demand for food pantry services throughout the county and across the nation. Feeding America — a national hunger relief organization — projects a 63% increase in those who have difficulty accessing food in Dane County, due in part to the pandemic.
With 38,000 Dane County residents filing unemployment claims after the pandemic forced many businesses to cut employees' salaries or close entirely, more people have had to seek assistance from food pantries, Parisi said.
"There are people who were experiencing food insecurity before who continue to experience it," he said, "and there are people who weren't experiencing it before who now are in need of some assistance."
Second Harvest will receive a $3 million grant — doubling its funding from Dane County to $6 million — to help the organization replenish its food pantries with local food through the end of October. The grant is an extension of the county's initial $3 million funding effort that began in April. Dane County will also partner with BPNN to expand its cold storage facility to an additional 1,000 square feet of refrigeration for perishable food items — a nearly $321,000 investment.
Growing need
BPNN executive director Marcia Kasieta and Second Harvest president and CEO Michelle Orge said the funds will help fill the need for food in the county. Both organizations have seen an increase in the number of people using their resources.
Second Harvest distributed nearly 2.05 million pounds of food in the county in less than three months since March 15. That's 65% more food than what was distributed during the same time period last year, Orge said.
"The extension of funding is an acknowledgment that the increased level of hunger in Dane County, as a result of the pandemic, is a long-term problem that requires long-term solutions," she said.
Orge said Second Harvest distributed 90,000 pounds of food to more than 1,000 county households in just one day.
The number of people who use BPNN's services rose by 130% in a single night, according to Kasieta. Since the beginning of the pandemic three months ago, BPNN has served nearly 6,000 individuals and distributed about 184,743 pounds of food in the county — a 43% increase in food and a 74% increase in residents compared to the same time span in 2019.
Kasieta said BPNN tallied a 500% increase in new households seeking food assistance, many of whom "never thought they'd have to," due to the economic effects of COVID-19.
Ending hunger
The pandemic also has posed additional challenges for local food pantries' volunteer efforts.
BPNN, for example, instructed its elderly volunteers — who make up a large portion of the organization's volunteer force — to stay home due to the pandemic. That took out three-quarters of BPNN's volunteers, Kasieta said.
The organization has since doubled its number of volunteers, and has recruited a new contingent of high school and college students.
According to Orge, such community participation is the backbone of food assistance programs in Dane County.
"The pantry coordinators and volunteers we work with are the true face of hunger relief," she said. "They're the ones who are providing a smile and a sense of hope to people going through a difficult time right now."
Second Harvest is anticipating an even larger amount of need within the next few months, though the food pantry is not expecting a comparable increase in food donations, Orge said.
But, she said, "We have faith that we'll have the resources to meet that need."
Volunteers work on repackaging soups at the Kitchen to Table: Wisconsin Food Recovery Network at Badger Prairie Needs Network in Verona.
Other partnerships have also formed to provide hunger relief. In an effort to improve sales for farmers and provide fresh food for those in need, Dane County has linked Second Harvest with local dairy and pork producers, as well as the Dane County Farmers' Market and Fairshare CSA Coalition.
The partnership is designed to bring producers and consumers together to improve sales for farmers, while resupplying area food banks.
To help volunteers maintain physical distance, Epic Systems and the Alliant Energy Center have provided space for packaging and distribution to food pantries.
Five of the busiest pantries in Dane County — Middleton Outreach Ministry, River Food Pantry, Sun Prairie Food Pantry, St. Vincent De Paul and BPNN — have formed an alliance as well, Kasieta said. The collaboration eliminates service-area boundaries and increases the number of times people can use the pantries each month.
The networks are something positive to come out of the pandemic, Kasieta said.
"Hunger has been this 'non-sexy' thing," she said. "But the pandemic has put hunger as an essential issue. Now, local governments are thinking about how to incorporate their local food pantry in the community."
In part, the pandemic has been a "wake-up call" for many communities, showing that no one is exempt from needing food assistance, Kasieta said.
In spite of the challenges, she's grateful community members have stepped up to help.
"There's a great deal of sadness and anxiety with the people that are coming here for help," she said, "but there's many wonderful parts about this, too — we didn't collaborate like this in the past."
Concerned about COVID-19?
Sign up now to get the most recent coronavirus headlines and other important local and national news sent to your email inbox daily.