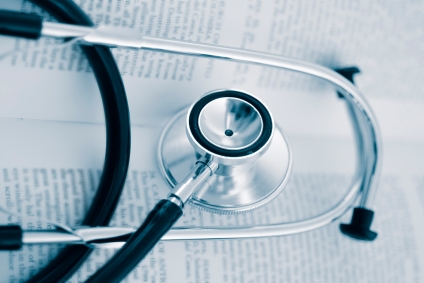 Last year the administration of former Gov. Jim Doyle hired renowned health care economist Jonathan Gruber to do a major study on how federal health care reform will impact Wisconsin.
This week, the administration of Gov. Scott Walker had to figure out what to do with it.
If you read the state's press release about the new report or went to an invitation-only press briefing Wednesday you would have been told that the study shows that reforms will mess up what is already working fine in Wisconsin. "We have one of the lowest uninsured rates and one of the most robust insurance marketplaces in the nation, all achieved without federal mandates," Department of Health Services Secretary Dennis G. Smith said in the press release, which lists what it calls "major concerns" that are "demonstrated by the results of this study."
But that's not the conclusion Gruber came to at all. "They picked out the most negative aspects of the report to highlight," Gruber told me in an interview. "Overall I think health care reform is a great thing for Wisconsin."
A key finding of the analysis -- that 340,000 uninsured people in Wisconsin will gain coverage by 2016 -- was not even mentioned in the press release issued by the state's Office of Free Market Health Care, the new department created by Walker to replace Doyle's Office of Health Care Reform, which had been formed barely a year earlier to carry out the federal Affordable Care Act.
Instead lists of "key findings" presented in the press release and a slide presentation prepared for reporters detail negatives using expressions that have become hot buttons in the health care debate: the law will "drastically shrink" the numbers of people in the private insurance market; it will cause "significant disruption" to employer-sponsored insurance; and it will force "working families" to pay a "hidden tax" that will "subsidize" the purchase of health insurance for families earning up to $89,000, a "forced redistribution of wealth."
Some critics of the Walker administration call this political spin. "What they're trying to do is to create the impression that health care reform is a very bad deal for everyone and that reform should be repealed," says Robert Kraig of Citizen Action of Wisconsin, an advocacy group that supports the federal overhaul. "They are trying to bury some of the most significant findings of a balanced research study about how we implement health care reform."
Kraig is still fuming after being ejected from the tightly orchestrated press briefing about the report Wednesday. Among the strict ground rules: reporters could not quote anything Smith and other state officials said during the course of an hourlong "technical briefing" and PowerPoint presentation  (which didn't get to the good news about the increase in coverage for 340,000 people until the last of 16 slides.) Reporters could use only comments provided in the press release or afterwards in one-in-one interviews with Smith and Insurance Commissioner Ted Nickel. Cameras and recording devices could not be used. (I was not among the seven or so reporters there; however someone at the meeting filled me in. For further details about the study's findings you can read this AP report or this story from the Wisconsin State Journal.)
The study, which Gruber worked on with Gorman Actuarial, a Massachusetts health care consulting firm, projects that after tax subsidies, 59 percent of the 180,000 Wisconsin residents  who purchase policies in the individual market will experience rate increases of around 31 percent. About 53 percent of people insured through companies with fewer than 50 workers will see premiums go up an average of 15 percent.
You have free articles remaining.
Left out of the release, though, was positive data about how others in these groups will see rates fall. Missing also were all the projections showing that the number of people who will benefit from the reforms is far greater than those who won't, Gruber says, something that becomes clear when you add up the tens of thousands of people who will pay less for coverage, the tens of thousands of people who will have better coverage and more coverage than they used to, and the 340,000 uninsured people who will finally be able to afford it.
State officials put the spotlight on projections showing rates are going up for some people in the individual and small group markets, but they did not talk much about the reason why. Gruber says it is because reforms will finally correct a longstanding health care inequity---the common insurance industry practice of cherry picking, or keeping rates low for the young and healthy by charging a lot or even denying coverage outright to the old and the sick with pre-existing conditions . "Here's my counterspin," Gruber says. "It's not that people have to pay more. It's that people have artificially been paying too little."
To end these "discriminatory practices where young and healthy people get a good deal and old and sick people get a bad deal," he says, "what that means in the state of Wisconsin, which has a wild west market, is that young, healthy guys are going to get hit."
And even those guys will benefit themselves from the reforms when they get old and sick and need affordable coverage, he says.
During our phone interview, Smith argues that "we could have achieved those gains through other means than growing the power of the federal government and disrupting our markets."
He also denies charges that state officials are highlighting only aspects of the report that fit their agenda. "I think we played it straight," he says. "If I were putting a spin on it, it would put much more emphasis on places where I disagreed with the actuaries." For example, Smith says, the report concludes that the new law will have little negative impact on employer-sponsored insurance, while he is convinced federal reforms will lead to what he calls a "dramatic erosion" of that market.
State officials did not invite Gruber to Wisconsin for the release of his study nor did they set up a conference call with him for reporters or even provide them with his contact information. That is unusual for an important report like this, which cost $400,000. "I usually do a presentation at least to the stakeholders and policy makers," Gruber says. But he's not that surprised. "I think it's basically because they interpret their results differently than I do," he says.
Gruber, a professor of economics at the Massachusetts Institute of Technology, is one of the most highly regarded health care economists in the nation; he has won praise for similar work for the federal government and other states including Massachusetts while it was undergoing a major health care reform under Republican Gov. Mitt Romney.
I asked Smith if he had any problems with the quality of Gruber's work or his credentials. "Quite the opposite," Smith said. "He's highly regarded and he knows what he's talking about so we ought to be listening. This is the snapshot of our future and there are many things in the study that will have a negative impact on people."
But it sounds like Wisconsin officials and staff spent a great deal of time on e-mails and phone conversations aimed at telling Gruber how they wanted to present that snapshot and data.  "Let's just say we went back and forth on the wording of the report and that they asked us to emphasize the negative far more than I would have chosen," he says.
These discussions were with "career civil servants, good people operating on orders from higher up," he says, and with the health secretary himself. They were the clients, he says. Ultimately most of the decisions were theirs. "I'm not accusing him of cooking the numbers," he says. "I'm saying that Dennis Smith has long been clear in his opposition to health reform and I think that is reflected in the way he chose to present the results."