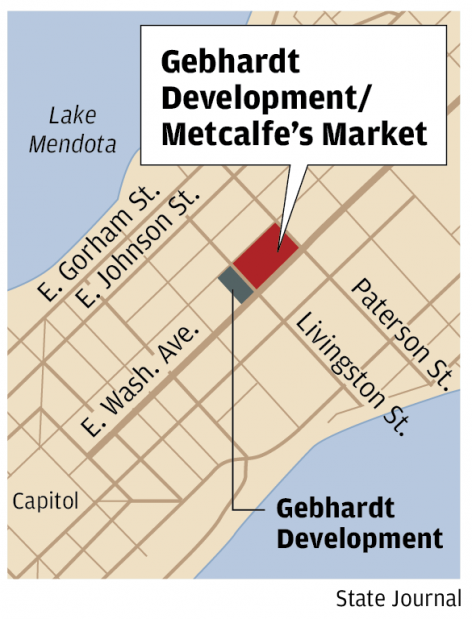 In a quick negotiation, Madison and developers have reached a tentative deal on the sale of prime city-owned land for a $65 million, 10-story mixed-use project on the Near East Side.
The city and Gebhardt Development/Metcalfe's Market, which began talks in mid-April, have drafted a letter of intent under which the city would sell a 4.5-acre site on the north side of the 800 block of East Washington Avenue for $3.15 million, and the developers would build a mixed-use project in two phases.
The first phase includes a 50,000-square-foot Metcalfe's Market with a rooftop garden, 175 to 240 residential units — with 45 units for lower-income residents — and a 350-space parking garage. The second piece calls for 22 owner-occupied residences, 65,000 square feet of retail/commercial/office space and an additional 173 parking stalls.
The letter of intent will be reviewed by committees and then the City Council. If approved, the city and developers would finalize a purchase and sale agreement, and developers would begin seeking public financial support and land-use approval.
"We're taking it in steps," city Economic Development Director Aaron Olver said, adding that the agreement represents a major vote of confidence by the developers in the fledgling Capitol East District.
Negotiations are going well because the project has an anchor tenant in the grocery store, Gebhardt has insight into the housing market from its 12-story residential development on an adjacent block, and the project doesn't rely on speculative commercial space, Olver said.
An agreement on public support will be a key to moving forward.
In their initial proposal, the developers estimated needing $7.9 million in tax incremental financing (TIF), which would require an exception from policy limiting TIF to 50 percent of new taxes generated by a project over the life of the TIF district. The estimate represents 123 percent of new taxes.
It's unclear if the developers will adjust their TIF request, Olver said. Developer Otto Gebhardt and Tim Metcalfe could not be reached.
The letter of intent follows failed talks with another developer for a project on the site.
Negotiations with Urban Land Interests on a $32 million project broke off in September 2012 when the sides decided it couldn't generate the property taxes to justify the public assistance needed to make it work.
The city invited new proposals, and a special committee in April chose Gebhardt/Metcalfe's. C.D. Smith construction and T. Wall Enterprises also offered plans. The committee said C.D. Smith's $60 million mixed-use project should be a backup if negotiations with Gebhardt/Metcalfe's fail.
The 4.5-acre site is part of the former Don Miller auto dealership the city bought for $5.8 million in 2010. The city sold 1.5 acres on the north side of the 700 block to Gebhardt, now completing a 12-story project. Another developer sought to buy two acres on the south side of the 800 block but backed away.
Get Election 2020 & Politics updates in your inbox!
Keep up on the latest in national and local politics as Election 2020 comes into focus.