When John D. Wiley got a phone call last August from a group asking for money to help veterans, he hesitated at first.
The group, called the US Veterans Assistance Foundation, said it was raising money for injured and disabled veterans who were not getting their appropriate benefits, said Wiley, a former University of Wisconsin-Madison chancellor who retired in 2011.
Wiley told the solicitor that the government should care for veterans and ensure they receive their due benefits.
"Even though I don't think it's my private citizen's responsibility, I'm sympathetic to their cause and I will help out," Wiley said.
Though it may sound like one, the US Veterans Assistance Foundation is not a charity. It is a federally registered political action committee, or PAC, a fact the solicitor did not disclose on the call, Wiley said.
Wiley's donation, along with hundreds of others the PAC has received over the last two years, has not gone to veterans. Instead, it has largely gone into the pockets of the man who established it: Robert Piaro.
"They just played me," Wiley said, after being asked by a reporter about his donation, and was told that none of the money appeared to assist veterans.
Despite complaints, what Piaro is doing is legal.
He has solicited money from individuals like Wiley for years and continues to take money from donors across the country. 
Charity watch groups have issued warnings about his PAC and news stories have covered his business dealings, yet lawmakers at the state and federal levels have made no moves to change the law. Wisconsin agencies that deal with nonprofits, consumer protection and fraud, say they are aware of Piaro's activity but have taken no action against him.
Congress has taken no action yet, but campaign finance experts and some members are hopeful regulations could change with a new party controlling the House of Representatives.
Piaro did not respond to repeated requests for comment by email and when contacted by a reporter by phone, he said he was "not interested" and hung up. He did not answer the door when a reporter visited his house in December for this story.
'A national problem'
In addition to the US Veterans Assistance Foundation, Piaro runs three other PACs: Standing by Veterans, Americans for the Cure of Breast Cancer and the Association for Emergency Responders & Firefighters. After listing the headquarters of each PAC from his home in Fredonia, about 35 miles north of Milwaukee, Piaro changed each PAC to a different address in the Milwaukee area this fall, according to Federal Election Commission disclosures.
Piaro raised $12.1 million dollars from January 2017 through September 2018 through his four PACs, according to FEC disclosures. Less than 2 percent of the money Piaro has brought in has gone to a political candidate, committee or cause, according to FEC filings. Piaro is not a registered lobbyist on the state or federal level.
Piaro's PAC operation has several layers of deception. The name of each PAC sounds like a charity. Solicitors who call are not forthcoming about the fact they are asking for political donations and not charitable ones, according to multiple people. And most of the money donated is not going to people in need, nor political causes.
Records show that money donated to those PACs is spent on salaries for Piaro and two employees, as well as paying credit card bills and office expenses. Piaro has shuffled donated money among the PACs.
Campaign finance experts call this example a classic scam and a growing concern.
"It is a national problem," said Robert Yablon, an assistant professor at the University of Wisconsin Law School who has researched and written on federal campaign finance reform and scam PACs. PACs that are considered scams often spend the money raised on personal expenses, or somehow enrich its owner, he said. 
"Money will be raised and then money will be spent on direct mail organizations to raise more money and the direct mail organization is affiliated with the person who is the director of the super PAC," Yablon said. "Under federal law, there is very little to stop that from happening."
PACs are groups that are formed to raise money for political candidates or causes. The first one was established in 1944 to raise funds to support Franklin D. Roosevelt's re-election. They have since become an integral part of American politics.
Piaro's PACs are known as super PACs, a distinct type of federal PAC that arose in 2010 as a result of the Citizens United U.S. Supreme Court decision. Super PACs can solicit unlimited sums of money from individuals, corporations and unions. They cannot spend money directly on candidates or coordinate with candidate campaigns, but there are no restrictions on spending for personal use.
Super PACs are required to report their donors to the Federal Election Commission on a monthly or semiannual basis, but there is little oversight or enforcement from the FEC on how the groups spend money.
Contributions to super PACs are not tax deductible. Super PACS are distinct from PACs that are established through the state, which are regulated by the Wisconsin Ethics Commission.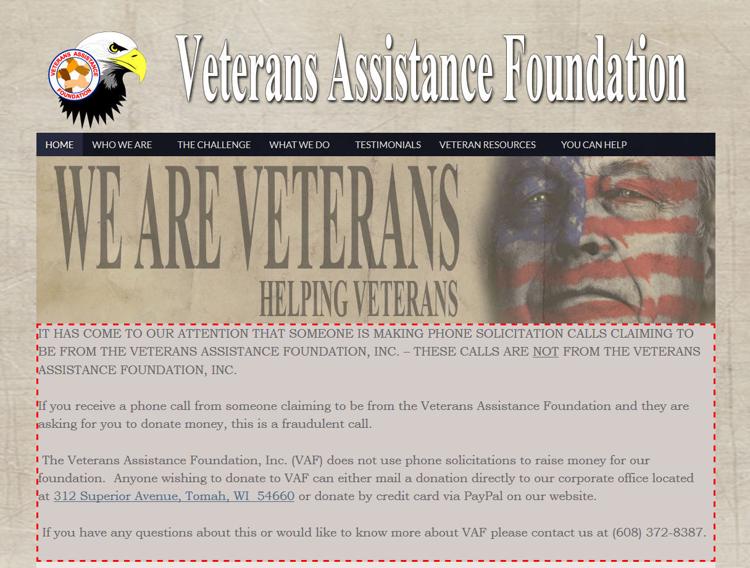 Who is Robert Piaro?
A decorated war veteran, Piaro has been a presence in the state's veterans community for decades. He lost his leg in the Vietnam War, serving as a private first class in the Marine Corps. He earned a Bronze Star Medal with a combat "V," a distinction awarded for acts of valor in combat, according to the National Archives online database.
Before starting his PACs, he helped former Gov. Tommy Thompson's administration develop a statewide transitional housing program for homeless veterans in 1994.
When that program was created, Piaro founded a nonprofit called the Veterans Assistance Foundation. That nonprofit has administered the program for the western part of the state since. The state still has a contract with the nonprofit for up to $1.8 million, though the cost varies depending on the number of veterans served, said Carla Vigue, spokeswoman for the Wisconsin Department of Veterans Affairs.
After leading the nonprofit and later serving as chairman of its board of directors, Piaro left the Tomah-based Veterans Assistance Foundation in late 2015 and is no longer affiliated with the group.
Two years later, he created a political action committee with a nearly identical name and began raising money from donors.
Confusion hurts charity
For those who remain at the Veterans Assistance Foundation, Piaro's PAC has created confusion and hindered the group's work.
"He just kind of went down a different path from what the board had intended," said Chris Hanson, the CEO and president of the nonprofit Veterans Assistance Foundation, who was hired by Piaro. "He had different goals than what the organization had."
Hanson said Piaro's fundraising, along with other negative press the group has received, has decimated it. It now employs 14 people, down from 48 four years ago.
For a while, Piaro was using the nonprofit's logo on solicitation mailings for his PAC, Hanson said. The group asked him to stop and he recently did, but Piaro has not responded to other requests to stop his practices or to be more clear with donors, Hanson said.
You have free articles remaining.
Donations to the nonprofit have decreased substantially, Hanson said, and the group is continually fielding calls from upset donors across the country who confuse it with Piaro's PAC. The group also has a warning about phone solicitors on its website and says it does not make calls to raise money.
"For people to donate to a legitimate organization, give the money directly to the organization," Hanson said. "Do not go through a solicitor to do this."
In Tomah, the Veterans Assistance Foundation nonprofit is currently working on a $200,000 project renovating eight apartments for homeless veterans. The apartments are above a thrift store and coffee shop it owns to provide job training for veterans. Every dollar someone donates to that project goes directly to it, Hanson said.
He also said that Piaro has never repaid the nonprofit Veterans Assistance Foundation for a loan that the group gave him to start a company, the Veterans Employment and Training Services, Inc. As he was leaving the nonprofit, Piaro took the money and started the company billed as providing job training to veterans. When it folded after one year, Piaro never responded to requests for payment, Hanson said.
Hanson said he did not know what prompted Piaro to start the PACs or to move away from the good work he had done for veterans.
"The man served his country honorably and he has been outstanding for veterans issues in the past," he said. "In the past four years or so things have just shifted."
In an interview with the Cap Times in 2016, Piaro acknowledged that spending donations on professional solicitors and overhead rather than veterans was not a good practice. But he defended the method at the nonprofit Veterans Assistance Foundation as necessary to fund the group's other programs.
"I know that's reprehensible," he said of his time at the nonprofit Veterans Assistance Foundation. "I know it's not good at all, but without it we couldn't do that stuff. We wouldn't have any growth potential at all."
Piaro said he planned to start spending $200,000 to $300,000 on political activity once the groups raised sufficient funds and do a "sustained push" during the 2020 election, Politico reported. But according to Piaro's latest FEC filings, his PACs have spent nearly every dollar taken in each quarter, paying a host of fundraising and database companies, salaries for himself and two employees, along with the employees' federal and state income taxes.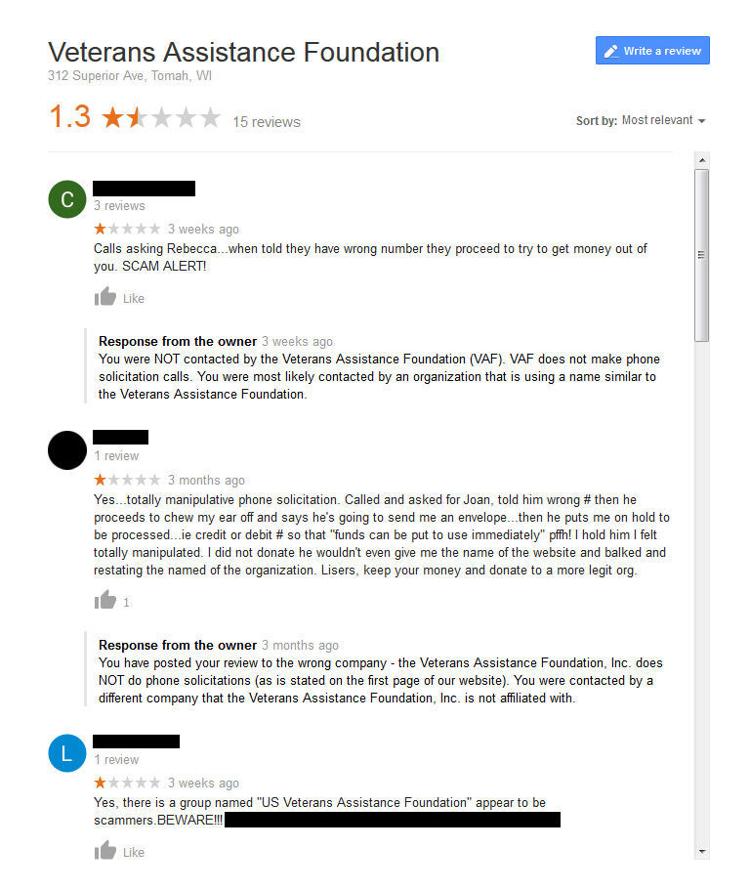 PAC collects millions
The US Veterans Assistance Foundation PAC has received more than $5.4 million in contributions since its creation in 2017 through September, according to the FEC database. The PAC has made no direct contributions to veterans.
Kathy Bunkers of Farmington, Minnesota, donated to the US Veterans Assistance Foundation after she received a call asking her for money. After being contacted by a reporter and sent FEC filings of the PAC's spending, Bunkers said she has changed her giving practices.
"I was surprised. They sounded so legitimate and to which I made a fairly substantial contribution," she said. "The focus of my philanthropy has now changed. I will support well-known groups and agencies that I know are legitimate. 
"This makes me sad in that I know there are likely many small, well-meaning people and nonprofits who are passionate about causes they support or have started due to personal hardships of loved ones or people they know," Bunkers wrote in an email.
Watchdogs on alert, but little state action
CharityWatch, formerly called the American Institute of Philanthropy, tracks nonprofit scams and said it is increasingly seeing federal super PACs masquerade as charities to potential donors.
"I can see this getting bigger, this problem," said Daniel Borochoff, president of the group. "We're going to have to come up with a way to rate them and alert people to them so that people don't waste their money that they intended to use to help people or help causes."
Though it is legal under FEC rules, Piaro's PAC practices are troubling, Borochoff said.
"Violating the intention of those donors, raising (money) for purpose x then distributing it as purpose y, that's wrong," he said.
Some Wisconsin agencies say they have gotten complaints about Piaro's PAC operation, but have not taken action.
Rebecca Ballweg, a spokeswoman for the Department of Justice, said it was aware of entities such as Piaro's and that "DOJ actively works with other state agencies and local law enforcement to investigate those who may be preying on consumers in Wisconsin."
Jerad Albracht, a spokesman for the Wisconsin Department of Agriculture, Trade and Consumer Protection, which refers consumer complaints to DOJ for investigation and potential prosecution, said the department received four complaints in 2018 against the US Veterans Assistance Foundation and none from Piaro's other PACs. Three of the four complaints were from out of state, he said.
The agency has been working with the state DOJ and the Department of Financial Institutions, which regulates charities, to crack down on deceptive veteran-related charity fundraising.
Hanson, of Tomah's Veterans Assistance Foundation, said both state and federal politicians could stop nonprofit and so-called scam PACs by better policing how solicitors operate. Hanson said he has talked to representatives at both levels about his concerns.
"I've talked to countless legislators and it kind of goes in one ear and out the other. It's not a hot-button topic and it won't be until more and more people complain about it," he said. "Legislators got to get off their ass and do something about this .... the state needs to buckle down, too, on some of this stuff, (because) each state has their own regulations on what solicitors are allowed to do."
What can be done?
Changes at the state and federal level could curtail such operations. State lawmakers could alter solicitation laws to inhibit the kinds of calls PACs like Piaro's make. It could also tighten or enforce laws that ban misleading charitable fundraising practices.
At the federal level, Congress could change the laws of how PACs spend money.
The FEC also noted that many scam PACs solicit contributions with promises of supporting candidates, "but then disclose minimal or no candidate support activities while engaging in significant and continuous fundraising, which predominantly funds personal compensation for the committees' organizers," according to the commission. "In many cases, all funds raised by this subset of political committees are provided to fundraising vendors, direct mail vendors and consultants in whom the political committees' officers appear to have financial interests."
The FEC has limited authority to do anything about the growth of scam PACs, said Brendan Fischer, director of federal reform at the Campaign Legal Center, who studies PAC activity. 
"The FEC can only administer the laws that are administered by Congress," he said. "They don't give the FEC many tools to fight scam PACs."
Congress has not acted on the FEC's recommendations yet, but that could change with the partisan shift in the House of Representatives.
The Cap Times asked each member of Wisconsin's Congressional delegation if he or she supported legislation to narrow super PAC rules or had received complaints about scam PACs. Only Republican Rep. Mike Gallagher of Green Bay and Democratic Sen. Tammy Baldwin of Madison responded and said they support measures to tighten campaign finance laws when it comes to how super PACs spend money.
PAC reforms could be one issue where both parties can come together with the new Congress, said Gallagher, who co-sponsored a bipartisan bill last month to require more transparency in PAC ads and spending.  
"I think in a divided government where, yes, it's going to be hard to get anything done, this might be an opportunity for bipartisan, meaningful reform, particularly if the other side doesn't overplay its hand," he said. "The political fundraising industry is not efficient and not accountable and it has created the opportunity for a lot of mischief."
According to Baldwin's office, she is supportive of FEC legislative recommendations to patrol and penalize scam PACs. She has co-sponsored legislation that creates an oversight agency to replace the FEC that would be able to impose fines for campaign finance violations.
Since making his donation, Wiley said he has received hundreds of calls from similar groups asking for money. He was still receiving them in December, he said.
"I'm sorry I did it but what is done is done and I won't be giving to them anymore. I told them that," he said.