A record number of people and organizations will take part in the review of a controversial power line through southwest Wisconsin.
Judge Michael Newmark approved more than 50 intervenor party requests Thursday, granting dozens of Wisconsin residents the opportunity to go beyond the normal public comment process in the Public Service Commission's decision on Cardinal-Hickory Creek, a $500 million utility project.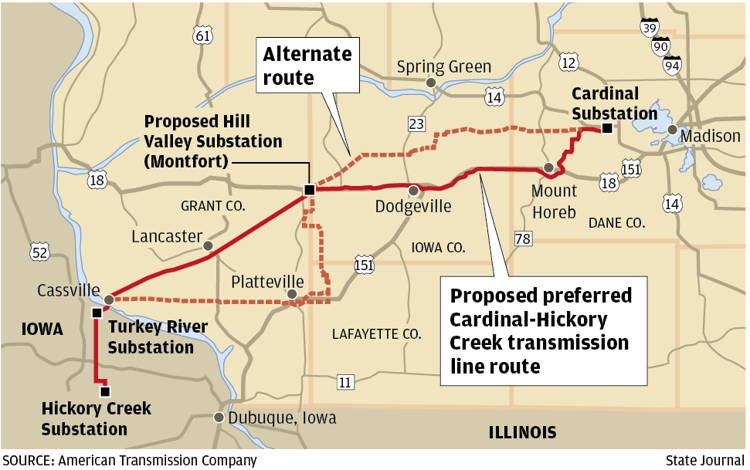 As intervening parties, they will be able to offer testimony from expert witnesses, cross-examine witnesses and request information — including trade secrets — from the applicants: American Transmission Co., ITC Midwest and Dairyland Power Cooperative.
While anyone can submit a public comment, only those with party status can file supporting documents and technical analysis.
Intervenors can also apply for public funding, though not all receive it. The PSC has just over $650,000 in intervenor compensation to be allocated this year across all of the cases before the commission.
Among the intervenors are Dane and Iowa counties, as well as the town of Vermont and a handful of town and village boards from southwest Wisconsin and nine nonprofit organizations.
The list also includes dozens of individuals — including 10 Amish families — who live along the proposed routes or expressed an interest in the bigger issues surrounding the project, which has divided environmental advocates.
Noting similarities in 50 of the requests, Newmark had proposed having them represented by SOUL of Wisconsin, a group formed in opposition to the last transmission project before the commission.
But Newmark agreed to admit them individually after SOUL representative Rob Danielson assured him the group had not orchestrated the requests, many of which were filed minutes apart and contained large chunks of identical language.
"The interest in intervening seemed to grow organically," Danielson said.
One of the intervenors, David Giffey of Arena, said he's spent years studying the project, which would have crossed his property under one early proposed route.
"Our concern is both that it could still conceivably cross our property," he said. "The bigger picture is that it's going to cross anybody's property."
ATC's attorney, Brian Potts, encouraged Newmark to admit all of the applicants individually.
"If people want to participate, we want to give them that ability," Potts said.
Newmark did not grant party status to 23 people who failed to show up for Thursday's hearing, though he said he would consider second requests filed past the deadline.
"It's a great day for democracy," Danielson said after the hearing.
The proposed 345-kilovolt line, which would run between Dubuque, Iowa, and a substation in Middleton, has an estimated price tag of more than $500 million, of which Wisconsin ratepayers would pay up to $72 million.
The owners and some clean-energy groups say it would deliver low-cost wind energy from Iowa to population centers where the power is needed. They say it will save Wisconsin customers between $23.5 million and $350 million over its four-decade life.
Opponents, including conservation and environmental groups, say the line is not needed, would support fossil fuel use and damage important conservation areas. They argue Wisconsin consumers would be better served by energy efficiency and local renewable-energy projects.
In the Badger Coulee case, there were just six party status requests from individuals and 17 from organizations and municipalities.
Newmark noted the unprecedented public interest and warned the intervenors that they are expected to attend hearings in Madison, answer questions from other parties and commission staff, file documents on schedule and follow 18 pages of rules.
"This is a work in progress," he said. "Really the first time we've had this many parties."