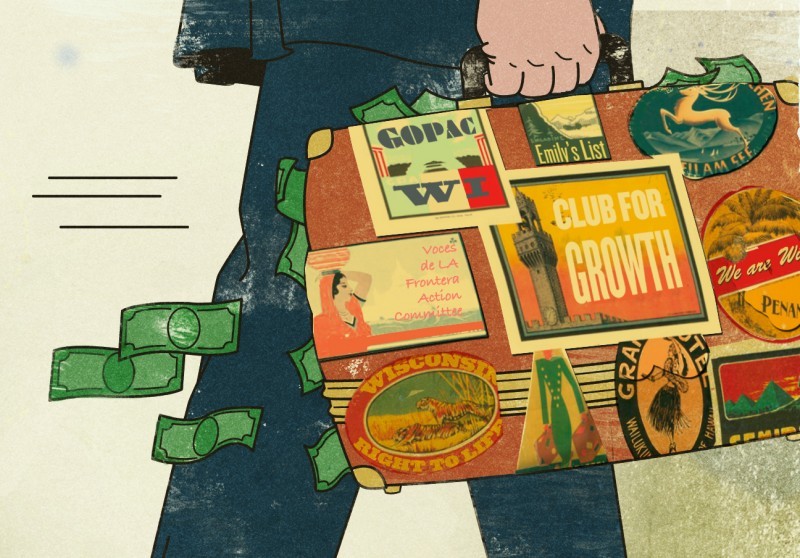 Spending in the summer's recall elections by special interest groups, candidates and political action committees shattered spending records set in previous elections, with $43.9 million doled out on nine elections, according to a study released Tuesday by the Wisconsin Democracy Campaign.
Spending by six political action committees or special interest groups topped the $1 million mark. We Are Wisconsin was the top spender.
The union-backed group spent roughly $10.75 million, followed by the conservative-leaning Club for Growth at $9 million and $4 million in spending from the Greater Wisconsin Committee.
Put in perspective, the $43.9 million spent on the recalls more than doubled the previous record for spending by candidates and groups in legislative races, which was $20.25 million for 99 Assembly seats and 16 Senate seats in the 2008 general elections, according to the Wisconsin Democracy Campaign.
The recall races also collectively cost more than the most expensive race in Wisconsin political history — the $37.4 million spent by the candidates and outside groups in the 2010 governor's race.
The recall elections, sparked by Republican Gov. Scott Walker's bill to strip collective bargaining rights from most public workers, targeted six Republicans and three Democrats.
Democrats had needed a net gain of three Senate seats to win back the majority. They only picked up two.
The recall elections also saw the most spent by a single outside special group in an election, the most spent by all outside smear groups, the most spent by candidates and groups in a legislative race and the most spent by a legislative candidate in an election.
A review of total spending by the outside groups, candidates, state parties, recall committees and two legislative leadership committees found Democrats outspent Republicans $23.4 million to $20.5 million. Here's how that breaks out:
• Outside special interest groups doled out a record $34.5 million in the races, mostly to buy negative broadcast advertising and mailings to trash the candidates (see Table). Groups backing Democrats spent an estimated $18.6 million and groups backing Republicans spent $15.9 million.
• Twenty-six candidates, including nine incumbents and 17 challengers, spent $7.99 million. Republican candidates spent $4.04 million and Democratic candidates spent $3.95 million.
• Recall committees, the state Democratic and Republican parties and two Senate fundraising committees used by legislative leaders to raise and spend money on elections spent $1.45 million. Democrats spent $948,868 and Republicans spent $500,260 on the recalls.
To see more on the report, click here.
Get Government & Politics updates in your inbox!
Stay up-to-date on the latest in local and national government and political topics with our newsletter.