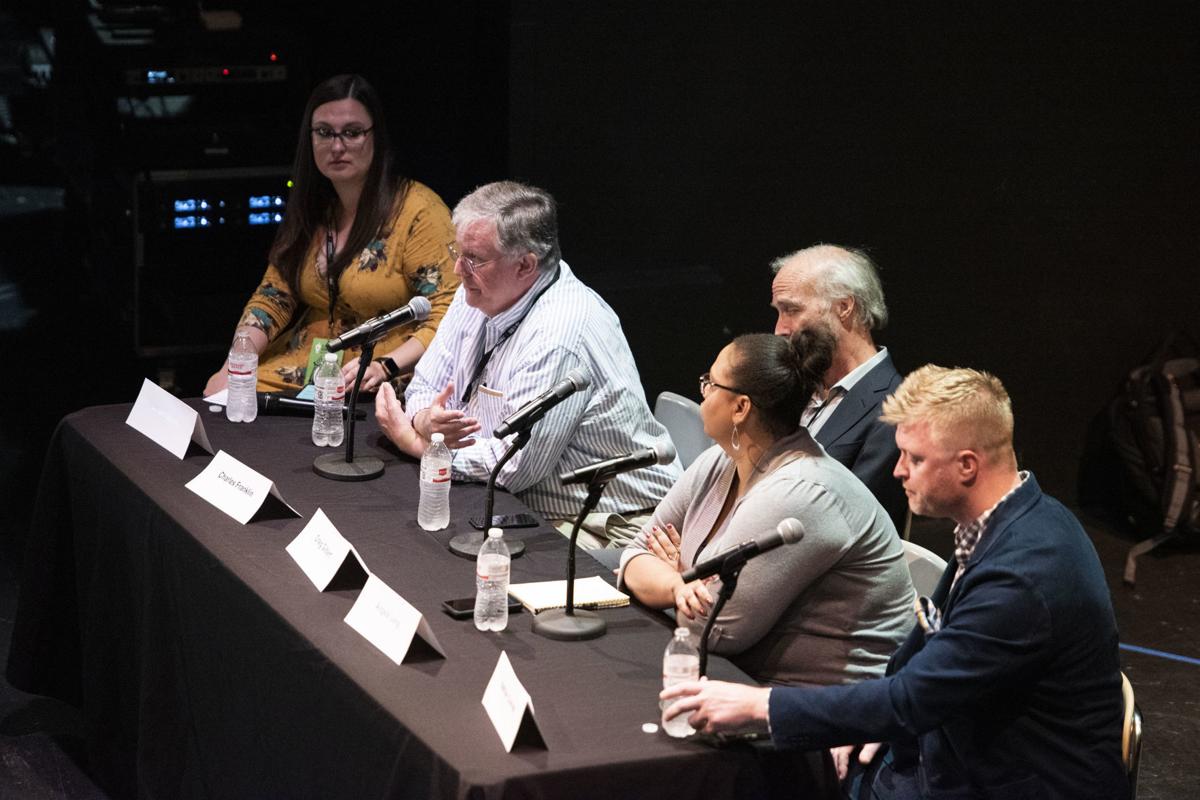 When the 2020 presidential election comes down to the wire, getting voters to the polls will be key in a state where Donald Trump won in 2016 by 0.7%
"I think it's going to come down to engagement to as many people as possible, as early as possible, and in a very authentic way," said Angela Lang, executive director for Black Leaders Organizing for Communities. "People need to find a way to relate to voters."
Her counterpart on the Republican side agreed.
"I think engagement is probably the perfect word for both sides of the isle," said Nathan Conrad, director for advocacy for Platform Communications, a strategic communications firm that often works for Republicans. "We're going to continue to see mobilization. You've got both state parties already at full staff. That usually doesn't happen almost until February or March of the actual election year."
Conrad and Lang were the partisan half of a Saturday Cap Times Idea Fest panel discussion on politics in Wisconsin as the state heads into 2020. Charles Franklin, director of the Marquette University Law School Poll, and Milwaukee Journal Sentinel Washington bureau chief Craig Gilbert rounded out the panel.
Jessie Opoien, Cap Times opinion editor, moderated the discussion.
While engagement conjures images of mailboxes stuffed with political flyers and endless robocalls, getting in touch with voters is a time-tested way to get people to vote. And although there are fewer and fewer swing voters out there to influence, they're still out there.
And in a state that could decide the presidential election — President Donald Trump would have won in 2016 even if he'd lost the other "blue wall" states — a few voters can go a long way.
"Even though there are fewer swing voters today than there used to be, in a state that's being decided by a fraction, there are enough of them to make a difference," Gilbert said.
While the Republican field is set, Democrats have to decide whether they want a moderate (Joe Biden) to go head-to-head with Trump, or a progressive (Bernie Sanders or Elizabeth Warren) to fire up the base.
You have free articles remaining.
"This question haunts me," said Lang.
She said the question comes up continually in her circle.
"I feel like we're living in a time where some Democrats are like, 'Do we want to win, or do we want to just dig our heels in and absolutely be as progressive as possible and stick to our guns,'" she said.
She added, "I don't even know the answer for myself."
Conrad said that whoever it is, they will have a deep base, as will Trump.
"I'd say pick whoever you want," Conrad said. "Anybody versus Trump is going to be an interesting race. 2020 is going to be a huge turnout race."
While conventional wisdom has it that high turnout will benefit Democrats, Gilbert said that's not necessarily so. He noted that in 2004, Republican George W. Bush prevailed over Democrat John Kerry.
"That was the highest turnout we've ever had," he said. "And that was a race that was a race that decided by less than 0.4%."
Regardless of who it benefits, he said, "I think we're going to get crazy turnout."
Part of the Democratic challenge will be finding a message that resonates with voters, Franklin said, something Trump was able to pull off, but a feat his Democratic opponent, Hillary Clinton, struggled with.
"President Trump found messages that resonated with a critical part of the electorate here in 2016, and by all accounts still registers well with a lot of those voters," he said. "The challenge to the Democrats is to find a message that maybe doesn't convert a lot of those voters, because there's certainly a good argument that people aren't likely to switch, though maybe some will … but what kind of message gets to those folks that stayed home last time or voted third-party last time."
Share your opinion on this topic by sending a letter to the editor to tctvoice@madison.com. Include your full name, hometown and phone number. Your name and town will be published. The phone number is for verification purposes only. Please keep your letter to 250 words or less.