Madison and Dane County residents will have several opportunities to weigh in on how local officials plan to spend their tax dollars as the City Council and Board of Supervisors dig in to their respective annual budgeting processes this week.
Mayor Satya Rhodes-Conway introduced her executive budget for 2020 on Sept. 3. The city Finance Committee will hear from the heads of departments and divisions during capital budget hearings Monday and Tuesday, Sept. 9 and 10.
The hearings will take place on each day at 4:30 p.m. in room 215 of the Madison Municipal Building, 215 Martin Luther King, Jr. Blvd. They will also be recorded by City Channel and available online.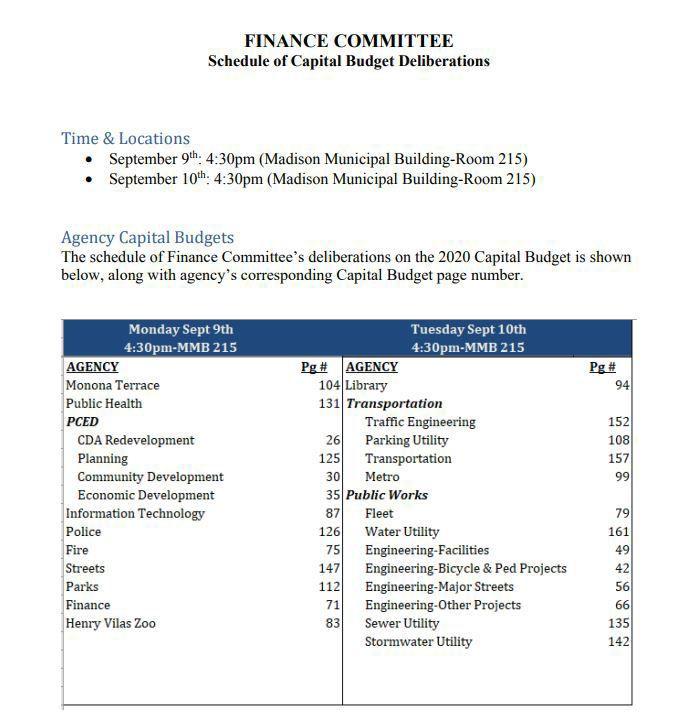 Following the hearings, Finance Committee members will draft amendments and take a final vote on the executive budget Sept. 23. 
Members of the public can speak on the budget at any of the City Council hearings occurring on Sept. 17, Oct. 1, and Oct 15. They can also speak at any Finance Committee meeting that has the budget listed as an agenda item. 
Creating Madison's budget is a two-step process. The capital budget funds big ticket items, such as new infrastructure or fleet vehicles, while the operating budget funds ongoing expenses like salaries and snow removal services. 
Rhodes-Conway plans to introduce the executive operating budget Oct. 1. The Finance Committee follows the same process for the operating budget as it does for the capital budget and will hold hearings on Oct. 7 and 10. The committee will take a final vote on the executive operating budget and any amendments Oct. 21.
The City Council has the opportunity to craft amendments to the budget, and those are due Nov. 6. The City Council will vote on both budgets during the week of Nov. 11.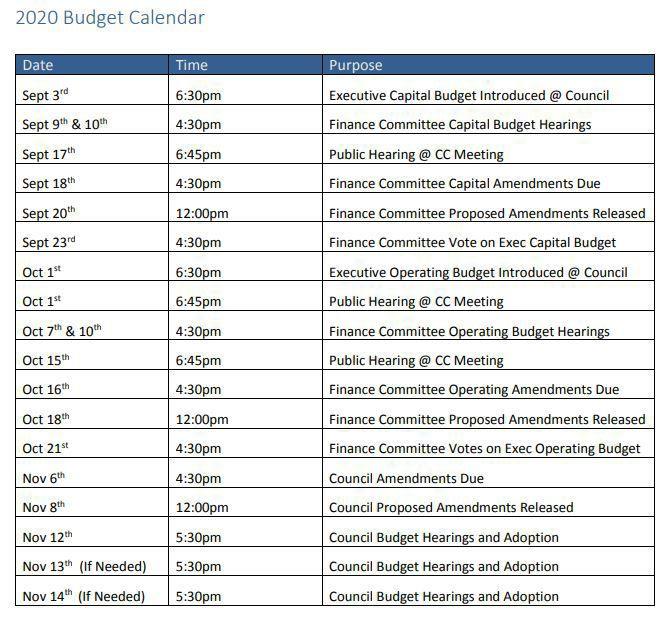 Dane County will hold public hearings on 2020 budget requests from departments Wednesday and Thursday, Sept. 11 and 12.
"These hearings are a great opportunity for the public to weigh in on Dane County's priorities as we begin the 2020 budget process," Dane County Board Chair Sharon Corrigan said in a statement. "We are eager to hear what is important to the community as we go into the next year." 
Dane County Executive Joe Parisi and the Board of Supervisors will hold the Wednesday hearing to address budget requests made by the Department of Human Services. It will take place at 6 p.m. at the Warner Park Community Recreation Center, 1625 Northport Dr. 
The Thursday hearing, also at 6 p.m., will address all other county departments. It will be held by the Board of Supervisors and will take place at the City-County Building, 210 Martin Luther King, Jr. Blvd., in room 201. 
The meetings will begin with staff presenting overviews of departmental budget requests following by testimony from the public. 
Parisi expects to introduce his executive 2020 budget Oct. 1.