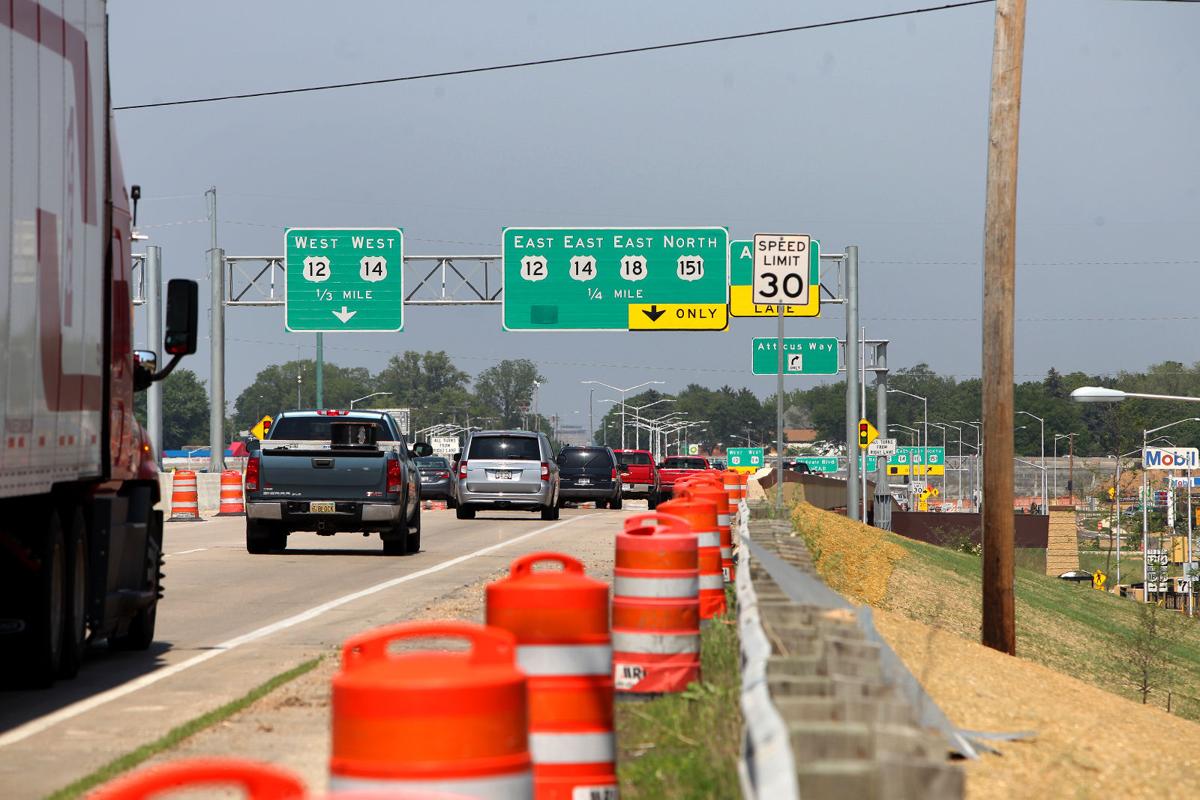 The Legislature's Republican-controlled budget committee could vote Wednesday on whether to use additional borrowing for road projects — including Madison's Verona Road/Beltline Highway project and the widening of Interstate 39/90 — even as it remained unclear Tuesday if the committee will back the measure.
Co-chairman Rep. John Nygren, R-Marinette, told reporters Tuesday that he'll ask the committee to vote to spend all of the $350 million in road borrowing provided in the state budget.
The committee previously was set to take up a request from Gov. Scott Walker's administration for lawmakers to authorize the spending of $200 million in road borrowing. Walker's Department of Transportation is expected to seek the spending of an additional $150 million in road borrowing next year.
But Republicans have made a rare show of public division on the Walker administration request. The Senate Republican co-chairwoman of the committee, Alberta Darling of River Hills, has said Senate Republicans oppose it because they don't want to further tax the state's credit card.
Nygren, speaking Monday of the $200 million request from Walker's administration, said he was optimistic it would pass the Joint Finance Committee with support from Democrats. The request, if approved, would reduce delays on major highway projects from two years to one. The projects include the widening of Interstate 39/90 from Madison to the Illinois border and Verona Road south of the Beltline.
But two of the four Democrats on the committee, Rep. Gordon Hintz of Oshkosh and Sen. Jon Erpenbach of Middleton, said Tuesday that no one asked for their support for the measure.
"I don't know where he (Nygren) is getting his votes right now," Erpenbach said.
Neither Hintz nor Erpenbach would say whether they would support the Walker administration request if it comes to a vote.
A third Democrat on the committee, Rep. Chris Taylor of Madison, said additional borrowing isn't her preferred method for financing road projects.
But Taylor said she's likely to support borrowing to keep Verona Road and other road projects on track.
"You should finish the projects and not leave them half-done," Taylor said.
The Sen. Lena Taylor, D-Milwaukee, speaking Monday, said she's skeptical of financing more road projects with borrowing.
"I would prefer to see something that is a long-term solution," she said.
Three of the four Democrats have highway projects in or near their districts that would face shorter delays if the measure passes the committee.
You have free articles remaining.
Republican positions unclear
It's also not clear that all Assembly Republicans on the committee support the measure. Reps. Dean Knudson, R-Knudson, and Dale Kooyenga, R-Brookfield, wouldn't say whether they support it. Knudson said he has concerns about increasing borrowing from a fiscal conservative perspective.
Lawmakers in July passed a state budget that includes $500 million in borrowing for road projects. An additional $350 million in road borrowing also was provided, but approval of the Joint Finance Committee is required for the proceeds to be spent.
Nygren said Tuesday that holding a single vote on all $350 million in road borrowing will make it easier to wrangle the nine votes needed to pass the committee, which includes 12 Republicans and four Democrats.
"We wanted to take just one kick at the can instead of two," Nygren said.
Nygren said in an interview Tuesday he expects to have conversations with Democrats in the next 24 hours about supporting the measure.
Even if the state borrows all $350 million, the major highway projects facing a two-year delay would still be delayed a year, according to the nonpartisan Legislative Fiscal Bureau. That means the Verona Road project would be completed in 2020 and the I-39/90 expansion would be completed in 2022.
Returning those projects to their original timelines would also depend on increasing major highway funding levels to $874 million over the 2017-19 biennium, according to DOT projections. If the committee adopts the extra borrowing, major highway funding for the current biennium would total $686 million.
A bipartisan transportation committee recommended in 2013 funding major highway projects at $943.2 million per biennium by increasing the gas tax by 5 cents per gallon and other transportation fees, and using a mileage based vehicle registration system rather than the current $75 annual fee for passenger vehicles.
Walker and Republican lawmakers have balked at any tax or fee increases in the transportation fund unless they are offset by tax or fee cuts in other areas of state government. Walker has been promoting the borrowing alternative.
The transportation committee also recommended in 2013 funding the highway rehabilitation program at $2 billion per biennium, according to the fiscal bureau. If the budget committee approves the additional borrowing, the repair budget would be $1.66 billion in the current biennium, which would still be an all-time high.
State Journal reporter Molly Beck contributed to this report.
Get Government & Politics updates in your inbox!
Stay up-to-date on the latest in local and national government and political topics with our newsletter.