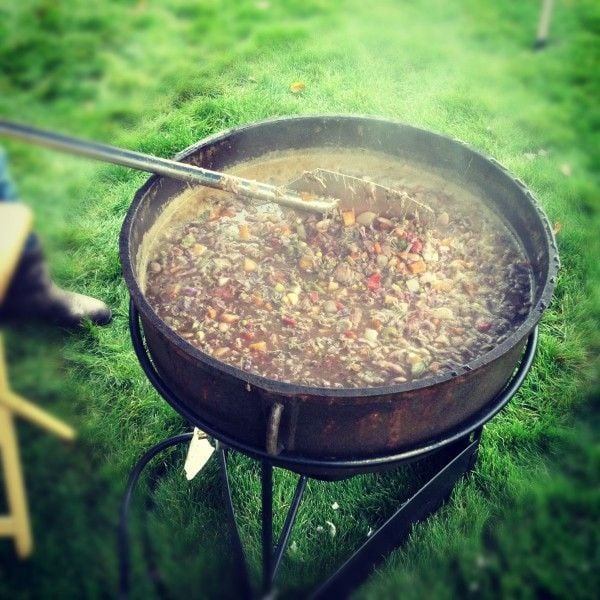 What the heck is booyah, and why do legislators from northeastern Wisconsin think it's so special?
Rep. John Macco, R-Ledgeview, is circulating a bill that would designate Belgian Booyah as the official state soup, in honor of Wisconsin's Belgian heritage. It has bipartisan support among legislators from the Green Bay area. But a very informal, unscientific survey conducted on social media and in the halls of the state Capitol found that a sizable handful of Wisconsinites (and those in nearby states) have never even heard of the dish. 
I'm so glad you asked. Booyah is a thick soup — some might even call it a stew — with storied but murky origins. The ingredients can vary. Beef, chicken and pork are popular meats, but venison has also been known to make an appearance. Vegetables might include rutabaga, cabbage, celery, potatoes and carrots. Herbs and spices add flavor. Cook it in a giant booyah kettle (they hold enough to feed hundreds, or even thousands), and you've got it.
Mostly people in the Upper Midwest — Wisconsin, Minnesota and Upper Michigan. But booyah is definitely more prevalent in northeastern Wisconsin than it is in other parts of the state. 
Booyah is often served at charity and community events, like firemen's picnics, church suppers and school fundraisers. It's also sold at some restaurants in northeastern Wisconsin.
What's with the funny name?
Most people agree it comes from the french "bouillir" (to boil) and "bouillion" (broth). It's also been suggested it could be a take on bouillabaisse. 
The story, as documented by the Green Bay Press Gazette, goes like this: Sometime around 1906, lumberjack-turned-schoolteacher Andrew Rentmeester planned to make a giant pot of the soup. He sought help with publicity from the Press-Gazette, and when asked how to spell the soup, he offered "b-o-o-y-a-h" — a Walloon Belgian's phonetic attempt at "bouillion."
It was also that. It showed up in a 1989 Tone Loc song, too, and you might have heard it in a handful of Cypress Hill songs in the early 1990s. And I can't be the only one who remembers kids quoting the Crash Bandicoot commercial: "Booyah, grandma!" 
Why is booyah so special that it should be the state soup?
"Wisconsin's Belgian community is unique to Wisconsin; Northeast Wisconsin has the largest Belgian community in the world outside of Belgium," said Rep. Macco in a statement. "This bill will designate Belgian Booyah the state soup as a way to honor Wisconsin's Belgian heritage and celebrate Booyah's ability to bring Wisconsin communities together." 
A bipartisan group of Green Bay-area legislators agree: Sen. Frank Lasee, R-De Pere; Sen. Dave Hansen, D-Green Bay; Rep. Joel Kitchens, R-Sturgeon Bay; Rep. Eric Genrich, D-Green Bay; and Rep. David Steffen, R-Green Bay, are all on board. So is Rep. Terese Berceau, D-Madison — she's originally from Green Bay and, like Macco, is of Belgian descent.
An informal Twitter poll with 33 respondents found that 12 percent of people think a stew is a soup, while 36 percent say it's not. The majority of people, at 52 percent, chose the "Who cares" response.
Macco spokesman Ben Joniaux promises this isn't a problem. He said he and Macco "think of it as a thick soup vs. a thin stew."
Surely there's some other Sconnie soup that would be more appropriate for this honor. What about beer cheese soup? It can't get more Wisconsin than that.
This is a popular argument. In another informal Twitter poll, with 51 respondents, 47 percent said beer cheese should be the official state soup. Just 8 percent threw their support to booyah. And 45 percent chose the "Stop the madness" option.
What should Wisconsin's state soup be?

— Jessie Opoien (@jessieopie) December 10, 2015
"Beer Cheese is a great soup," Joniaux said. "In fact, they serve beer cheese soup at Lambeau Field. I would say Booyah is more prominent in Northeast Wisconsin and it really honors the Belgian tradition that is unique to Wisconsin."
In response to a tweet asking about the beer cheese vs. booyah battle, Rep. Genrich replied, "Please... #TeamBooyah." 
How about some other ideas?
Sure. But most of them involve beer and cheese.
Share your opinion on this topic by sending a letter to the editor to tctvoice@madison.com. Include your full name, hometown and phone number. Your name and town will be published. The phone number is for verification purposes only. Please keep your letter to 250 words or less.