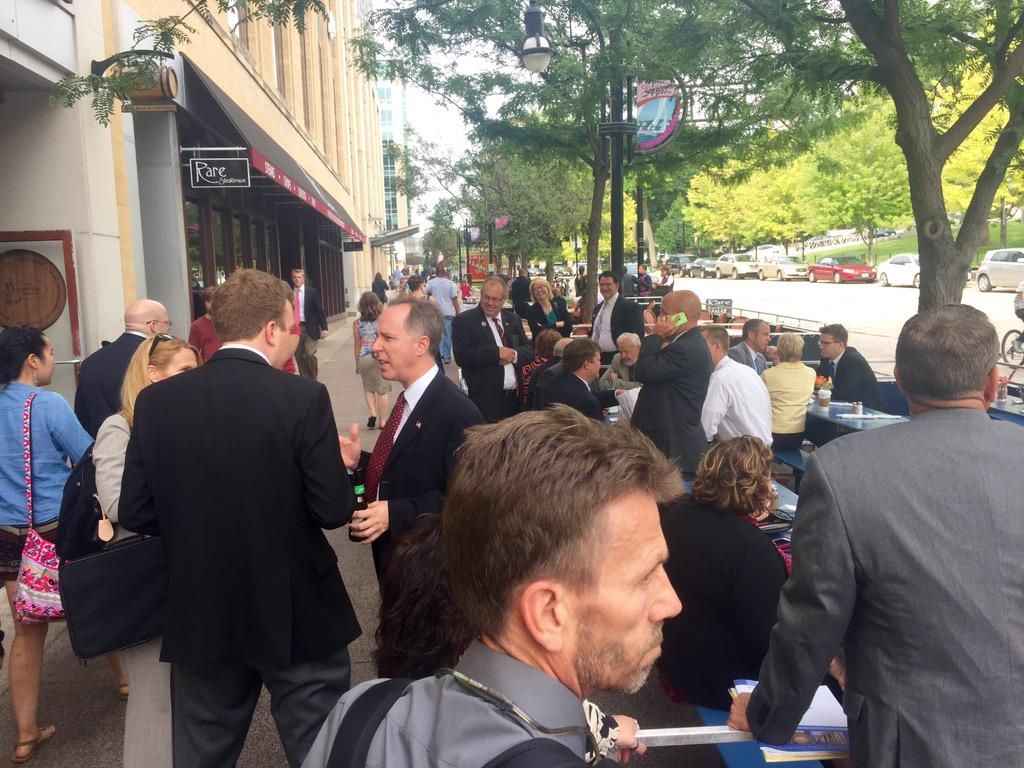 Lawmakers who locked horns on the Assembly floor over the contentious two-year budget shared laughs and engaged in spirited debate at The Coopers Tavern, a bar across the street. 
Assembly Speaker Robin Vos, R-Rochester, gave interviews, talked with legislators and posed for a picture with some constituents while drinking a Spotted Cow. 
Asked what everyone was drinking, Vos replied: "What's the official beverage of Wisconsin?"
"It should be," he joked.
He hesitated to say what kind of beer he'd been drinking because he didn't want to endorse a specific brand, but Assembly Majority Leader Jim Steineke, R-Kaukauna, reminded him everyone had seen him with the Spotted Cow bottle.
"Just for the record: Miller Lite," Steineke said of his own beverage. "Hashtag 'I Love Milwaukee.'"
The lawmakers said they were limiting their consumption to one beer.
Meanwhile, a bipartisan group of lawmakers including Reps. Cory Mason, D-Racine, Gordon Hintz, D-Oshkosh, Daniel Riemer, D-Milwaukee, Dale Kooyenga, R-Brookfield, John Jagler, R-Watertown, and David Murphy, R-Greenville, gathered around tables on the tavern patio. Some sipped beers, while others had sodas and waters.
A few joked they were solving all the state's budget problems. One got a text message from his wife, who told him she'd seen him drinking on the news. 
Later, Riemer tossed a frisbee in the street with Rep. Jonathan Brostoff, D-Milwaukee, and Rep. Bob Kulp, R-Stratford, snapped photos of the "bipartisan beer summit."
"Talking about the issues, enjoying some collegiality is a good thing," Vos said, adding that he hoped the break would help make the evening's debate more productive.
"You know, the best part about working in the Capitol is actually that there are good people on both sides of the aisle: Democrats and Republicans, rural, urban, and I think that's an example of how we get a lot of stuff done in the Capitol — lots of good, positive debate," Vos said. "Lots of things we disagree on, but really, a lot of things we agree on, too. One of those is enjoying a beautiful day while we're waiting for the Capitol Police to finish their job."
Steineke said it's rare for a threat to reach the level where the Capitol is evacuated, but that the possibility is something legislators have become "a little bit accustomed to" in the years since the 2011 protests sparked by Gov. Scott Walker's controversial Act 10 legislation. 
"But it is a nice break to be able to get away from the tense debate and just sit down and have a discussion with our colleagues on the other side of the aisle," he said.
Capitol Police gave the "all clear" to re-enter the building shortly after 5:30 p.m., and the Assembly resumed debate about half an hour later.
Legislators originally planned to be in session debating the budget from 11:30 a.m. - 11 p.m. Party leaders reached an agreement to shorten debate, and said they hope to end by midnight.
Walker has not announced plans for when he will sign the budget.
Share your opinion on this topic by sending a letter to the editor to tctvoice@madison.com. Include your full name, hometown and phone number. Your name and town will be published. The phone number is for verification purposes only. Please keep your letter to 250 words or less.
Get Government & Politics updates in your inbox!
Stay up-to-date on the latest in local and national government and political topics with our newsletter.