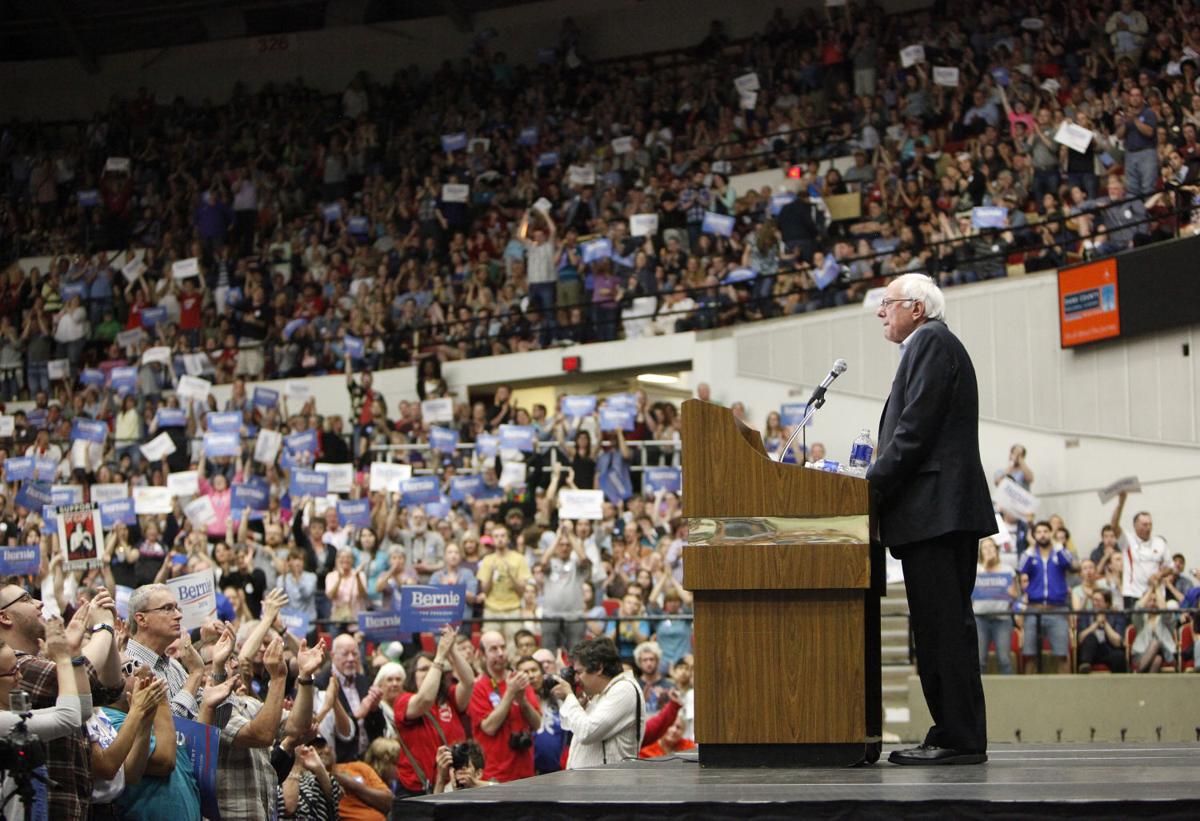 Sen. Bernie Sanders delivered a fiery speech with unabashedly progressive themes to the largest crowd of his presidential campaign thus far in Madison on Wednesday evening.
According to the campaign, there were about 10,000 people in attendance at the Alliant Energy Center's Veterans Memorial Coliseum, meeting the capacity of the venue.
"Tonight we have made a little bit of history," Sanders said. "Tonight we have more people at a meeting for a candidate for president of the United States than any other candidate has had in 2015."
Over the course of an hour-long speech, the crowd roared and crowed in approval of the Vermont senator's remarks, waving blue and white "Bernie 2016" signs and chanting "Bernie, Bernie, Bernie!"
He also spoke about race ("Our job is to make sure that young African-Americans can walk down the street without being abused – or worse.") and moving to a single-payer healthcare system ("In America, health care must be a right for all of our people.").
Sanders, a declared independent in the Senate who is positioning himself as the liberal alternative to Democratic presidential front-runner Hillary Clinton, also took a few shots at likely presidential challenger Gov. Scott Walker.
"What we are saying to the Koch brothers, Governor Walker and all those other people is this great country, and our government, belong to all of the people and not just a handful of very wealthy people," he said.
"I know that Governor Walker may disagree but, to my mind, the federal minimum wage of $7.25 an hour is a starvation wage which must be raised," he added.
"In order to win this election, it goes without saying we need an unprecedented grassroots movement," Sanders said. "We believe that the time has come when people in Wisconsin, Vermont, and all over this country create a political movement which says to the billionaire class, 'You can't have it all.'"
"This campaign is about creating a political revolution in America," he said.
"Since he's doing the grassroots movement, he needs as many people as he can to show up to every event, just for the recognition," said Blake Whitmore, who drove from Chicago to see Sanders in Madison. "I'm a very vocal Bernie supporter and I was so excited to see him coming as close as he was to Chicago."
Whitmore was among a large crowd of Sanders supporters who gathered hours before the doors opened for the event. The crowd of hundreds stretched more than a mile from the Coliseum doors.
Emily Opsal, a UW-Madison student studying social work, arrived at 1:30 p.m., four and half hours before the doors opened for the event.
"I just wanted to be able to be focus on him and not the whole crowd," she said, sitting comfortably at the front of the line. "I really like that he values the human life over money. I'm really excited to hear his ideas and see him, finally, in person. It'll just be so real."
"I didn't want to miss it, I figured if I was going to come two hours, I was gonna get a good seat," said Gregory Ubbelohde, who drove from Appleton to get in line at 2:30 p.m. "I think he's finally someone who practices what he preaches… he doesn't sacrifice his principles to improve his career."
After the speech, the hefty crowd of supporters was buzzing with excitement as they made for the exits.
"I guess the best way to sum it up is to say he was inspirational," said Jen Lemoine, who drove from Dixon, Ill., to see Sanders speak. "I think he's speaking the minds of Americans. I needed it, as a pick-me-up."
"I think it's incredible, I was shocked to see this many people – it's amazing," said John Walters, who drove from Milwaukee to see Sanders. "I think the other side should be running for cover right now."
Share your opinion on this topic by sending a letter to the editor to tctvoice@madison.com. Include your full name, hometown and phone number. Your name and town will be published. The phone number is for verification purposes only. Please keep your letter to 250 words or less.