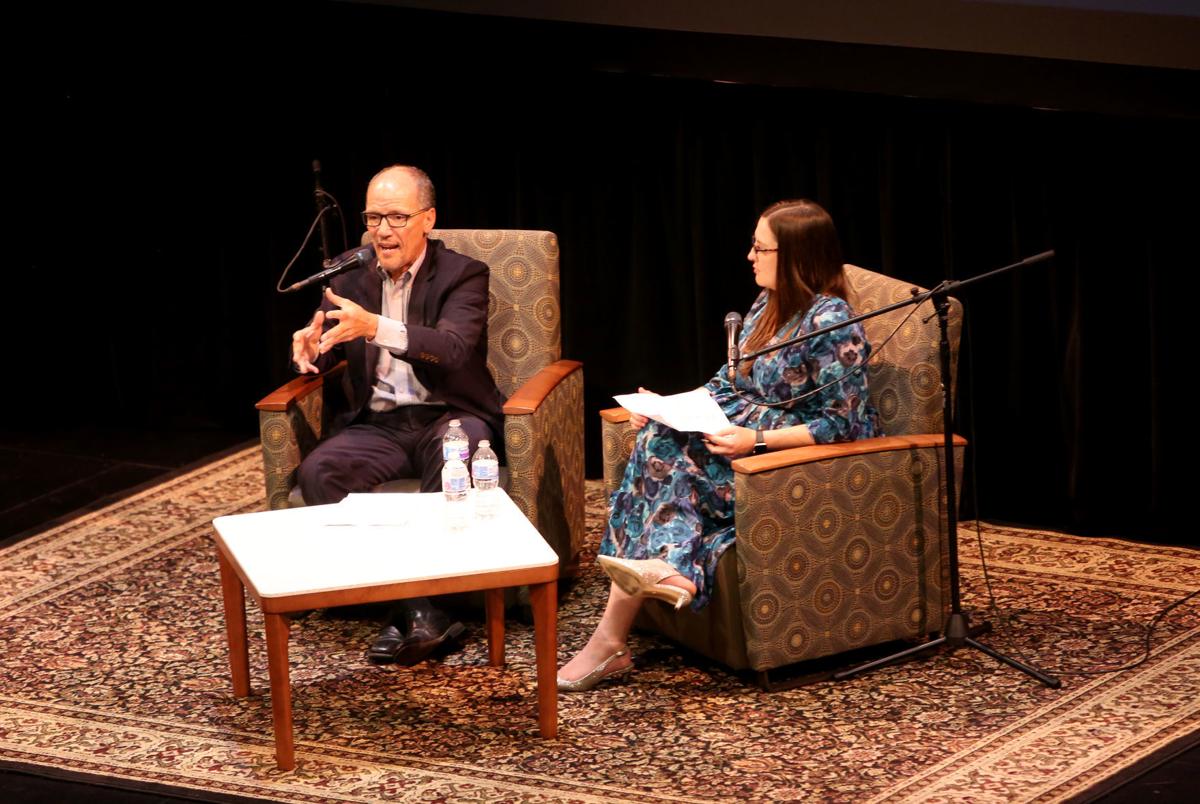 Democratic National Committee chair Tom Perez said the party is boosting its technological and organizational infrastructure as it seeks to win back the White House in 2020, an effort where Wisconsin will be a key state. 
Perez also emphasized Wisconsin's importance electorally in the presidential cycle, calling the state "truly a ground zero" in the 2020 landscape.
"The state that gets the most articles written about it being a battleground state is the state we're sitting in," he said, using it as a rallying cry to push attendees at a Friday night Cap Times Idea Fest keynote interview to get involved in the race. He urged them to "be able to tell your kids and grandkids that 'I was in the front lines of the ground zero when we took back our democracy in November 2020.'"
Perez answered questions from Cap Times opinion editor Jessie Opoien for about an hour in Memorial Union's Shannon Hall in front of a crowd that included several Democratic officials and state chair Ben Wikler, who Perez referenced repeatedly.
So far this year, he said the party has knocked on 200,000 doors in Wisconsin. That number four years ago, he noted, "was probably closer to zero."
"Because we had the old model, every fourth year we engaged. That's not the way it is anymore," he said.
On the topics of investing in data and organizing operations, Perez, who took over as head of DNC in early 2017, likened the two aspects of political campaigns to kidneys — while people can live with just one, if the remaining organ fails "it can be catastrophic." 
You have free articles remaining.
Due to a lack of investment, Perez said officials lacked a "sufficiently robust organizing infrastructure" in Wisconsin. That was paired with a "malfunctioning" data strategy that was unable to predict late breaking news, such as former FBI Director James Comey's letter to Congress released days before the 2016 election.  
"So we're building both kidneys to have muscle mass to be the robust operation we need," he said, noting that Democratic officials began laying the groundwork in Wisconsin in 2017, when the state party chair was Martha Laning. Current chair Wikler took over earlier this summer. 
Looking ahead to next summer, Perez said that choosing a city to host the Democratic National Convention every four years is a helpful organizing tool and sends "a very clear signal of what your values are."
Selecting Milwaukee to fill that role in 2020, he said, "gives us the best chance of winning." 
Perez sidestepped a question from Opoien about his preferred Democratic presidential candidate, a day after 10 candidates faced off in a debate in Houston. But he said he's worked with "just about all of them and I think they're all spectacular."
He encouraged attendees to treat the field as a dating opportunity, where they should "date early, date often and date simultaneously" when considering the candidates. 
He also suggested people will "grow fond of more than one person at the same time" over the course of the primary cycle.  
And Perez dismissed accusations of socialism against Democrats, labeling them as "a distraction." 
"Organizing, listening, leading with your values, that's how you cut through (these distractions)," he said.
Share your opinion on this topic by sending a letter to the editor to tctvoice@madison.com. Include your full name, hometown and phone number. Your name and town will be published. The phone number is for verification purposes only. Please keep your letter to 250 words or less.