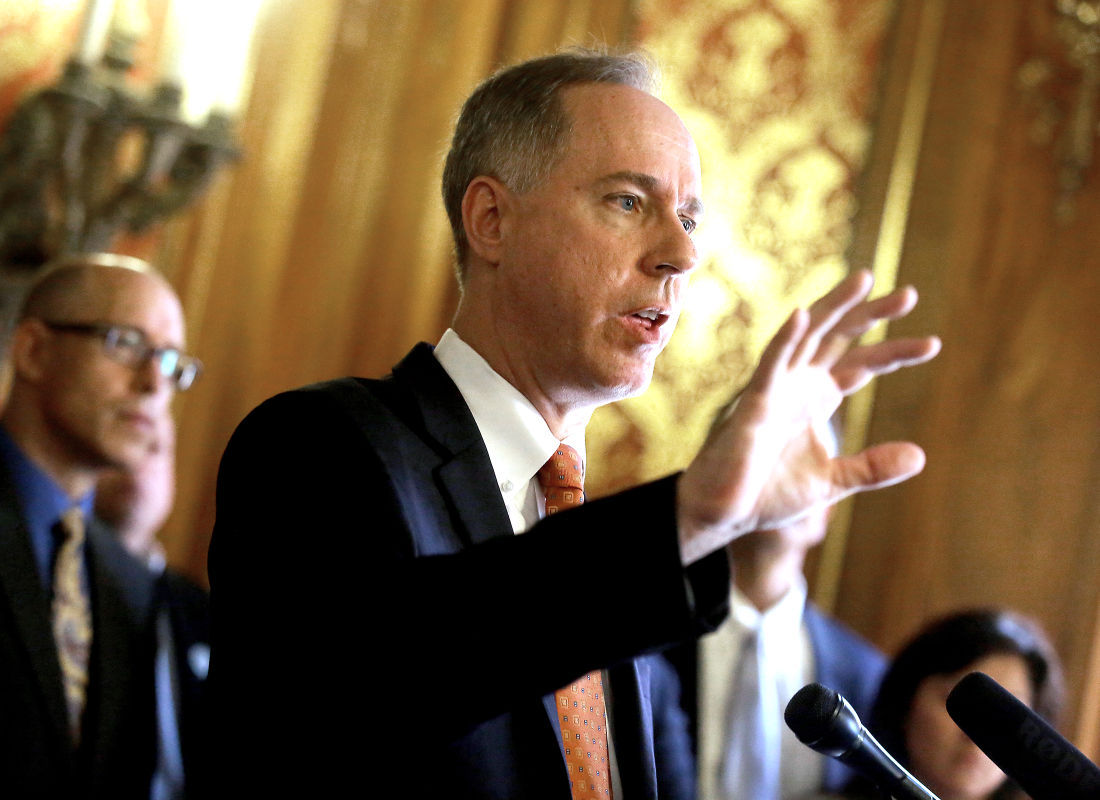 Assembly Republicans on Monday unveiled a plan to exempt 60 percent of public projects from Wisconsin's prevailing wage laws, in a bid to end a stalemate among GOP lawmakers on that and other items delaying passage of a new state budget.
Conservative activists and some construction industry groups initially sought a full repeal of the prevailing wage, which sets a minimum pay rate for workers on publicly funded projects.
But Republicans who control the Senate are at loggerheads on prevailing wage, and their leaders have said little about how they would address it. Prevailing wage, along with transportation funding and a proposal to provide public funds for a new Milwaukee Bucks arena, are the key matters on which GOP lawmakers have failed to reach accord — delaying approval of a new state budget as a deadline to pass one nears.
Assembly Speaker Robin Vos and other Assembly Republicans offered a compromise prevailing wage plan Monday that they said could help break the impasse. In a press conference at the state Capitol, Vos, R-Rochester, called the plan "substantive" and said it could pave the way for a full repeal of prevailing wage.
"We have always stood for the biggest, boldest reforms that are possible," Vos said.
Vos also put the onus on his Senate GOP colleagues to come to the table on prevailing wage and other matters. He said Assembly Republicans are making their positions public rather than having "a proposal that only is being discussed behind closed doors."
"The Assembly is not just going to stand around waiting for the Senate to get their act together," Vos said.
Some lawmakers have said they won't vote for a 2015-17 spending plan unless it includes repeal of the state's prevailing wage law.
Threshold would rise
The Assembly plan would significantly increase the minimum threshold for the cost of projects that are subject to prevailing wage — putting that threshold at $450,000, which Assembly Republicans said would be the second-highest of any state. The current thresholds in Wisconsin are between $48,000 and $100,000, depending on the project. The Assembly plan also would link the threshold to future increases through indexing.
The proposal would change the state's formula for calculating prevailing wage, in an effort to address what some say are artificially high wages in rural areas. It also would carve out prevailing-wage exemptions for technical college projects, residential and agricultural projects, and projects funded primarily by charitable donations.
Knodl wants repeal
Rep. Daniel Knodl, R-Germantown, said the Assembly GOP plan would save taxpayers money by helping "set a wage that better reflects the wages of the area, and drive down the wage."
"I've been a 'full repeal' person," Knodl said. "I also want to see something that can become law."
Senate Majority Leader Scott Fitzgerald, R-Juneau, was notably silent Monday on the Assembly proposal. His spokeswoman didn't acknowledge emails or voicemails seeking his response to the Assembly plan.
Fitzgerald told conservative talk radio host Charlie Sykes last month that Senate Republicans couldn't agree on any prevailing wage changes. Some Senate Republicans have said they won't vote for a budget that doesn't include at least a repeal of prevailing wage for all local government projects. Others have said that proposal goes too far.
Sen. Alberta Darling, who co-chairs the budget-writing Joint Finance Committee, said Senate Republicans will meet Tuesday to discuss prevailing wage and other topics. Darling, R-River Hills, declined to comment on the Assembly's prevailing wage plan but said she expects the Senate to go further.
"I think that the Senate is looking at a more comprehensive package," Darling said.
Industry groups criticized the Assembly plan Monday. They said it doesn't go far enough and, by creating a host of new exemptions to the prevailing wage laws, makes them more complex.
A statement from industry groups, including Associated Builders and Contractors of Wisconsin, said they prefer a plan favored by some state senators, including Sens. Steve Nass of Whitewater and Duey Stroebel of Saukville, to exempt local governments from the prevailing wage.
Nass and Stroebel have staked their votes for a state budget to their prevailing wage plan, saying they won't support a budget that doesn't include it.
Some oppose repeal
Not all construction industry groups support sweeping changes to prevailing wage. The Wisconsin Contractor Coalition and Wisconsin Transportation Builders Association are among those that have opposed a repeal of prevailing wage.
Those who oppose rolling back prevailing wage laws argue it would further shrink Wisconsin's middle class and lower the quality of construction on public projects.
Assembly Democratic Leader Peter Barca of Kenosha decried the Assembly GOP prevailing wage proposal Monday.
"As Republicans continue to try to out-position each other behind closed doors and in the media, Democrats stand together behind the goal of raising wages — not lowering them," Barca said in a statement.
Lawmakers appear poised to pass a deadline for action on the state budget. The state's fiscal year and current budget end Tuesday. If a new budget isn't passed by then, funding levels in the current budget will remain in place until a new one is passed.