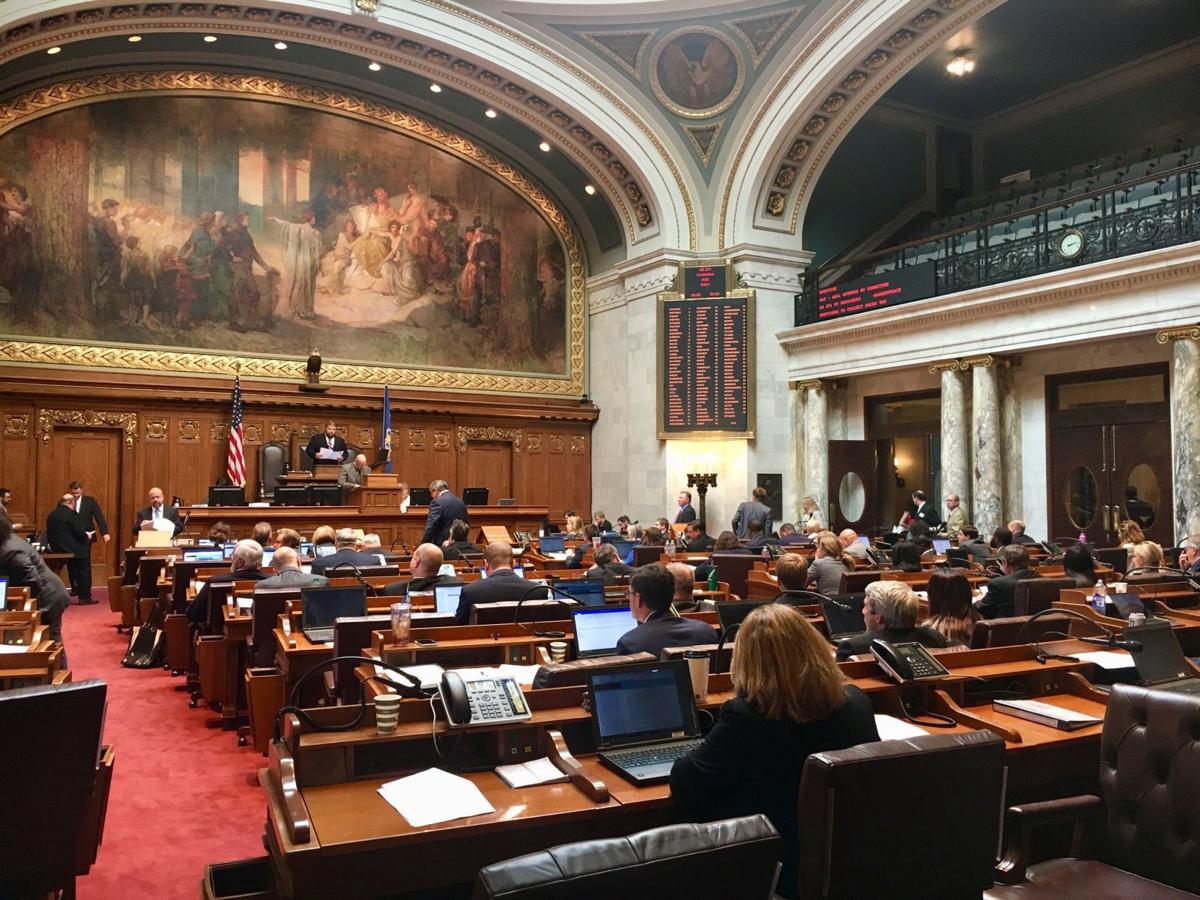 In the final session of the calendar year, the Assembly passed rules to transition the state's pilot hemp program to a permanent one, as well as a resolution establishing a "National Bible Week" later this month.
Also on Tuesday, Republicans approved a bill to officially recognize the evergreen that will stand in the Capitol building's rotunda as a Christmas tree, while Assembly Democrats chose not to vote on increased penalties for repeat drunken drivers.
Before Tuesday's session, Assembly Minority Leader Gordon Hintz, D-Oshkosh, criticized Republicans, who control the Assembly and Senate, for passing only 20 laws since Democratic Gov. Tony Evers took office, which Hintz said is a tactic to make Evers appear to be a "do-nothing Governor."
"When the reality is it's a do-nothing Legislature that's not moving on legislation, that's not addressing issues and that is giving very few opportunities for the governor to sign things," Hintz said. "No one but (Assembly Speaker Robin Vos, R-Rochester) should be blamed for how anemic this legislative session is. I think the public deserves better."
Speaking with reporters Tuesday, Vos and Assembly Majority Leader Jim Steineke, R-Kaukauna, said Republicans have focused on bipartisan bills they know can get support, while Democratic lawmakers and Evers have pushed items they know GOP members will not support.
"Last session the biggest criticism was we were doing too much," Vos said. "We have done an awful lot of good things."
Hemp regulations
The Assembly on Tuesday approved 95-0 legislation to bring the state's hemp program in line with the 2018 Farm Bill. The bill aims to assist farmers, processors and retailers in the state's rapidly expanding hemp industry.
New rules would allow participants to opt in to a communication network to better connect farmers with processors.
Lawmakers in August amended the bill to codify state practice in testing for THC, the ingredient in cannabis that can produce a high. The bill would allow for a THC concentration of up to .03% on a dry weight basis, or one nanogram of THC per liter in bloodstream. CBD oil, a legal hemp product that can be consumed, includes small amounts of THC, but not enough to get the user high.
The bill heads to the governor's office for final approval.
During the first year of Wisconsin's pilot hemp program last year, 347 people applied for licenses to grow or process hemp. Of the 247 licenses issued to grow hemp, 135 people grew 1,872 acres of hemp.
This year, more than 2,200 applications were received, with DATCP issuing 1,308 licenses to grow hemp and another 618 licenses to process it.
You have free articles remaining.
'National Bible Week'
The Assembly also on Tuesday approved with bipartisan support, 86-9, a resolution proclaiming Thanksgiving week as "National Bible Week."
The resolution states the week "encourages us to read the Bible," a document the resolution says "contributed to the molding of the spiritual, moral, and social fiber of our citizenry."
According to the resolution, National Bible Week was first declared by President Franklin Roosevelt, a Democrat, in 1941.
Resolutions don't establish laws but typically serve as symbolic statements. Only Democrats voted against the resolution, including Reps. Jimmy Anderson, of Fitchburg; Chris Taylor, Melissa Sargent and Lisa Subeck, of Madison, and Sondy Pope, of Mount Horeb.
Christmas tree
The Assembly voted 64-30 on a Republican joint resolution officially naming the evergreen displayed in the Capitol rotunda every winter as the "Wisconsin State Christmas Tree." Several Democrats — including Reps. Jill Billings, of La Crosse; LaKeisha Myers, of Milwaukee; Steve Doyle, of Onalaska; Shelia Stubbs, of Madison; and Robyn Vining, of Wauwatosa — broke with their party and supported the resolution.
The resolution was proposed this week by Rep. Scott Krug, R-Nekoosa, in response to Evers' Friday declaration that the first Capitol conifer of his administration would be called a "holiday tree."
After former Republican Gov. Scott Walker took office in 2011, he called it a Christmas tree, stirring up controversy. Before that, the tree had been called a "holiday tree" since 1985.
The Wisconsin State Journal stylebook refers to it as a Christmas tree.
Drunken driving penalty
Also on Tuesday, Assembly Democrats blocked a vote to increase penalties for repeat drunken drivers. Republicans requested the bill be added to the agenda, but could not secure enough votes to do so.
Rep. Jim Ott, R-Mequon, said the bill would create a mandatory 18-month minimum incarceration penalty for anyone sentenced for a fifth or sixth drunken driving offense.
Ott said the average sentence for such an offense currently is about six and a half months.
Rep. Mark Spreitzer, D-Beloit, said Democrats chose not to take up the bill because a proposed amendment to the bill that would have included funds for treatment for offenders was denied.