Gov. Scott Walker said Friday he would sign right-to-work legislation that Republicans plan to fast-track through the state Legislature beginning next week.
It's the first time Walker — a likely 2016 GOP presidential candidate — has acknowledged he planned to sign such a bill after repeatedly saying it would be a "distraction."
That law could be on the books in a matter of weeks.
State officials were bracing for potential protests at the state Capitol, and a top lawmaker warned that labor unions and management could move quickly to extend contracts to delay being forced to comply with the law.
While it's impossible to say if sustained mass protests will develop like they did in 2011 when Walker proposed limits on collective bargaining for public employees, drawing tens of thousands of people, the AFL-CIO has scheduled rallies Tuesday and Wednesday at the Capitol, said John Schmitt, president and business manager of the 6,500-member Wisconsin Laborers' District Council.
About 200 building trades union leaders will be at the Capitol on Monday to talk to lawmakers, he said.
Another 100 members of United Steelworkers District 2, which includes all of Wisconsin, had previously scheduled several days of Capitol lobbying starting Monday, said district director Michael Bolton.
"The agenda may change," he said.
The Senate has scheduled a daylong public hearing on the legislation for Tuesday.
Right-to-work laws, adopted in 24 other states, prohibit private employers from negotiating a union contract that requires all workers to pay dues.
Republicans said such a law would help keep businesses from relocating to right-to-work states and entice out-of-state companies to move to Wisconsin.
Democrats and top labor leaders slammed the proposal and accused Republicans and Walker of ramming it through the Legislature with little public scrutiny.
Labor leaders want lawmakers to consider how a right-to-work law would affect the benefits that businesses reap from worker training programs that are operated by many private sector unions, Schmitt said.
The programs bolster the productivity and availability of skilled workers, but because they are funded by money deducted from employees' paychecks as part of collective bargaining agreements the training would be undercut by decreases in union membership, Schmitt said.
Senate Majority Leader Scott Fitzgerald, R-Juneau, told reporters Friday that the bill would take effect as soon as Walker signs it. Parties wishing to extend existing contracts before right-to-work becomes law would need to do so quickly, he said.
Schmitt said the state laborers union may seek lengthy contract extensions as the Michigan and Indiana branches of the union negotiated to delay the effects of right-to-work laws.
Fitzgerald said the governor did not try to talk him out of taking up the bill.
"Gov. Walker co-sponsored right-to-work legislation as a lawmaker and supports the policy," spokeswoman Laurel Patrick said.
"If this bill makes it to his desk, Gov. Walker will sign it into law."
Vote to be next week
A full Senate vote would take place Wednesday or Thursday, Fitzgerald said, with the Assembly planning to take up the bill the following week.
He brushed aside concerns that the bill was being rushed through the Legislature, saying Republicans have been discussing the possibility of passing right-to-work legislation since Walker took office more than four years ago.
Fitzgerald previously said he wanted a right-to-work bill fast-tracked, but later backed off, saying it was unclear whether or when a bill would come up.
The issue arose again quickly, Fitzgerald said, because he had just lined up 17 votes in his caucus to pass the bill. Republicans hold an 18-14 majority in the Senate.
Sen. Jerry Petrowski, R-Marathon, is the only Republican who has voiced opposition.
"My experience as leader is when you have the votes, you go to the floor," Fitzgerald said.
Assembly Speaker Robin Vos, R-Rochester, said his chamber will take up the bill soon after it is passed by the Senate. Republicans control the Assembly with a 63-36 majority.
"Wisconsin should be a right-to-work state," Vos said. "The public widely supports worker freedom and the potential positive impact to the state's economy can no longer be ignored.
"I drafted right-to-work legislation as a freshman lawmaker and I look forward to passing the bill once it's approved in the Senate."
Rep. Chris Kapenga, R-Delafield, one of three lawmakers taking the lead on the bill for the Assembly, said in an interview the bill being drafted is "very clean" with no exemptions for any private sector unions. Fitzgerald said he and Vos had worked to ensure bills in both houses match.
Fitzgerald said he has his "fingers crossed" the bill would not generate massive protests like in 2011, when Republicans passed Act 10, which effectively created right-to-work conditions for most public employees.
He said he notified the Walker administration about his plans to give officials time to plan for the possible onslaught.
Union officials decried the plans.
"Right-to-work will not create jobs and will lower wages for all workers," said Phil Neuenfeldt, president of the Wisconsin AFL-CIO. "Every worker suffers when states enact anti-worker right-to-work laws."
"Rushing this legislation through in an extraordinary session," Neuenfeldt added, "is a slap in the face to our democracy."
Previous Republican efforts to pass similar legislation fizzled, but thinning of organized labor's ranks in Wisconsin has made it possible for such laws to gain the political support, said Joe Oswald, Wisconsin Laborers' District Council director of government and community affairs.
If a right-to-work law further reduces skilled trades union membership, it will disrupt the supply of workers as the economy emerges from the recession and employers in some industries will complain they can't find qualified hires, Oswald said.
Darling: Good timing
Sen. Alberta Darling, R-River Hills, said it makes sense to take up right-to-work before the Legislature gets busy with Walker's proposed 2015-17 budget. Darling is co-chairwoman of the Legislature's budget committee.
"This has been a priority for a lot of Republicans who have wanted to be more competitive with our surrounding states that have right-to-work," Darling said in an interview.
"We feel it's real important to be as competitive as we possibly can right now. ... We've gotten such heavy feedback from people in our districts that they really feel Wisconsin needs to go the direction of right-to-work."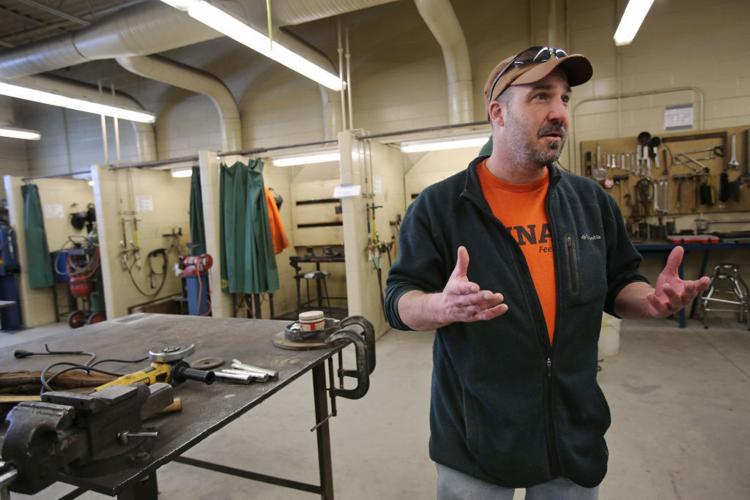 Top Democrats accused Republicans of igniting the right-to-work debate to shift public attention away from Walker's budget, which calls for deep cuts in the University of Wisconsin System and other controversial measures.
"By rushing to pass right-to-work in less than a week, clearly the governor and Republican legislators want to distract from how destructive their budget is for Wisconsin's workers, students and middle-class families," said Assembly Minority Leader Peter Barca, D-Kenosha.
Impact uncertain
Whether right-to-work laws lower wages for all workers or lead to less union membership is the subject of much debate. But even without such a law in place, Wisconsin's private sector union participation rate has dropped sharply over the years, from 19.8 percent in 1983 to 8.2 percent in 2013.
In a poll released Friday, the union-backed We Are Wisconsin found that respondents listed passage of a right-to-work law as the lowest among 10 priorities for Walker and legislators.
Business groups have lined up on both sides of the issue.
The bill released Friday calls for criminal penalties of up to nine months in jail, a $10,000 fine or both for anyone convicted of forcing an employee to join or remain in a labor organization.
According to the National Right to Work Legal Defense Foundation, 18 states have criminal penalties for violation of right-to-work statutes while six do not. Nineteen states have civil penalties, such as fines, while five do not, spokesman Anthony Riedel said.