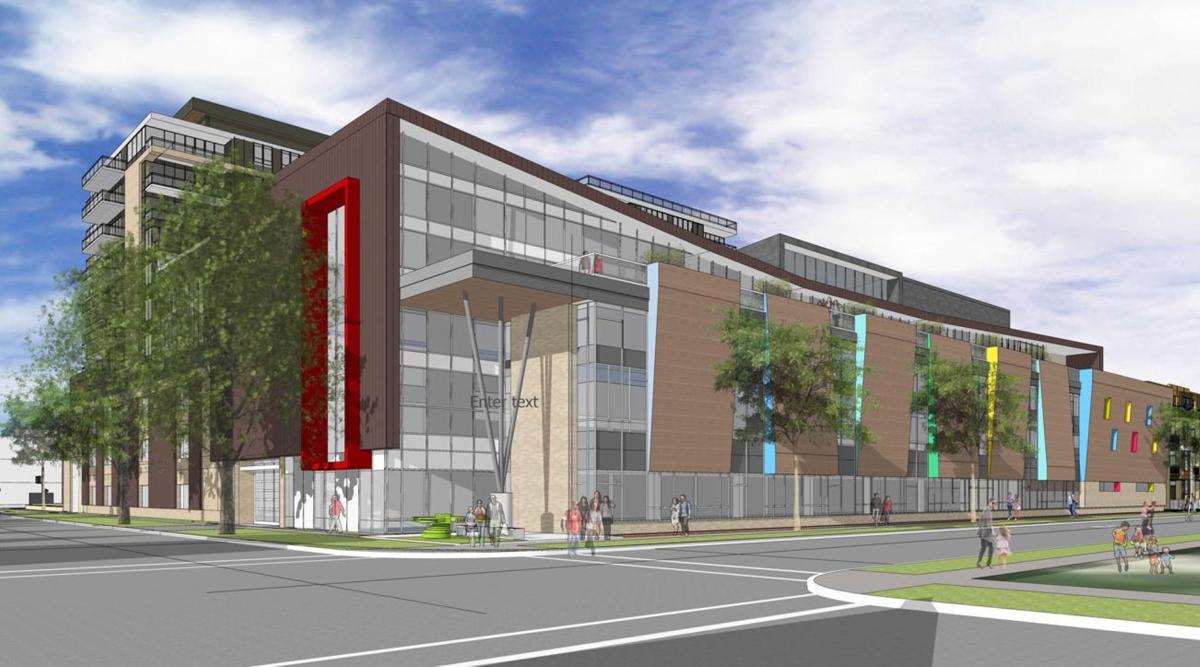 After long-held dreams and several years of focused effort, two nonprofits are proposing a multimillion-dollar Madison Youth Arts Center with a big focus on diversity and inclusion as part of a bigger mixed-use project on the booming Near East Side.
Stone House Development is proposing an 11-story building with 120 apartments, 51,000 square feet of commercial space and a 290-space parking garage in the 1000 block of East Washington Avenue.
On the back side of the block, at the corner of East Mifflin and North Ingersoll streets, Stone House would develop a four-story building with classrooms, offices, and set-design and performance space for the nonprofit Madison Youth Arts Consortium, a partnership between Children's Theater of Madison and Madison Youth Choirs.
The center would serve youth ages pre-kindergarten through high school.
"Our hope is that the Madison Youth Arts Center will bring together children from all parts of our community to one central facility, where they will engage in music, theater, dance and the visual arts," said Allen Ebert, executive director of Children's Theater of Madison. "We want to do our best to ensure that this facility is inclusive and diverse. Our goal is to build a facility where all youth can experience the arts."
The arts center is a good fit for the site, Stone House principal Helen Bradbury said. "They are well-respected Madison institutions and we are thrilled at the prospect of having them on the block," she said.
The project area, a little more than 2 vacant acres, is immediately east of Stone House's new Lyric building — an 11-story structure of residential, office and retail space near historic Breese Stevens Field.
The proposed development "finishes this key block," Bradbury said.
The new 11-story building would feature a mostly masonry exterior with some metal accents, up to 4,700 square feet of common space with an outdoor seating area on the top floor, and a rooftop green space and plaza atop the third-floor of the parking garage between the structures, a submission to the city from Stone House says.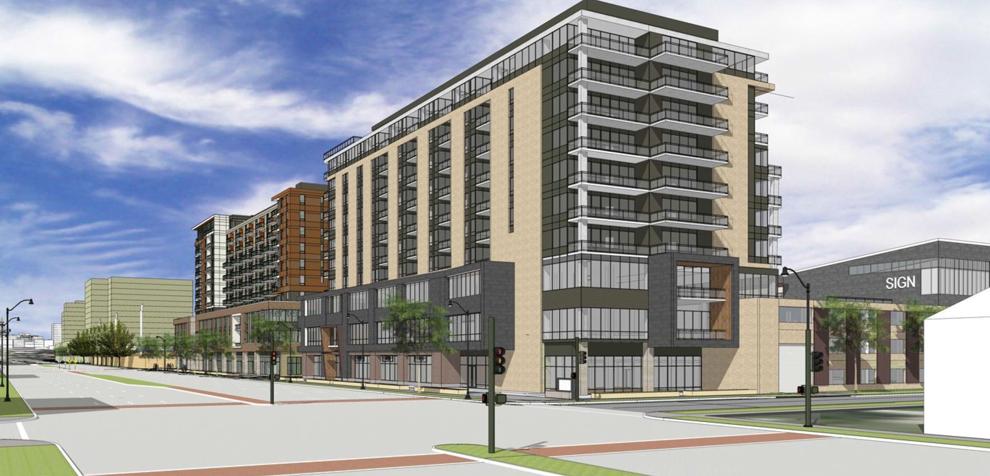 The first floor would feature retail space, and there would be offices on the second and third floors, and market-rate apartments from efficiency studios to two-bedrooms with dens on the fourth through 10th floors.
The four-story structure, which would be owned by the Youth Arts Consortium, would feature glass and cement walls with metal accents for a more lively exterior, in keeping with the mission and vision of the user, the Stone House submission says.
"It will be a fun, welcoming facility," Ebert said.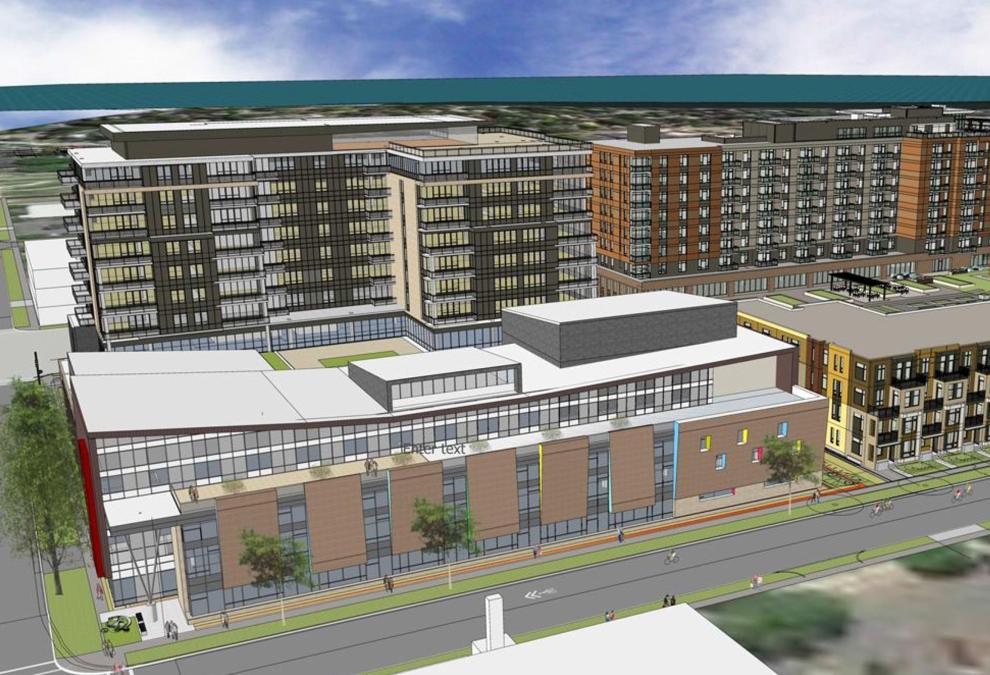 An entry plaza at the corner of Ingersoll and Mifflin would provide a buffer zone between the arts center's main entry and the street. Performance spaces including a small theater on the fourth floor would have access to a common space with access to the rooftop plaza atop the parking garage.
The parking would be shared by multiple tenants and provide off-peak spaces for additional community users, including the Youth Arts Consortium.
The arts consortium needs new space.
The Children's Theater of Madison currently operates out of cramped, second-floor office space at 228 State St. and has no dedicated rehearsal space. The theater, which presents shows for young audiences, has seen big growth in its education programs, and has to rent space in the Overture Center across the street to house its popular Summer Stage theater camps.
CTM isn't able to serve all the youth it would like to and each year must seek out rehearsal space for its popular production of "A Christmas Carol," Ebert said.
Madison Youth Choirs, experiencing record enrollment this year in its choirs for children ages 10 to 18, holds classes in the aging and mostly vacant Westgate Mall on Whitney Way. MYC shares office space with Madison Ballet.
In 2017, a group of nonprofits, including CTM, made a bid for the Downtown Madison Area Technical College campus with a plan to create a center for youth arts, but another development team was selected to do a different kind of project on the property. On Sept. 17, Drury Southwest won city approval to convert MATC's Downtown campus building into hotel space and build an eight-story addition to create a roughly 315-room hotel on the site, which is a block from Capitol Square.
A broker helping the consortium find a permanent home referred the arts groups to Stone House, Bradbury said.
The city's review process is just beginning, with Stone House scheduled to make an informational presentation to the Urban Design Commission at 4:30 p.m. Wednesday.
Ebert, spokesman for the consortium, declined to immediately share further specifics on costs, funding sources and other details.
"There is still a lot of work to be done," he said.
The consortium is inviting interested youth arts organizations to an informational meeting to share its vision and get input for further collaboration and potential building uses at 6:30 p.m. Nov. 1 at the Madison Opera Center, 335 W. Mifflin St., he said.
If approvals are secured, Stone House hopes to start construction in March 2019, Bradbury said.