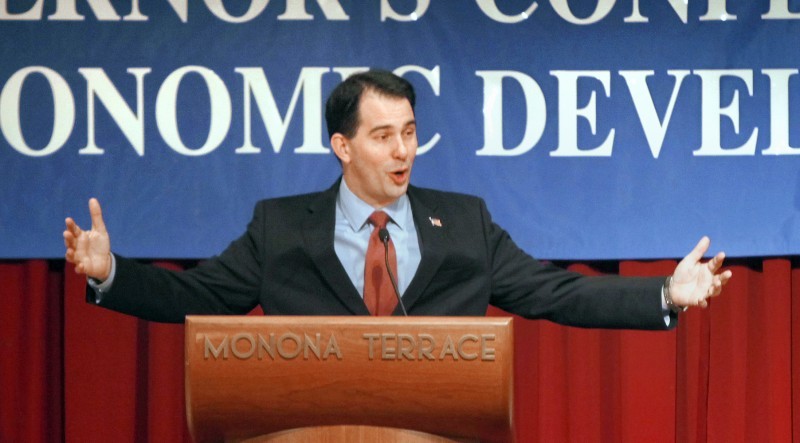 Will Gov. Scott Walker's budget make it harder for poor families in Wisconsin to get medical care and put food on the table?
The governor is proposing to move the responsibility for determining eligibility for aid programs — including the heavily used food stamp and medical assistance programs – from the counties with their accessible satellite offices to the state.
Even more troubling to some, the governor's budget also sets the stage to hand over basic administrative functions of the food stamp and medical assistance programs statewide to private vendors, a move the state has already tried on a small scale with troubling results.
"This budget would make it tougher for moms and dads and kids to get basic needs met," says Dane County spokesperson Joshua Wescott. "It's based on a model that's had real challenges."
Under Walker's proposed budget, released March 1, the Supplemental Nutrition Assistance Program, the former "food stamp" program, and the Medicaid and BadgerCare medical assistance programs, would be administered by two different state agencies. The programs, which people apply for on a single form, now are housed in the Department of Health Services. Walker would move SNAP to the Department of Children and Families.
Most concerning, though, is moving the responsibility for determining eligibility for these programs from the counties to the state, says Lynn Green, director of the Dane County Department of Human Services.
Today, someone who is struggling to get by can walk into the Dane County Job Center on Aberg Avenue in Madison, talk with a county employee about available assistance programs, and get help completing the online application for food stamps and medical assistance. If there are problems or emergency circumstances, "people can get answers. We can help," says Green.
Under the model proposed in Walker's budget, people from all over the state who need assistance would apply by computer, phone or mail to centralized centers, say county officials. There would be no opportunity for drop-in help.
This arrangement would also mean the end of the state's payments to the counties for administration of the programs — some $4.5 million for Dane County buttressed with nearly $2 million in local funds — and a loss of county positions. About 70 jobs would be lost in Dane County, Green says.
"I'd feel terrible laying off staff, but the main issue is the consumer and quality of services," Green says.
Walker's budget brief says taking over administration of the assistance programs would save $48 million a year and eliminate 270 positions, although state workers would be transferred between agencies along with the food stamp program. His office did not respond last week to requests for more information about how the reorganized programs would work.
The plan appears to call for about 1,300 vendor employees statewide and 250 state workers, says Amy Mendel-Clemens, economic assistance administrator for Dane County. Federal law requires that public employees determine eligibility for medical assistance and food stamps programs, which both receive federal funds, but private vendors in general have their own employees perform much of the work, with public workers signing off on the final determination, says Mendel-Clemens.
The push toward centralization actually began under the Doyle administration, notes Green. But under that plan county employees were to staff regional centers. The move to privatize the functions is new.
Although Republicans, who control both houses of the state Legislature, often welcome privatization efforts, one Democrat who serves on the Assembly Children and Families Committee promises to mount a challenge. The problem with privatization, says Rep. Sondy Pope-Roberts, D-Middleton, "is that you no longer have control. You pay the price or you don't get the service. It always raises a red flag for me."
Walker, then county executive, tried to privatize a Milwaukee County assistance program call center after service got so bad that poor families in 2008 filed a class-action federal lawsuit. But the County Board rebuffed his efforts and the state took over the call center the following year, staffing it with public employees.
It was in fact the Doyle administration — not Walker — that first tested using a private vendor to administer assistance programs. The Enrollment Services Center, a second call center, was opened by the state after applications spiked sharply with the 2009 launch of the state's medical assistance plan for childless adults. The state contracts with Hewlett Packard to staff this Madison call center handling program applications and case management services for these BadgerCare clients statewide.
The service level under the vendor program has not measured up, says Sherrie Tussler, executive director of the Hunger Task Force, a Milwaukee nonprofit agency that assists applicants for aid programs and has clocked call center performance. Tussler says it routinely takes longer for applicants to get off hold and connected with a person on a call to the vendor-run Enrollment Services Center than on a call to the Milwaukee County center staffed by state and county workers. In January, the average wait time for applicants at one Milwaukee welfare office was about 54 minutes on calls to the Enrollment Services Center, compared to about 26 minutes for calls to the Milwaukee County center.
The state is under a corrective action plan from the U.S. Department of Agriculture because of the wait times for servicing food stamp applications at the Enrollment Services Center, says Mendel-Clemens.
A recent state study also found the vendor run center has a higher incidence of errors in handling applications, she says. The Enrollment Services Center had an error rate of more than 3.2 percent, compared to 2.4 percent at the state-run Milwaukee County center, and 1.3 percent in the offices handled by the counties.
"We know people are on hold for long periods of time," says Green. "We get calls people from people who can't get through." County workers already have been paid overtime by the state to help reduce backlogs at the Enrollment Services Center, she says.
Take the private vendor model statewide and the problems will go large scale, predicts Tussler. "I'd anticipate a lot of case closings, confusion and failure to serve. And to what end?"
Privatization of public services does not save money, says Mildred Warner, a professor at Cornell University in New York, who has researched the issue for 15 years. Not only do public employees make less than private employees when education and experience are taken into consideration, she says, but private companies will sacrifice quality for profit unless closely monitored. And that's a cost beyond the service contract too often overlooked, she says.
So, unless using a vendor is going to bring in a money-saving, service-boosting technological innovation, privatizing will not pay, says Warner. "Why do it?" she asks. "It doesn't make any sense."