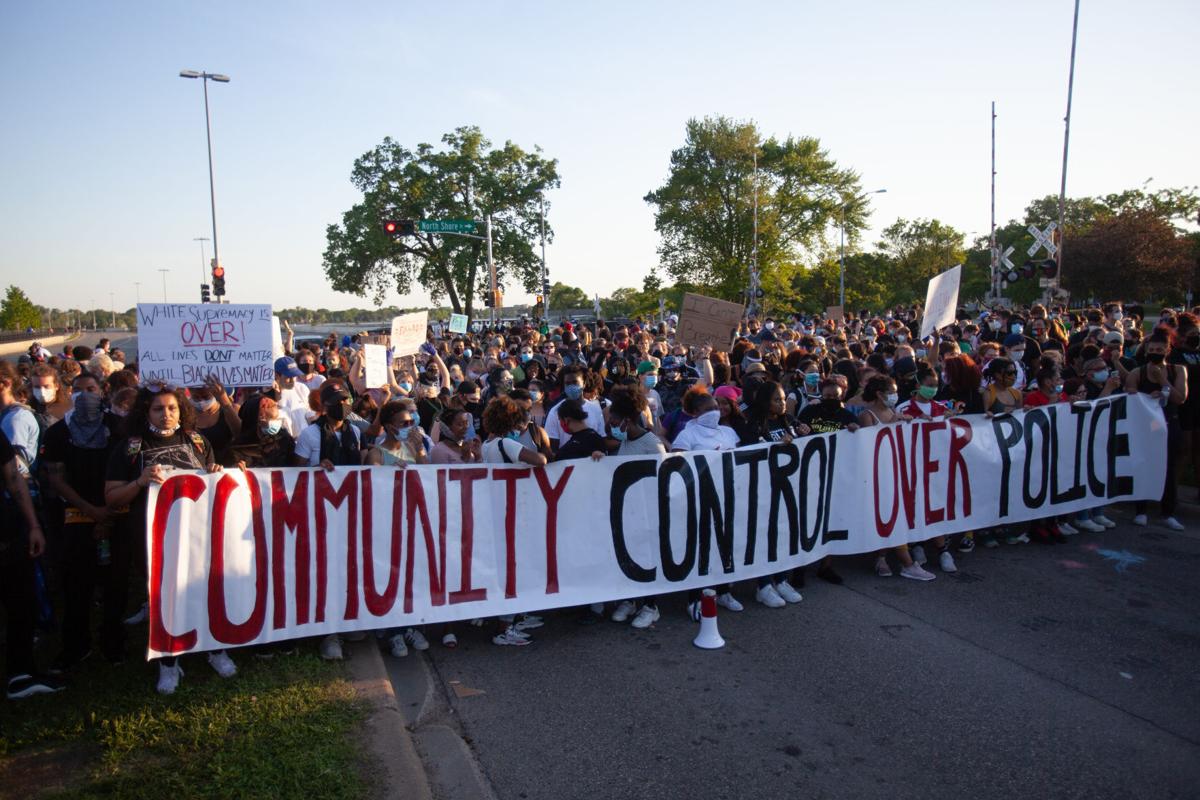 As protests continue in Madison and nationally over the death of George Floyd, an emotional and raw City Council on Tuesday refused to continue a state of emergency as interim Police Chief Vic Wahl told members officers are struggling to protect First Amendment rights while preventing looting and violence — and days of conflict are taking a toll on his department.
The council deadlocked 9-9 to ratify and continue the city's state of emergency, which has included a curfew, through the end of the day Wednesday, which defeated the resolution. The mayor still has authority to declare an emergency.
"This place has been destroyed in a number of days," Downtown Ald. Mike Verveer, 4th District told colleagues during lengthy debate on Tuesday night. "I'm scared to death this living nightmare will get worse if there are arsons."
But others said the curfew is creating more tensions and that the city must restrain police power, tactics and actions, and spoke of militarized occupation and trauma. "I hear your pain but I hear a lot of other pain," Ald. Shiva Bidar, 5th District, said to Verveer.
The police are adjusting tactics daily in an effort to protect people, property and the right to protest, and must "thread a needle" on when to back off or don protective gear, Wahl told the council's Executive Committee earlier Tuesday.
"I think people are certainly exhausted and very stressed out," he said. "Not only are they working 18-hour days, they're wearing heavy gear, they're standing on their feet getting hit with rocks and having unkind things said to them."
The frustrating part, Wahl said, is that he and officers have common ground with those protesting Floyd's death and broader issues of racism, but a small fraction seems determined to take advantage of the protests and ignite chaos and provoke confrontation.
At the earlier meeting, Verveer pleaded with Wahl to assign more officers to protect State Street, which has been ravaged with vandalism in the past three nights with many residents living above storefronts terrified.
"The devastation is just overwhelming. The agony is overwhelming," Verveer said. "We're all just heartbroken. I'm so worried that State Street will never recover from this. I'm numb. I can't tell you how many people who are scared out of their wits' end."
Condemning George Floyd's death
The council moved to condemn Floyd's death and pursue more oversight of the Madison Police Department and a pilot body camera program.
It unanimously approved a resolution denouncing the actions of former Minneapolis police officer Derek Chauvin, who's been charged with murder in Floyd's death May 25.
In the resolution, the council acknowledges not all police officers are racists but says Chauvin's actions were "deplorable, horrific, and infuriating."
The resolution says the community depends on police to step in and stop something if they see another officer being unsafe, violating professional standards or engaging in unacceptable, illegal or life-threatening conduct.
The sponsors ask legislators on all levels to enact nationwide police and criminal justice reforms and challenge Americans "to amplify their voices in upcoming elections to elevate those who will work towards the cause of eradicating the dual justice systems in America and implement reforms institutionally."
The resolution to ratify the state of emergency due to civil commotion, disturbances, looting and rioting triggered a passionate debate.
The police have been restrained in using a curfew under the emergency, but it can be an important tool to help address serious disturbances or crimes, Wahl said. The police have no concern about peaceful protests, but hope the city is near the end of looting and violence, he said.
Verveer said he lobbied for the curfew because Downtown had become "a war zone" and he thought the move would keep innocent bystanders away.
"This is an absolute emergency," he said. "It was mob rule run amok and it was horrific."
But others said the city must address underlying problems. "There are bad cops and people in the Police Department know exactly who they are," said Ald. Donna Moreland, 7th District. "They need to be gone."
Ald. Tag Evers, 13th District, said, "I'm obligated morally to stand with those who are in deep pain."
The proposals for more oversight, introduced to the council Tuesday, aim to create a diverse Madison Police Department Ad Hoc Recommendation Oversight Committee, or Civilian Oversight Board, to oversee implementation of multiple recommendations by the Madison Police Department Policy and Procedure Ad Hoc Committee. That body was created after the fatal shooting of Tony Robinson during an altercation with police in a narrow stairwell in 2015.
Other proposals would create a job classification of police auditor and create a full-time police auditor in the Mayor's Office operating budget. Those moves are the next steps to establishing the position, recommended by the ad hoc committee, after Mayor Satya Rhodes-Conway and the council included $200,000 for it the 2020 budget.
The proposals will be referred to city committees and considered by the council at a later date.
Meanwhile, Ald. Paul Skidmore, 9th District, said he's working with police to develop language for a police body-worn camera pilot project to evaluate benefits and liabilities before deciding on a city-wide program.
Skidmore said he would like to conduct the pilot program in conjunction with the work of the Body Worn Camera Feasibility Review Committee, which the council created in late April and tasked with making recommendations by January. It's the third time since 2015 that a committee has been created to review the merits of the technology.
"I believe that many of these requests/demands (for body-worn cameras) are due to the real or perceived actions of officers over the past several days, but the emails correctly note that a BWC can provide vital information on interactions between officers and citizens," Skidmore wrote to council members on Monday. "I still believe that there is strong support for a BWC program in Madison."
---
"I'm feeling violated and angry": Downtown Madison businesses bearing brunt of community outrage