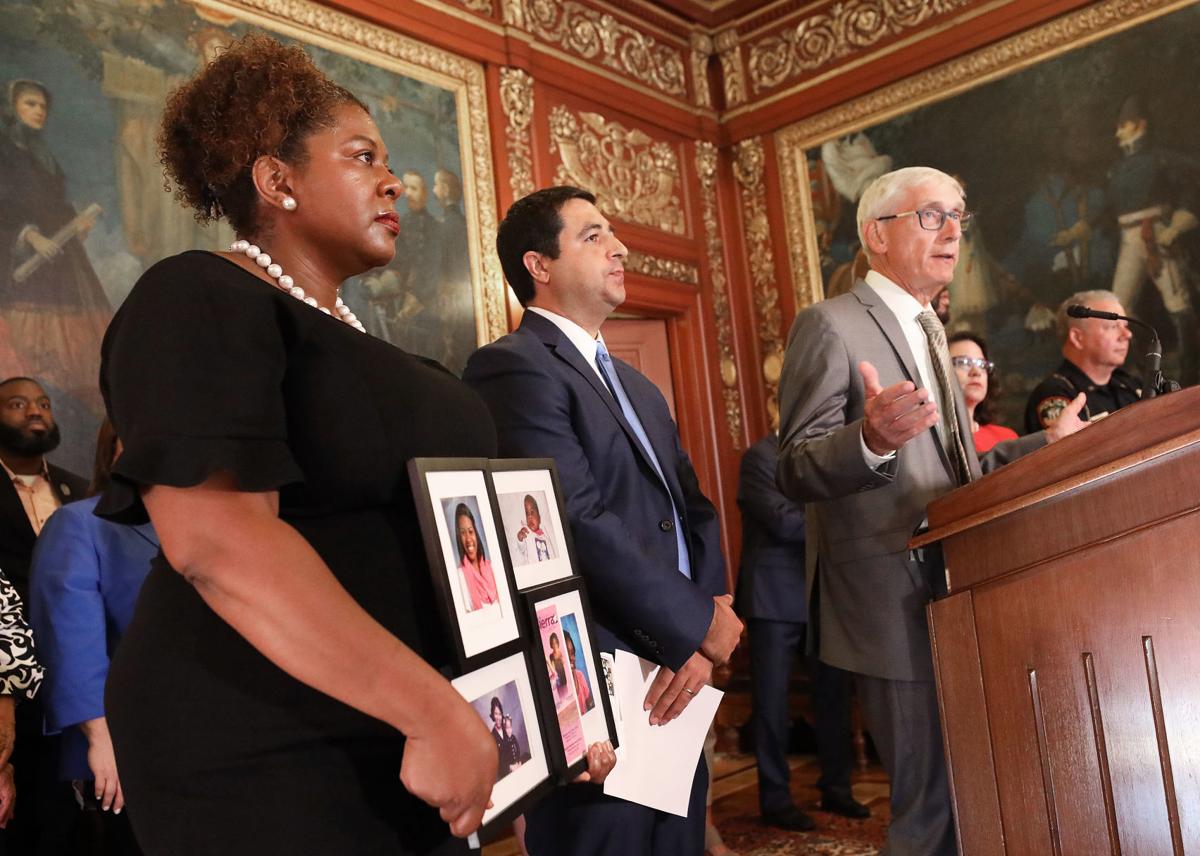 Democratic Attorney General Josh Kaul on Tuesday said lawmakers will soon unveil red-flag legislation to address gun violence, and warned that the state could eventually be at risk of losing hundreds of millions of dollars if he and Republicans can't agree on a way to settle lawsuits.
Kaul on Tuesday said the state could be at risk of losing out on hundreds of millions of dollars in settlement money down the road if he and Republicans on the Legislature's budget committee don't agree on a process for settling lawsuits.
He also said some cases could end up going to trial if an agreement between the budget committee and the Department of Justice can't be reached.
"There are tens of millions of dollars at stake and if this persists it will probably be in the hundreds of millions of dollars," Kaul said at an event at Marquette Law School in Milwaukee. "This is a really significant issue for the state of Wisconsin."
Currently, the DOJ says more than a dozen lawsuits potentially worth millions of dollars to the state are on hold due committee inaction.
Under Republican laws passed during a lame-duck session in December — after former Republican Gov. Scott Walker lost his re-election bid, but before Democratic Gov. Tony Evers took office — Kaul is required to seek the budget committee's approval to reach settlement agreements in certain cases.
But Kaul and Republican budget committee leaders have so far been unable to agree on a confidential process for the committee to review and approve the lawsuits. Republicans want more information on the lawsuits to proceed, but Kaul won't give it to them unless they all sign confidentiality agreements, a proposal they've rejected.
Republicans slammed Kaul's remarks.
"The Attorney General already knows of numerous ways he can present confidential settlement information to the Joint Finance Committee and he continues to drag his feet," Senate Majority Leader Scott Fitzgerald, R-Juneau, said in a statement.
"Even members of his own party don't support his solution. The law is the law and isn't changing. He can work with us or be part of the problem."
Red-flag bill imminent
The comments from the state's top law enforcement officer on impending gun control legislation come a month after dual mass shootings in Ohio and Texas that left 31 people dead, and weeks after Democrats introduced a universal background check bill that was essentially dead on arrival in a Republican-controlled Legislature.
A so-called red-flag law, otherwise known as an "extreme risk protection order," would require a person perceived to be a threat to surrender his or her firearms. Connecticut in 1999 became the first state to implement such a law. Currently, 17 states and the District of Columbia have enacted a version of the measure.
Kaul knocked Republicans for not holding a hearing on the bill he and Democratic lawmakers introduced last month that would have expanded background checks to most private gun sales in the state. Democrats have said the bill would virtually eliminate the so-called "gun show loophole," which under current law allows a person to circumvent the background check process by purchasing the gun from a private seller.
Kaul said red-flag laws are another crucial component to preventing gun violence and that he and a group of other officials will introduce such legislation "before too long here."
"I would like to see procedures in place that prevent people we know to be a danger to themselves or to others from having access to firearms," he said.
Kaul dismissed due process concerns over the laws, arguing they have been found constitutional in other states and that they only temporarily apply to those found to be a danger.
"It's a very carefully tailored way of addressing people who are in immediate danger to others," Kaul said.
Rep. Melissa Sargent, D-Madison, has previously introduced red-flag legislation and said she will do so again this fall.
Republicans have expressed concern about both measures, contending red-flag laws may violate due process and universal background checks may undermine the Second Amendment. They've instead doubled down on defending gun rights while emphasizing the need to focus on mental health.
Connecticut in 1999 became the first state to implement a "red-flag" law. Currently, 17 states and the District of Columbia have enacted a version of the measure.
Connecticut in 1999 became the first state to implement a "red-flag" law. Currently, 17 states and the District of Columbia have enacted a version of the measure.
Get Government & Politics updates in your inbox!
Stay up-to-date on the latest in local and national government and political topics with our newsletter.