None of the six people fatally struck by vehicles on the East Washington Avenue corridor this year were killed during peak travel times.
Five pedestrians, though, were hit in the nighttime and early morning hours; drivers struck three people in lanes leading into the city and the three others in lanes heading out; the deaths occurred along the entire stretch of the six-lane highway; and alcohol, speed and inattentiveness — on the part of drivers and pedestrians alike — are believed to have played roles.
The city of Madison is implementing short-term fixes and seeking long-term solutions for safety on East Washington Avenue. But the string of deaths, in addition to ramped-up reckless driving and racing on the roadway since last year, present a tragic, vexing challenge to the city's goal of eliminating traffic-related fatalities and serious injuries by the end of the decade.
While there are similarities and differences among the deaths, Madison police Lt. Tony Fiore said it's hard to determine whether it's an emerging pattern or an aberration. City traffic engineer Yang Tao called the six deaths, which included five pedestrians and one bicyclist, an outlier compared to recent history.
East Washington, which doubles as the state-operated Highway 151, had zero to two deaths each year from 2016 to 2020.
Madison isn't alone in the uptick of deadly roadway behavior. Through the end of September, there have been 40 traffic-related fatalities in Dane County in 2021, exceeding the 33 last year and nearly matching the high in the previous five years of 2018's 41 deaths.
Since last year, the city has taken strategies to improve safety on East Washington, such as creating higher visibility pedestrian crossings, reducing the speed limit from Pinckney to Marquette streets, retiming traffic lights and temporarily reducing lanes.
Madison police also stepped up enforcement efforts over the summer to the point that citations and warnings issued to motorists on East Washington through September make up about one-fifth of all those handed out in the city.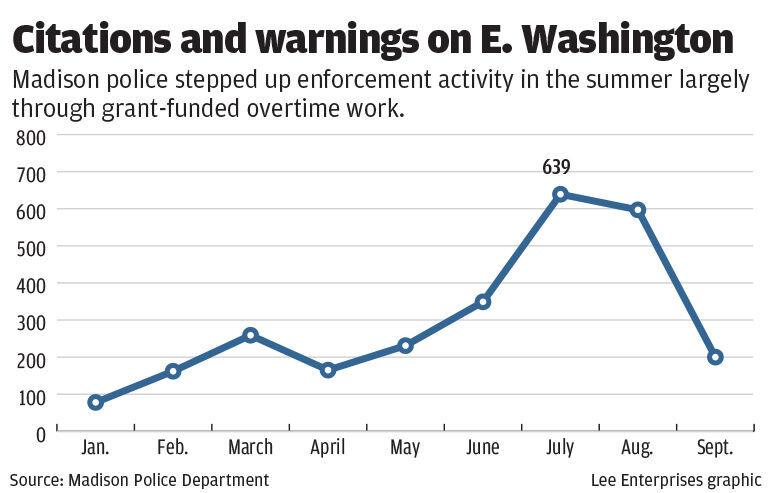 And third-party data suggests drivers are traveling slower on the stretch of East Washington where the speed limit has been dropped.
Last year, Mayor Satya Rhodes-Conway launched a campaign, dubbed Vision Zero, to eliminate traffic-related deaths and serious injuries by 2030. During a city committee meeting last week, Rhodes-Conway said the six fatalities involved "bad choices made by someone."
"Bad choices happen, mistakes happen in our lives," Rhodes-Conway said, adding that "bad choices should not be fatal. That's where the Vision Zero work comes in. Vision Zero is focused on making our streets more forgiving and allowing people to live even when there are mistakes made by somebody involved."
Crash factors
Five of this year's fatalities happened at night, making it the most common factor explored by city officials.
Oncoming headlights, traffic signals and reduced visibility can create distractions at night, said Fiore, who heads up the Madison Police Department's traffic unit. Historically, he said, other hazardous factors such as impaired driving and speeding tend to worsen at night.
Tao said the city's forestry team trimmed trees along East Washington this year to make sure street lights weren't blocked. Along the 6-mile roadway, the lighting is "mostly adequate," he said.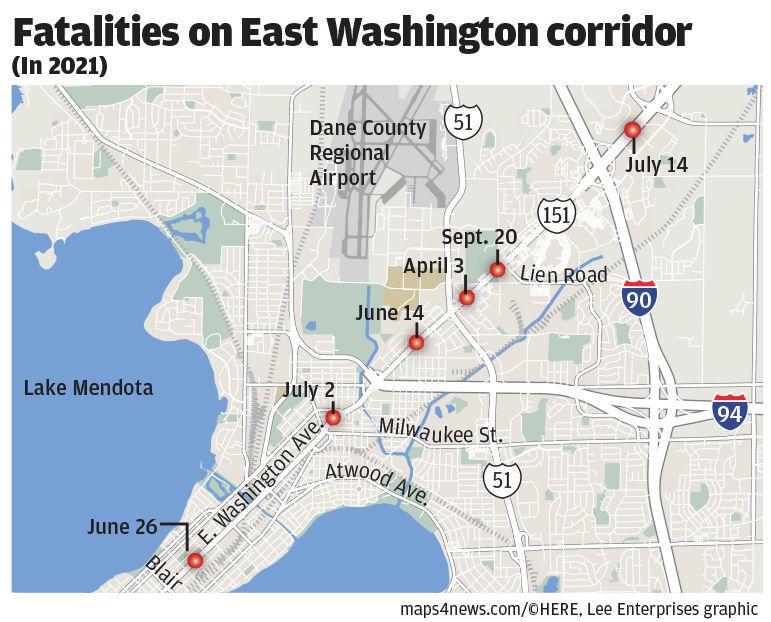 The most recent death on Sept. 20, which occurred about an hour after sunset, involved a pedestrian stopping and staying in the roadway while traffic approached, according to a city summary of preliminary findings on the fatalities. Tao said a lack of lighting likely wasn't a factor there because the crash happened next to a street light.
At least four of the deaths are believed to involve pedestrians either attempting to cross East Washington when traffic had a green light or at mid-block, including one fatality that occurred just east of the interstate where the road turns into a freeway.
Alcohol is thought to factor into three of the six deaths this year, speeding and inattentiveness in two, and drug use in one, according to information from the city and state Department of Transportation.
Out of the six cases, the Dane County District Attorney's Office said one driver —a man accused of a fatal hit-and-run in June — has been charged. Three cases are still under review by the District Attorney's Office, and Madison police continue to investigate the two other deaths.
Human element
Fiore and Tao acknowledge some contributing factors to fatal collisions are outside of city control.
"Any time you look at these crashes there's the human element that regardless of street design and things like that, the human element is going to come into play," Fiore said.
Tao said people will make "unwise decisions" when driving, so the city's aim is to make roadway changes that "minimize the end results of that so that it does not have to be death or serious injury."
"To eliminate all the traffic fatalities, we need everyone's help," he said. "Our daily choices really matter, especially when we get behind the wheel. We need to slow down, pay attention, and we need to look out for each other."
More enforcement
Like elsewhere in the country, the onset of the COVID-19 pandemic brought with it an increase in drag racing and reckless driving to East Washington.
"East Washington Avenue has always presented a challenge historically throughout the years, but not to the extent that we've seen maybe in the last two years where the level of dangerous driving has increased exponentially," Fiore said.
In an attempt to reduce dangerous driving, Madison police directed a third of its grant-funded overtime traffic enforcement toward East Washington this year, resulting in more than a thousand tickets and warnings.
Police haven't attributed the "cruising" behavior to any of the six deaths, Fiore said, but it still causes hazardous conditions with serious consequences, such as a four-vehicle crash late last month police say involved drag racing.
There is also some evidence drivers have let off the gas a bit since the speed limit dropped on part of East Washington.
A company called Streetlight Data provided the city with two months of cellphone location data — May 2020 and May 2021 — to measure speeds on East Washington at the Yahara River bridge before and after the limit was reduced there.
In May 2020, 8% of inbound vehicles and 10% of outbound vehicles were driving 40 mph or faster at the bridge, compared with 1% and less than 1%, respectively, this past May.
Tao said the speed-reduction efforts, which are happening on other major roads across Madison, are having a "positive impact." City staff are working with the state on future speed limit reductions on the eastern half of East Washington not touched by last year's reductions, Tao said. Those changes could happen in 2022, he said.
The city has heard complaints about the lower speed limits, Fiore said. But slower speeds increase the likelihood someone will survive a crash, he said, and a slightly longer commute is "not asking a lot of drivers."
---