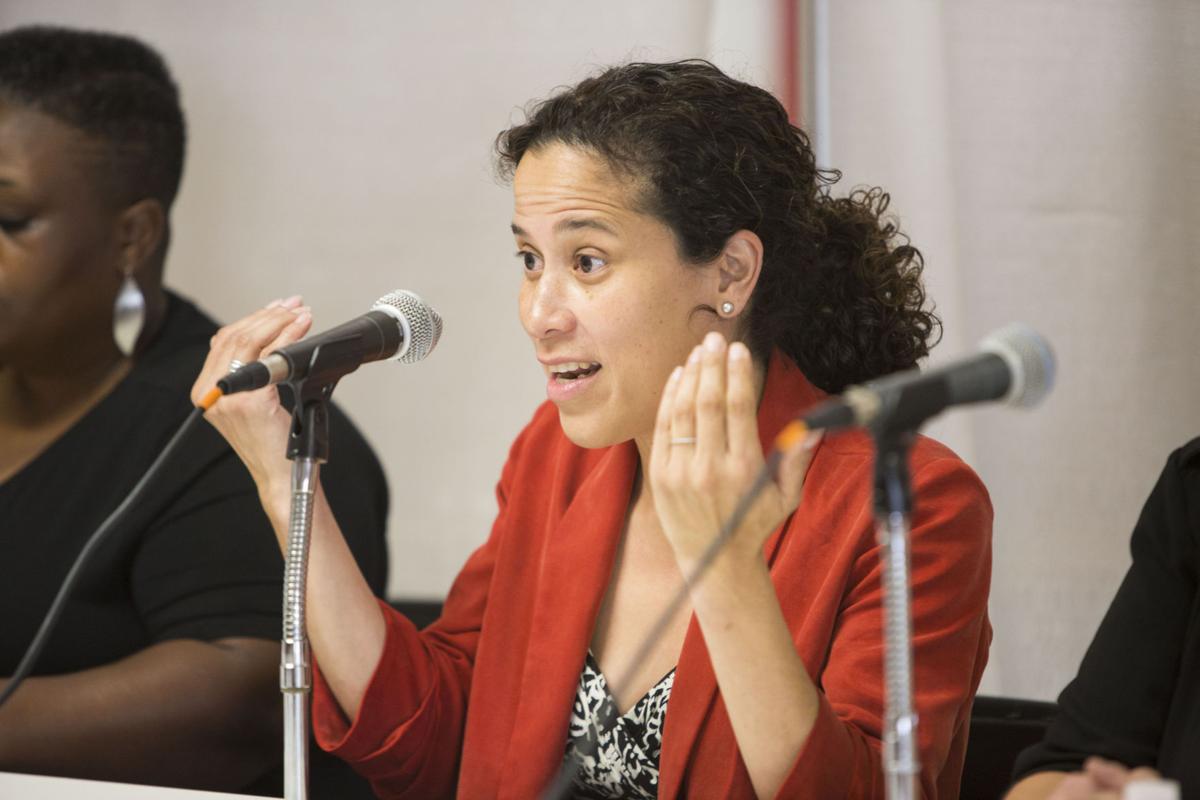 Centro Hispano, the largest nonprofit agency serving Madison's Latino community, had its 2017 agenda set months ago. Staffers were excited to redesign the interior of the south side building and hire more more senior management staff.
But after the presidential election last fall, priorities shifted. Suddenly, safety became a top concern for immigrant families.
"We've been dealt such a heavy hand. I can't emphasize how incredibly hard it's been at Centro and everyone working with the Latino community" said Karen Menendez Coller, director of Centro. "It moves us back instead of moving us forward."
So when Coller found out that she had received an inaugural "March for Justice" award, it was a bright spot after months of darkness.
"I was just so touched, it's been such an incredibly hard time," Coller said. "It provided a big lift … It's feeling like we're not alone in this."
Coller is the first recipient of a $15,000 award named in memory of Nan Cheney, an ardent local peace activist. Leaders in the local Latino community say they can't imagine a more fitting recipient for the award.
Forward Community Investments (FCI) gave out the honor, and will host an award ceremony for Coller on May 25 from 5 p.m. to 7 p.m. at the Monona Terrace Convention Center.
FCI is a statewide community development investment organization that aims to reduce disparities. They provide support and financing for "on the ground" organizations that work for issues like affordable housing, economic development and social services -- things that Cheney was passionate about.
Juan Jose Lopez, a section chief in the state's Department of Workforce Development, knew both women.
"I know Nan Cheney is probably rejoicing in heaven that they selected Karen for this award," he said.
Cheney helped found the Wisconsin Network for Peace and Justice and the Social Justice Center. She was also an active city committee member, serving on the Madison Parks Commission, the Madison Board of Ethics and the Madison Plan Commission. She worked tirelessly for nonprofits, and was a volunteer coordinator for Ed Garvey's gubernatorial campaign against Tommy Thompson. She died of cancer in 2010. 
Cheney was one of a kind, said Salli Martyniak, president of FCI, and always on the front lines of marches. Martyniak recalled a story often told in Cheney's family, of a note she left on the kitchen table to the effect of, "Kids are next door, dinner's in the oven, I've gone to Selma to march."
"I always said I want to be Nan when I grow up," Martyniak said. "I always think in terms of what would Nan do. Not what would Nan think, but what Nan do."
Coller, Martyniak said, is similarly a person of action, and she's accomplished a lot in a short time.
Since Coller arrived in Madison in 2013, Centro has seen big changes, including a $100,000 grant from CUNA Mutual, an expansion of their wellness program, a farmer's market at Centro, Certified Nursing Assistant and bankteller career progams and [Re]Generacion, a youth advocacy program.  
"She's transformed Centro Hispano to a level I don't think we thought could happen," Lopez said.
Mariela Quesada Centeno, director of adult programs at Centro, said that staff recognizes that since Coller arrived, the center has seen more activity, more interest, more media attention and more funding.
You have free articles remaining.
For her part, Coller's most proud that Centro has a more focused vision and she has helped ensure that Centro is driven by the community. She said she loves watching clients grow and speak for themselves.
Coller has a doctorate from the Johns Hopkins Bloomberg School of Public Health. This background gives her a comprehensive approach to building a healthy community, Martyniak said, incorporating a medical perspective alongside concerns about food, shelter and education.
"She really understands a holistic perspective of what makes a healthy and thriving community," Martyniak said.
Fabiola Hamdan, a senior social worker for Dane County and chair of the Latino Children & Families Council, said that Coller's success at Centro will be far-reaching.
"(It's) going to be great for everybody, not only for Centro, but for the Latino community and the community at large," she said.
Action isn't the only thing Cheney and Coller have in common, leaders said; the two are linked by their twin traits of passion and compassion.
Coller has an incredible sense of strategy that allows her to get things done, but she always takes the time to make you feel heard, Centeno said.MAr
"She has a never-ending tenacity, but she's also very vulnerable," Centeno said.
The passion stems from her roots, Centeno said. Coller is an immigrant from El Salvador, and she moved to the U.S. at age 14 because of civil war in the country.
"When I think of Karen, I think of her community events at Centro surrounded by kids and families and her smiling and just hugging them and being in community," said Madison Ald. Shiva Bidar. "She's not somebody who's driven at all by titles or positions."
But at the same time, Bidar said, when Coller's in a room with major Madison leaders, her insightful commentary cuts straight to the heart of the matter.
"In a very determined and clear and compassionate way, she really expresses the thoughts that oftentimes everyone has running through their heads," Bidar said.
It would be hard to find anyone with a bad word against Coller, Bidar said, and joked that she would like to see Coller as the first Latina president of the U.S.
Asked about plans for the $15,000 award, Coller's answer was quick.
"It's all going to Centro, it's all going to this place that means so much to the community," she said.
Upcoming projects at Centro include a partnership with Design for a Difference to redo their internal spaces to better fit their program. Child care currently takes place wherever there's space and although the family serves meals to 2500 families a year, it doesn't have a proper kitchen space.
In the current political climate, Coller's work is more important than ever, Martyniak said. Hamdan agreed.
"With whatever is happening in our country, our state and our city ... I think it's really nice that this is happening right now, because believe me, we need this a lot," she said. 
Share your opinion on this topic by sending a letter to the editor to tctvoice@madison.com. Include your full name, hometown and phone number. Your name and town will be published. The phone number is for verification purposes only. Please keep your letter to 250 words or less.