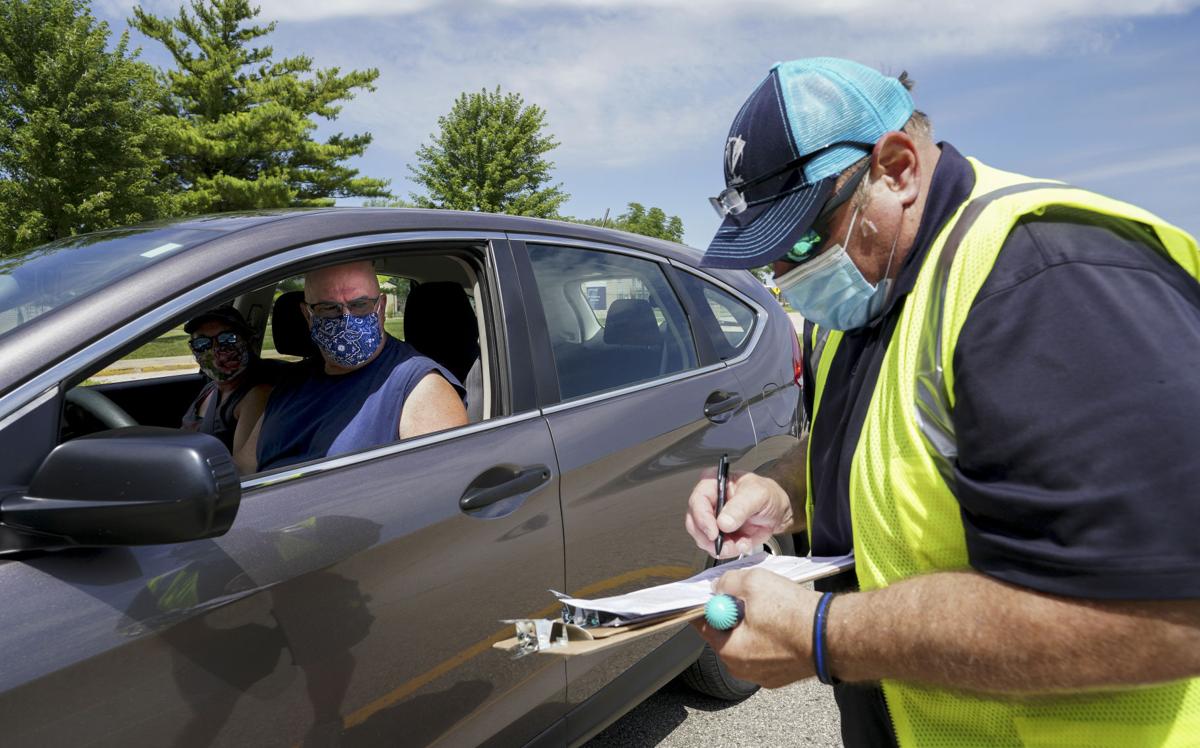 Madisonians looking to cast a ballot in this year's presidential election get another option Tuesday when in-person absentee voting kicks off statewide.
The Madison Clerk's Office will open 13 in-person absentee voting locations Tuesday between its main office, public libraries and the campuses of UW-Madison and Madison Area Technical College. A location at Edgewood College will open Oct. 26.
The early-voting sites will primarily operate as drive-up or outdoor locations based on public health advice to prevent the spread of COVID-19.
The main Clerk's Office in room 103 of the City-County Building, 210 Martin Luther King Jr. Blvd., will be open for in-person absentee voting from Tuesday through Nov. 1, which is the last day early in-person voting is allowed before Election Day Nov. 3.
Voting hours at the Clerk's Office are 8 a.m. to 7 p.m. on weekdays and 1 p.m. to 5 p.m. Saturdays and Sundays.
Seven Madison libraries are also available to cast an absentee ballot in-person:
Goodman South Madison Library, 2222 S. Park St.
Hawthorne Library, 2707 E. Washington Ave.
Lakeview Library, 2845 N. Sherman Ave.
Meadowridge Library, 5726 Raymond Road
Pinney Library, 516 Cottage Grove Road
Sequoya Library, 4340 Tokay Blvd.
Alicia Ashman Library, 733 N. High Point Road (by appointment only)
The libraries are open for in-person absentee voting from Tuesday through Oct. 31, and the hours are: noon to 6 p.m. on weekdays; 1 p.m. to 4 p.m. on Saturdays; and closed on Sundays.
Closer to college students, three voting locations will open on the UW-Madison campus and two on MATC campuses.
Between Tuesday and Oct. 30, absentee voting tents will be set up on the UW-Madison campus at:
Memorial Union, 800 Langdon St.
Union South, 1308 W. Dayton St.
Student Activity Center, 333 E. Campus Mall
Those sites will be open daily between 11 a.m. and 6 p.m. If there's inclement weather, early voting on UW-Madison's campus will be moved inside Memorial Union.
For MATC students, an absentee voting site can be found at the main entrance of the Human and Protective Services Building, 1701 Pearson St., on the Truax Campus and at the South Campus, 2429 Perry St.
In-person absentee voting at MATC campuses runs from Tuesday through Oct. 30 between 10 a.m. and 6 p.m. on weekdays. Voting won't be available, though, at the two locations if there is inclement weather.
A location will open outside Edgewood College's Predolin Hall, 1000 Edgewood College Drive, on Oct. 26 and run through Oct. 30. Voters can go to the site between 10 a.m. and 2 p.m. over those five days.
Anyone voting at in-person absentee sites on Oct. 31 or Nov. 1 will need to have already registered because no voter registration is statutorily allowed on those days. Wisconsin law, though, does allow Election Day registration for those who opt to cast a ballot on Nov. 3.
Editor's note: This story corrects the name of the early voting location at MATC campus.
Concerned about COVID-19?
Sign up now to get the most recent coronavirus headlines and other important local and national news sent to your email inbox daily.