The song is longer than most, clocking in at six minutes and 21 seconds.
But the lyrics and the haunting notes from Gordon Lightfoot's "The Wreck of the Edmund Fitzgerald" don't just tell the story of a shipwreck.
For nearly 50 years, Lightfoot's song has memorialized to the world the iron ore freighter and her 29 crew members who perished on that stormy November night in 1975 on Lake Superior near Whitefish Point, Michigan. There are an estimated 10,000 shipwrecks in the Great Lakes, but thanks to Lightfoot, we know more about the Fitzgerald than any other. And globally, perhaps only the Titanic is more widely known. 
But Lightfoot, who died Monday in Toronto at the age of 84, also created a bond with Wisconsin where the Fitz is eulogized in paintings, museum exhibits and memorials. Because of his song, "Gitche Gumee" is no longer foreign, we know about the gales of November and that the boat was loaded at a mill in Wisconsin with a "load of iron ore twenty-six thousand tons more," Lightfoot wrote.
The 729-foot-long boat was owned by the Northwestern Mutual Life Insurance Co. in Milwaukee and her last port of call was Burlington Northern Railroad Dock No. 1 in Superior. Nine of her crew members called Wisconsin home. And Lightfoot's song has kept it all in the forefront. On Tuesday, it was the third-most popular song on Apple iTunes, meaning the legendary story will continue to be shared to new and younger audiences, their grandparents just children at the time of its sinking.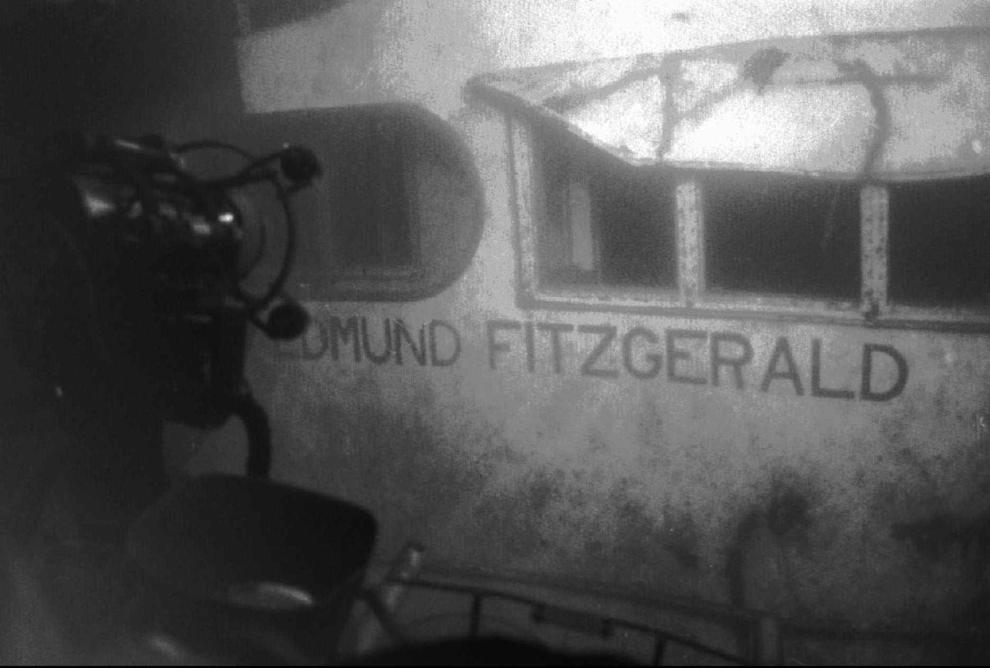 "I love Lightfoot's song because you can tell that he did a little research," said Teddie Meronek, 70, who specialized in local history at the Superior Public Library for more than 40 years. "It just brings it to a broader audience. To us a November can never go by without us thinking about the Fitz. It was just a terrible, terrible day."
Meronek was fresh out of UW-Superior and living at her parent's house in Superior when the boat departed, the storm hit and the Fitzgerald disappeared a day later. The library, located in a former grocery store, is now ringed on its interior with 35 murals painted by Native American artist Carl Gawboy that tell the story of Superior's history. Each is 5 feet high and 7 feet wide. The last in the series is of the Fitzgerald navigating Lake Superior swells in the Apostle Islands.
Meronek now volunteers at the library once a week and frequently gives tours of the mural collection to schoolchildren, many of whom know of the Fitz.
"I was surprised how many of them knew Gordon Lightfoot's song," Meronek said. "It really has an influence."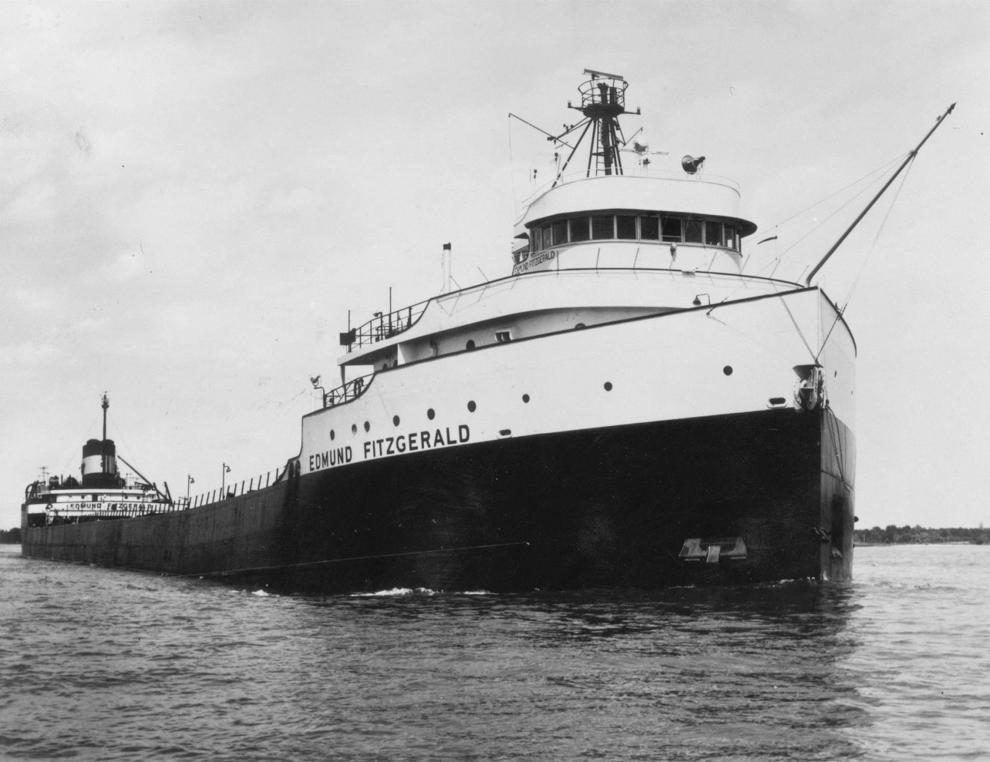 'Enduring legacy'
Lightfoot was Canadian but wasn't a stranger when it came to touring Wisconsin. He performed in 1979 at Summerfest in Milwaukee and 20 years later under the tent at Lake Superior Big Top Chautauqua in Bayfield. Last June he played a show at the Overture Center in Madison and in September played at the Door Community Auditorium in Fish Creek. The venue is located on the Door County Peninsula just north Sturgeon Bay where the Fitzgerald had a number of winter layovers and where two of its lost crewmen were born.
Russell Haskell, the boat's second assistant engineer, was living in Ohio at the time of the wreck while Oliver Champeau, the third assistant engineer, was born in 1934 and lived in the city where he later quit school at age 13 to raise four siblings after his father died. Champeau also fought in the Korean War as a member of the U.S. Marine Corps.
"We are honored that Door Community Auditorium was among Gordon Lightfoot's final performances," Cari Lewis, executive director of the auditorium, said Tuesday. "While Mr. Lightfoot was visibly and audibly frail last fall, his gift and craft of telling stories through song was so much bigger than one lifetime or one voice. It seemed to me that he, his band and entourage wanted to share that gift through live performance for as long as they could. What an enduring legacy."
The other crew members from Wisconsin were third mate Michael Armagost of Iron River; watchman Ransom Cundy and porter Frederick Beetcher, both from Superior; John Simmons, a senior wheelman, and Joseph Mazes, a maintenance specialist, both from Ashland; Blaine Wilhelm, an oiler from Moquah; and second cook Allen Kalmon from Washburn.
While not mentioning by name the members of the crew, Lightfoot's song helped keep their spirits alive. On Monday night the Lake Superior Twitter page, which tweets about the lake, its conditions and often brags about its size and depth, paid homage to Lightfoot by quoting some of the lyrics from "The Wreck of the Edmund Fitzgerald."
"On a day when my waves resemble the gales of November, I ask ... Does anyone know where the love of God goes when the waves turn the minutes to hours," it tweeted. "Rest in peace, Gordon Lightfoot, you will always have a place here. It's been good to know ya."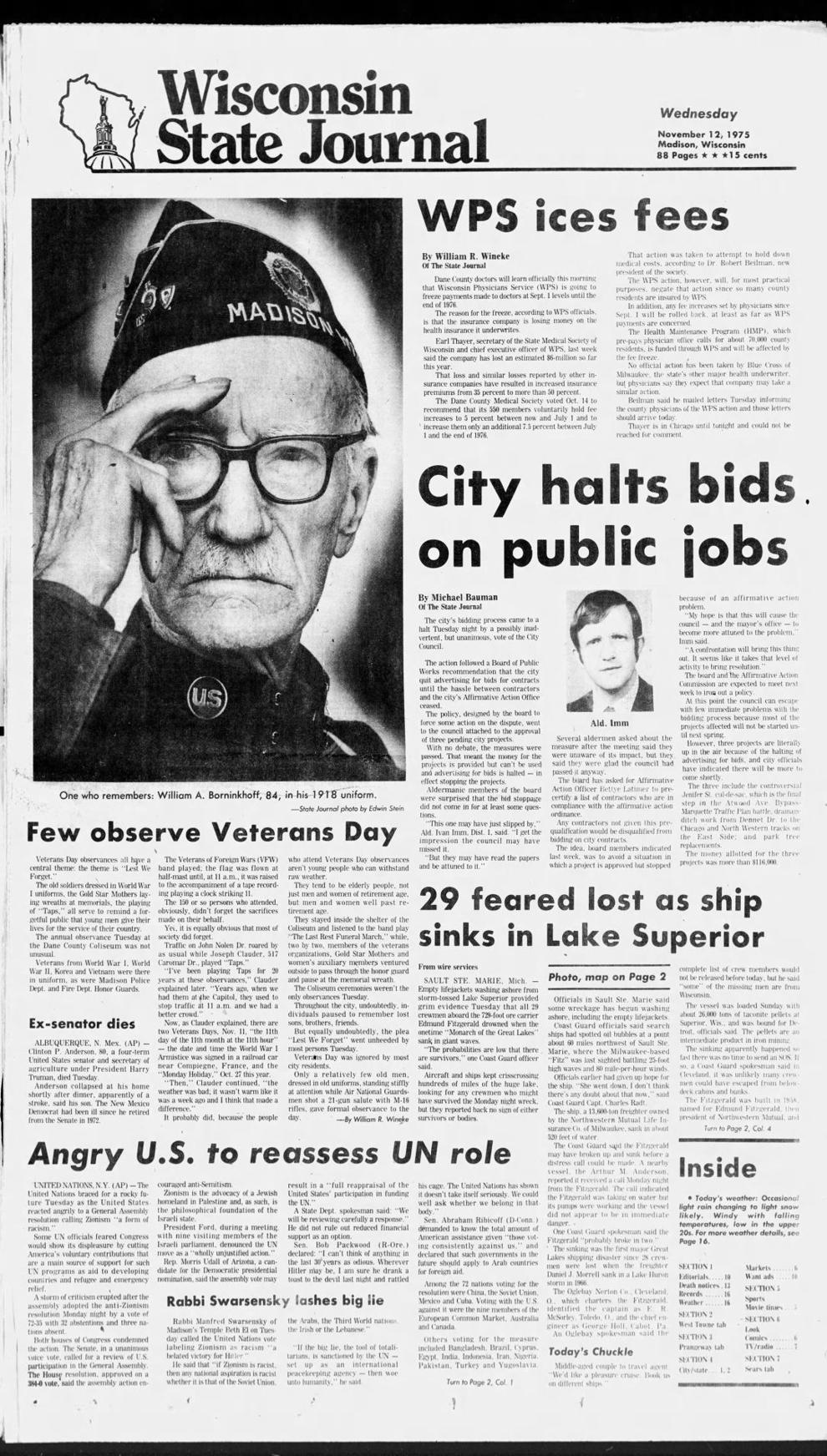 The great lake
When launched in 1958 just south of Detroit in Ecorse, Michigan, the Edmund Fitzgerald was the largest ship traversing the Great Lakes. It set records for hauling taconite iron ore mined in Minnesota and destined for Midwest steel mills and was named after the president of Northwestern Mutual. On his 65th birthday, his employees gave him a 4-foot-long ship's model, something he kept in his office until he died at the age of 90 in 1986. It then passed to his son, Edmund B. Fitzgerald, and then after his death in 2013 was bequeathed to the Wisconsin Marine Historical Society's Great Lakes Marine Collection at the Milwaukee Public Library.
The Wisconsin Maritime Museum in Manitowoc has a whole gallery dedicated to scale models of Great Lakes sailing ships and freighters. The exhibit includes a shipwreck diorama featuring the Edmund Fitzgerald as it looks lying in 530-foot-deep water.
In Ashland, where there are still family members of some of the victims who died, the Ashland Historical Society Museum has a display about the wreck. Last month the museum received an 8-foot-long model of the Edmund Fitzgerald that now sits in the museum's front window.
Located just blocks from where a historic 1,800-foot-long ore dock once stood in the harbor, the museum also has a jukebox filled with 45s that visitors can play. "The Wreck of the Edmund Fitzgerald" is one of the most popular songs selected, said Tory Stroshane, president of the museum's board of directors.
"People definitely feel a connection to the Edmund Fitzgerald. They just feel very strongly about it," Stroshane said. "I think it's so widely popular because of Gordon Lightfoot and it made people not just in the area but in the whole U.S. aware of the dangers that lurk on Lake Superior." 
---