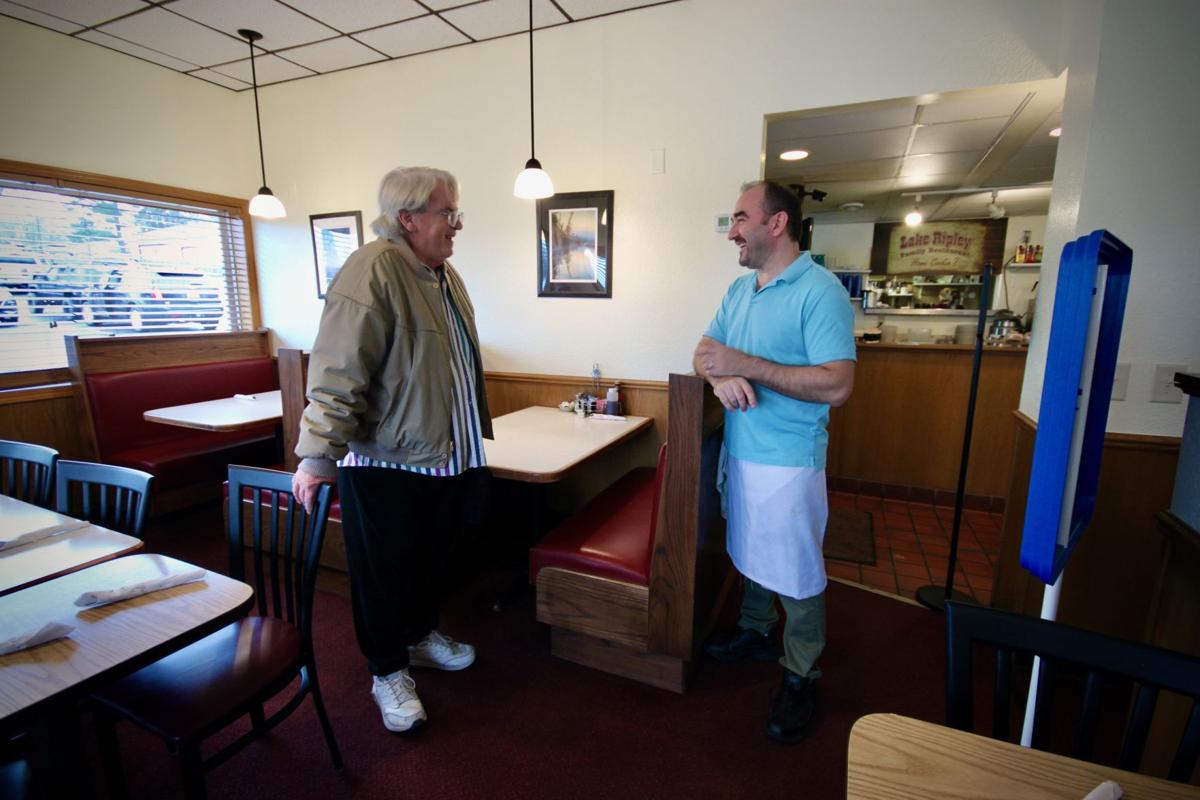 CAMBRIDGE — The Lake Ripley Family Restaurant was warm and bustling Thanksgiving morning, a stark contrast to the cold and gray day outside, as regulars and semi-regulars — many of whom donned blaze orange — chatted and laughed with the serving staff and diner owner Arsim Ahmadi.
Ahmadi has owned the Cambridge restaurant since Dec. 21, 2009, and has spent nearly every day since at the business, building relationships with the regulars — many of them in their elder years — and offering them a place of respite and comradery during the holidays.
"I've been serving turkey dinner for the people here since year one, every Thanksgiving," he said. "We have here in Cambridge a lot of older people. They don't have a place to go, so that's the reason I do it."
The diner is a community staple and a place of emotional support for Ahmadi as well. He and his family went abroad for vacation over the summer and when they returned, he, his wife, and his parents fell ill with COVID-19. His 86-year-old father died due to complications related to the virus.
The diner was closed for almost three months and when it reopened, the community flowed through the doors in a show of support for Ahmadi and his family.
"Being closed for three months, people can find other places to go eat, but when I reopened, everybody just came back to eat here and said, 'I missed you guys,'" Ahmadi said.
"It's tough now, losing my dad, it's not the same. I'm not the same person anymore," he said. "It's been hard, but we'll make it through. Cambridge has been very, very supportive."
Aside from the three months the diner was closed due to COVID and his father's death, Ahmadi has kept the diner open most days since December 2009, including on Christmas until a couple of years ago, to give those without a place to go some friendly conversation and a warm meal for a reasonable price.
Ahmadi, his wife and his sister work seven days a week from 6 a.m., when the diner opens, until its 2 p.m. closing. During the day, Ahmadi can be seen both in the kitchen helping to serve up meals and on the dining room floor, where he strikes up conversations with newcomers and regulars alike, including Larry Gibson, 75, who has visited the diner every morning since "day two" for his regular breakfast of biscuits and gravy.
Gibson, an Air Force veteran, former teacher and a retired factory worker, sits at the same booth for most of his visits and, he joked with Ahmadi, he hopes they'll install a plaque on the side of the table that reads "Larry's booth" one day.
"Your name is already there, under the table," Ahmadi said, laughing.
Gibson, who rides a Harley Davidson in the warmer months, suffered some health troubles recently, so Ahmadi visited him at his home to help Gibson put his motorcycle away for the winter. It's that kind of friendship that keeps him coming back to the Lake Ripley Family Restaurant.
"I'm single, I don't have any family anymore here, and this is just a wonderful place, the staff and Arsim's family is just so kind to me. To me, it's a sanctuary," Gibson said. "It's a warm, welcome place to get away from depression."
Gibson, who moved around a lot when he was younger, said his friendship with Ahmadi, Ahmadi's family and the staff is a bright spot in his life. Other regulars at the diner know him, too, and often stop by his booth to say hello and carry on a conversation.
"It's not just the diner, it's the people," he said.
---