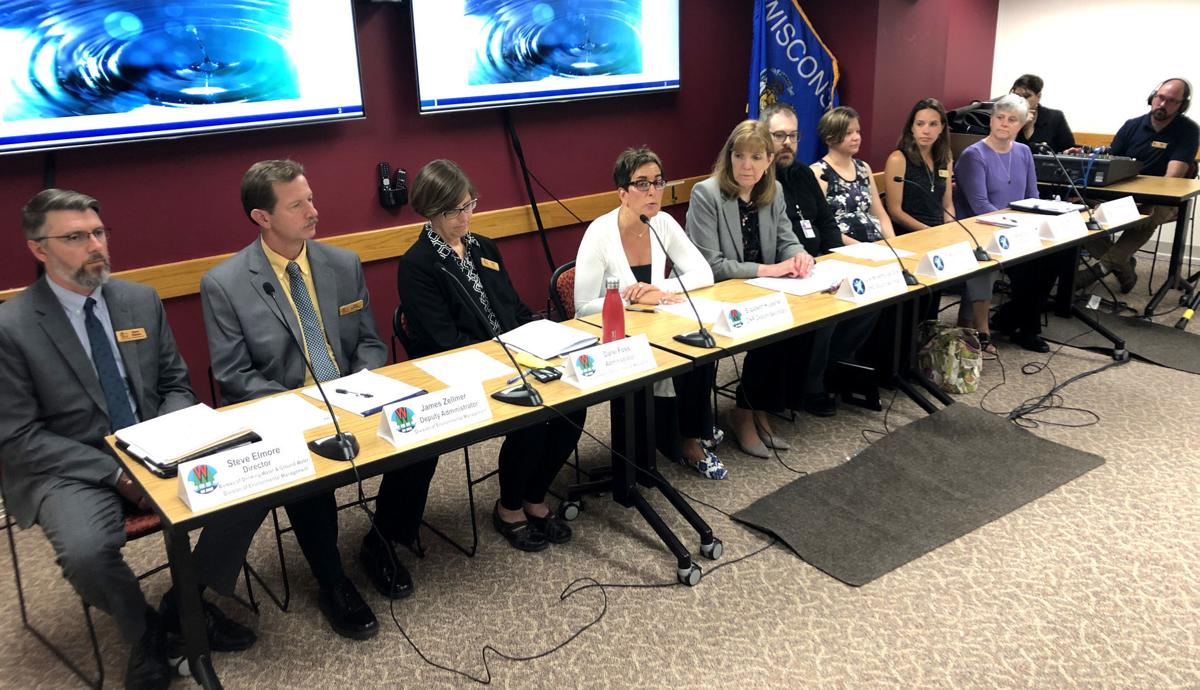 Wisconsin's Department of Health Services on Friday recommended one of the nation's most restrictive groundwater standards to protect public health from industrial pollutants that have been found in drinking water in Madison and elsewhere in the state.
The recommended groundwater enforcement standard of 20 parts per trillion is far below a much criticized federal advisory for two compounds that are part of a class of hazardous highly fluorinated chemicals known by the acronym PFAS.
Vermont has the strictest permanent groundwater standard — also 20 parts per trillion, but it limits five of the thousands of synthetic PFAS compounds that have been found in at least 33 states. New Jersey has an interim standard of 10 parts per trillion.
Under Wisconsin law, it will take two to three years for the state Department of Natural Resources to put the groundwater standard into administrative regulations, making it legally enforceable. But knowledge that the limit is on its way may begin affecting decisions about PFAS much sooner.
Hours after the announcement, the city of Madison said it would keep a PFAS-tainted municipal well shut down for the time being, even though the groundwater standard wouldn't technically apply to the well even if the governor and state lawmakers give it final approval years from now.
The PFAS recommendation was announced as part of a review of more than 5,000 scientific research findings on 27 chemicals — mostly pesticides — that carry health concerns. DHS will now begin a review of 34 additional PFAS compounds and six more pesticides. Recommendations are expected by late next year.
The process had been postponed under the administration of former Gov. Scott Walker.
PFAS has been leaking into the environment for decades. It is manufactured for use in firefighting foam that can extinguish fuel fires. PFAS is also in nonstick coatings on pots and pans, and is applied to fabrics, paper and many other products.
Nineteen other states already have set standards or guidelines for groundwater, drinking water and lakes and streams.
Most of state drinks well water
State and local laws already provide ways for the government to prevent water pollution that is harmful to public health. But clear-cut numeric standards reduce legal wrangling with polluters, said Adrian Stocks, a manager of the DNR wastewater regulation program.
The 20 parts per trillion groundwater standard for two of the most widely understood PFAS compounds — PFOA and PFOS — would help to settle any disputes between the state and owners of PFAS-polluted land over how thorough cleanups must be to protect public health.
Two-thirds of Wisconsin's residents drink well water.
A groundwater standard would also apply directly to PFAS in bottled water. And the DNR will study the recommendation before it proposes a PFAS standard for lakes and streams that will accompany the groundwater standard through the lengthy rule-making process.
But under state law, a groundwater standard doesn't limit the amount of PFAS that can be in municipal drinking water, even PFAS-tainted water drawn from groundwater.
Drinking water standards are set under other provisions of state law and the DNR is now considering how that could be done.
DNR officials said they will be contacting local water utilities and public health departments to ensure that they understand the health-related science behind the recommended groundwater standard so it can be taken into account when local decisions are made about drinking water tainted by PFAS.
"These recommendations are intended to protect human health and the environment," said DNR Secretary Preston Cole. "I wanted you to know that DNR is pleased to report that we continue to make progress on advancing the Governor's 'Year of Clean Drinking Water' initiatives and returning Wisconsin to being a leader in the field of environmental protection."
Democratic Gov. Tony Evers was elected in November and has proposed an array of budget provisions aimed at removing pollutants such as PFAS, lead, pesticides, bacterial algae and nitrate.
DHS also recommended an even lower "preventive action limit" of 2 parts per trillion. PFAS detections at that level could trigger added scrutiny of a polluted site, said Darsi Foss, DNR environmental management administrator.
Conservation groups applauded the recommendations.
Public health and water utility personnel in Madison and Dane County have downplayed public concerns about PFAS by pointing to a controversial 70 parts per trillion federal health advisory issued in 2016. PFAS has been found so far in nine municipal wells.
Mayor Satya Rhodes-Conway issued a statement Friday saying the well would remain idle even though tests have found 12 parts per trillion of the two PFAS compounds addressed by the DHS recommendation.
"While Well 15 water more than meets the recommended standard, Madison Water Utility will continue to operate the city's water system without Well 15 for the time being as we work with state and local health experts, the Department of Natural Resources and the public to determine next steps for the well," Rhodes-Conway said.
Madison Environmental Justice Organization Director Maria Powell agreed that the public should be involved in decisions about the well. Powell noted that the total Well 15 PFAS concentration for the five PFAS compounds covered by Vermont's groundwater standard would exceed those limits.
---
[Correction: New Jersey's interim standard for synthetic PFAS compounds was misstated in an earlier version of this story.]