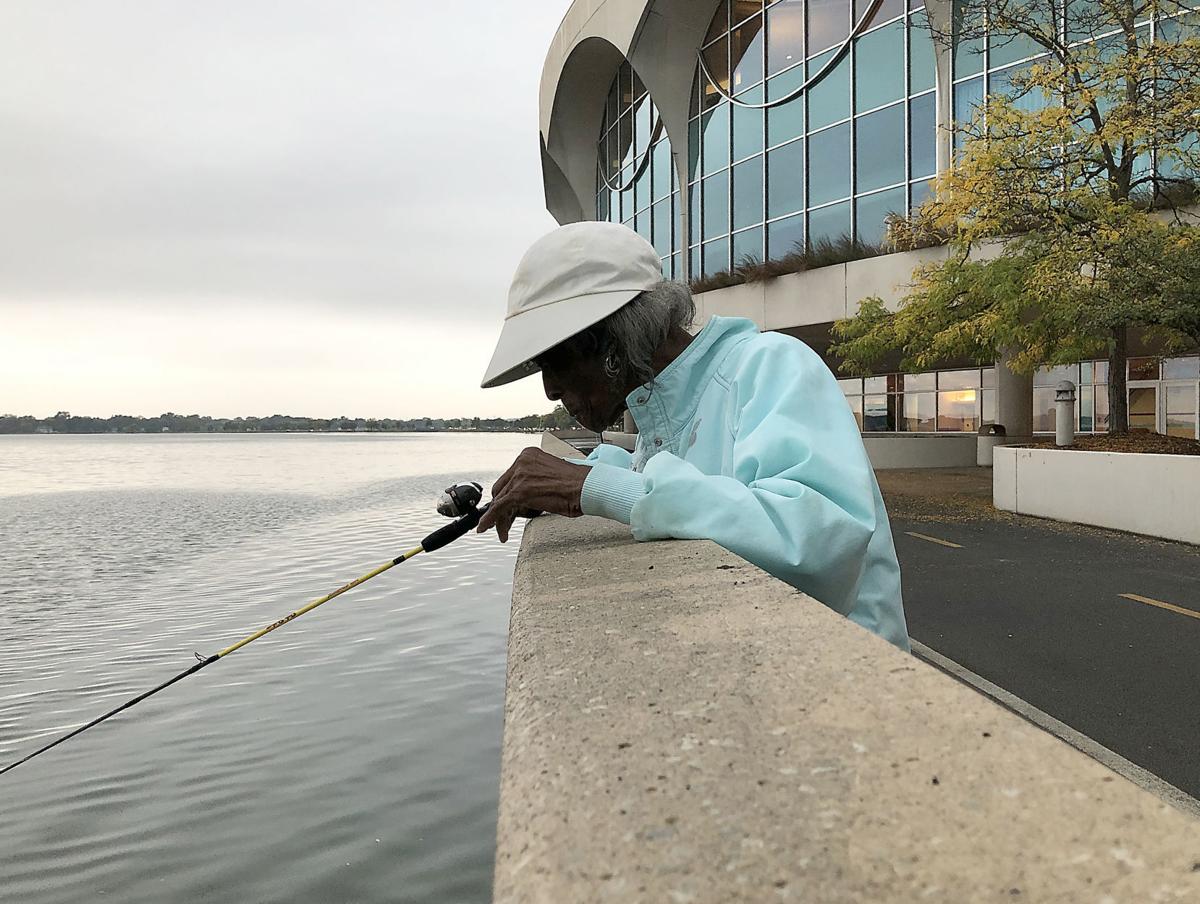 An environmental watchdog is criticizing state and local officials for not doing more to warn the public that potentially dangerous levels of hazardous chemicals made their way into Lake Monona in the days after the July 19 transformer explosion in Downtown Madison.
Water samples collected on July 25 at storm sewer outlets near a popular shoreline fishing area showed high concentrations of fluorinated chemicals — broadly referred to as PFAS — that could build up in fish.
That contradicts earlier reports from state and local officials who said there were no signs that thousands of gallons of water and firefighting foam used to extinguish the transformer fire went into the lake. They said the foam was contained at the site or captured in the storm sewer system.
Maria Powell, executive director of the Midwest Environmental Justice Organization, said the PFAS levels present "serious environmental and human health hazards" and that anglers should be warned against eating fish from that area until further testing can be done.
PFAS are a group of chemicals found in numerous products, including foam used to fight oil-based fires. Studies have shown two of the compounds, PFOA and PFOS, may increase people's risk of cancer and affect cholesterol levels, childhood behavior, the immune system and the ability to get pregnant.
There are no federal health standards for PFAS, but the Department of Natural Resources is working to establish water standards for PFOA and PFOS.
The Department of Health Services has recommended a combined groundwater enforcement standard of 20 parts per trillion for those two compounds but has not issued any guidance for surface water. Michigan has set surface water standards of 11 to 12 ppt for PFOS, the compound most likely to build up in fish.
Samples from the storm sewer outlets had PFOA and PFOS levels between 17.4 and 21.9 ppt. Including other PFAS not covered by proposed regulations, the levels measured 79 to 92 ppt.
Shallow groundwater collected at the Blount Street substation five days after the fire contained total PFAS levels of more than 5,600 ppt, which Powell said should have triggered additional testing of groundwater, which often co-mingles with lake water under the Isthmus.
Powell said PFAS compounds, which do not disintegrate, will remain in the soil under the lake and cycle through the food chain for decades, which means they can build up in fish to levels much higher than the water itself.
"Because they're forever chemicals, they're going to stay there," she said.
Powell has called for additional tests to quantify the extent of the contamination. In the meantime, she believes officials should alert people who fish near the shore.
Darsi Foss, director of the DNR's environmental management division, said fish collected from Starkweather Creek are being analyzed as part of a statewide PFAS monitoring program. Results are expected later this fall, which she said could lead to additional testing.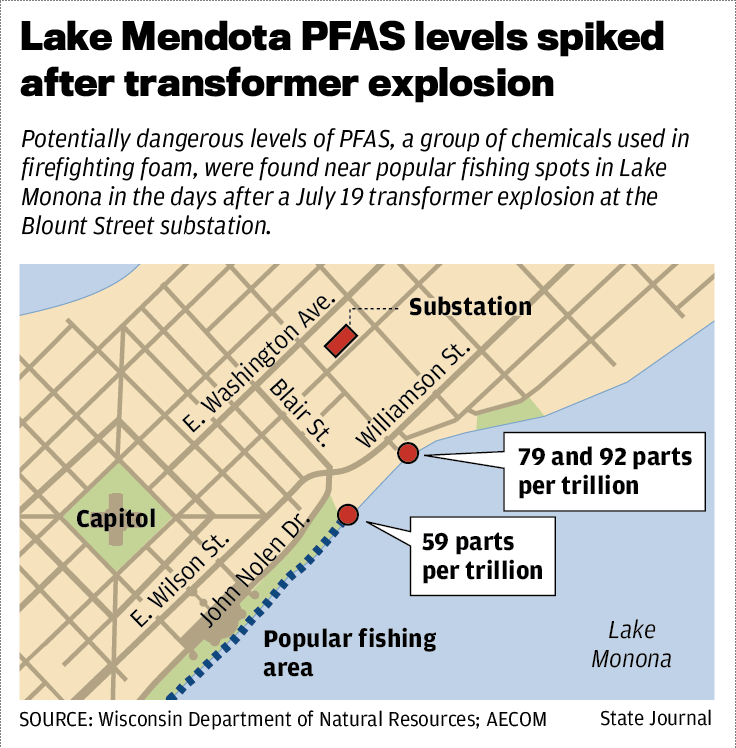 Georgia Gordon, who was fishing Tuesday morning from the path in front of Monona Terrace, said she comes up a couple of times a year from Beloit to fish Lake Monona.
Gordon, 83, said she's been fishing along the lake for years, catching mostly bluegills and crappies that she takes home to cook.
She hadn't heard about the transformer explosion or concerns about contamination.
"Is it OK to eat?" she asked. "Maybe I better go home."
Doug Voegeli, director of environmental health for Public Health Madison & Dane County, said the primary public health concern would be the buildup of PFAS in fish tissue, but the department doesn't yet have any data to trigger a warning.
"Is it limited right there? Is it all Lake Monona? Where does it stop?" Voegeli said. "We just have no idea. We need those solid numbers to come back."
In the meantime, Voegeli advises people to follow the consumption guidance for PCBs and mercury, which suggest children and pregnant women should not eat pan fish more than once a week.
While the DNR has not sampled fish from Lake Monona since the July 19 fire, Foss said, "based upon previous research done at PFAS-contaminated sites near Wisconsin's river systems, we do not expect that contamination would be high enough to change the current DNR fish consumption advisories for Lake Monona."
Results released quietly
The tests were conducted for an environmental contractor hired by American Transmission Company, which owned the transformer and is responsible for cleanup. ATC is continuing to investigate what caused the explosion that left much of Downtown Madison without power on the hottest day of the year.
Powell criticized the DNR as well as local public health officials for not doing enough to alert the public.
In early August the DNR released test results of samples taken from the site and nearby storm sewers, which the agency said were not cause for concern.
The agency said at the time that the absence of an oil sheen on Lake Monona suggested most if not all of the firefighting foam had been captured and removed from the storm sewers.
But environmental contractors for ATC had already drawn additional samples from the lake as well as from the storm sewer system. Results of those tests were posted Sept. 9 to the DNR's public spill database, though the agency made no public announcement of the findings.
Foss said the DNR does not have the resources to notify the public each time a document is posted to the database, which tracks more than 3,000 cleanup sites but will ask ATC to send future reports to city and county health officials.
Powell said local public health officials should have been monitoring the spill investigation, and the DNR should have alerted them about the high levels.
"These communication gaps reflect systemic problems in our government agencies' approach to assessing and communicating public and environmental health risks," she said. "A small grassroots non-profit organization like MEJO shouldn't be the ones uncovering this data … and letting the public know about it."
Voegeli said the DNR typically informs the public health department of water quality issues.
"We get regular notifications when there's a spill — I'm thinking this is an outlier," he said. "They're very conscious of us. This is not the normal operating procedure."
Powell also questions why the DNR allowed ATC to wait five days before sampling ground and lake waters, by which point the contaminants would likely be diluted.
"The levels discharged on the day of the event were certainly much higher," she said. "How high? We'll never know of course because they didn't measure them."
Newer but not necessarily safer?
After the release of initial test results, the DNR noted that levels of the two compounds — PFOS and PFOA — addressed by the DHS recommendations were below the recommended groundwater standard.
The second round of testing confirm most of the contamination is from fluorotelomers associated with the newer generation foam used by the Madison Fire Department, which aren't covered by any proposed regulations and which the chemical industry has suggested are less dangerous.
Powell cautions that such "short chain" compounds aren't necessarily less dangerous — just less studied, and because they are highly soluble, they likely traveled far out into the lake.
"We should not assume that the other PFAS compounds found in these tests are not toxic just because there are no standards for them yet," Powell said. "Many PFAS experts predict it's only a matter of time till the PFAS compounds used to replace PFOS and PFOA are found to be as toxic as those chemicals, if not more."
According to the DNR, firefighters applied about 55 gallons of foam along with 120,000 to 160,000 gallons of water. In addition, the Wisconsin National Guard's Truax Fire Department applied just over 4 gallons of military-grade foam mixed with about 170 gallons of water.
ATC's environmental contractors say they recovered about 180,000 gallons of material from the storm sewers, which likely includes some groundwater already present in the storm sewers.
The DNR has authorized the contractor, AECOM, to dump the water into Lake Monona after treating it to remove PFAS and transformer oil.