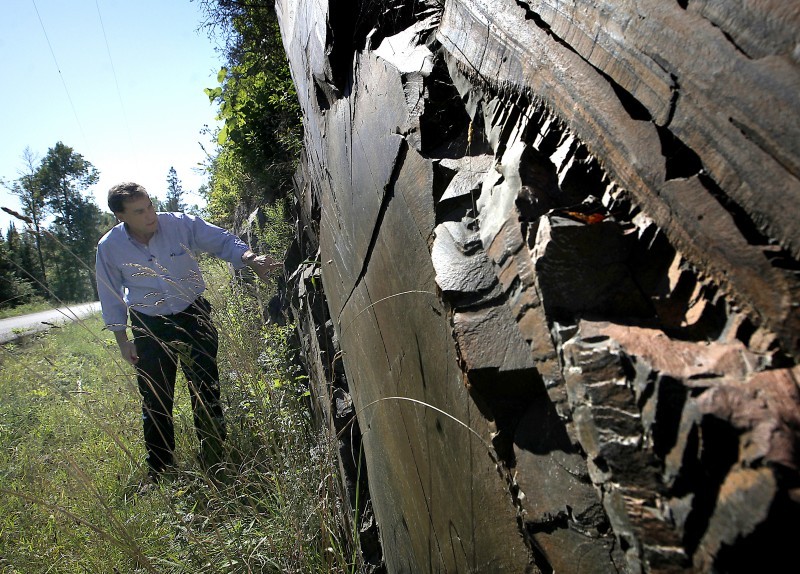 Republican legislation meant to streamline mine permitting and clear the way for a $1.5 billion iron mine in northern Wisconsin failed to pass the Senate on Tuesday, and within hours of the vote, the head of the company looking to open the mine said the project was being dropped.
The legislation was headed back to a committee for more discussion, but Gogebic Taconite President Bill Williams issued a statement late Tuesday saying the company was leaving the state because the Senate sent a "clear message that Wisconsin will not welcome iron mining. We get the message."
Assembly Speaker Jeff Fitzgerald, R-Horicon, said Assembly Republicans are done compromising because Gogebic Taconite won't accept any more concessions.
The Republicans hold a 17-16 majority in the Senate, but couldn't get a 17th vote because Sen. Dale Schultz, R-Richland Center, opposed the measure.
"Sen. Schultz and the Democrats decided to stand with environmentalists against job creators," he said. "We let something slip away."
Senate Majority Leader Scott Fitzgerald, R-Juneau, said earlier that legislators would continue to work on the bill, which advocates said was needed to create hundreds of mining jobs.
"Creating jobs is our top focus, and we have made effort after effort to compromise and come to a bill that can pass both the Senate and Assembly," Scott Fitzgerald said in a statement. "We will keep working toward that goal. Job creation should always come before politics."
Democrats also said they were willing to continue trying to seek a compromise.
"I support responsible mining," said state Sen. Robert Jauch, D-Poplar. "But you can't have responsible mining if you have an irresponsible mining law."
Exactly when talks on a new version of the bill would get under way was unclear. State Sen. Tim Cullen, D-Janesville, said it was unlikely there would be enough time to hash out an acceptable compromise before the end of the session next week.
Gov. Scott Walker could call a special legislative session to take up a revised mining bill, Cullen noted.
Walker and Republicans described the mine permitting bill as the party's most important piece of jobs legislation this session.
But the agenda was wrecked when Schultz broke ranks as promised and joined Democrats to vote against the latest GOP-authored version of the bill.
That version would have set a deadline for the state Department of Natural Resources to act on a mining permit, allowed for a limited legal challenge after a mining permit was issued, and relaxed some environmental regulations.
Speaking afterward to explain his departure from the Republican ranks on the issue, Schultz said he was against the GOP compromise largely because of provisions that would have allowed the state Department of Natural Resources to exempt mining companies from environmental protections. He cited changes to current law that would have allowed mining companies to fill in rivers, streams and shorelines.
He said such provisions led to his disagreement with fellow Republicans, who argued their bill did not weaken environmental laws.
"How anyone could say a piece of legislation that allows companies to fill in waterways does not include changes to environmental laws is beyond me," Schultz said.
Schultz also said he opposed the bill because it eroded the public's ability to file a legal challenge against a mine permit.
Earlier, Jauch, who along with Schultz authored a separate compromise that was never considered, said changes to protections for lakes, streams and groundwater would have violated the state's Public Trust Doctrine, a part of the constitution that requires the state to protect public waters.
"This bill is an invitation to litigation," Jauch said.
With Schultz refusing to support even amended versions of the legislation, Republicans tried early this week to encourage defections among Democrats in the Senate. Members of trade unions, including iron and construction workers, rallied in support of the mining bill outside the Capitol at noon Tuesday and then spread through the building to lobby Democratic senators, seeking a vote that might turn the tide in the GOP's favor.
Rumors of such a defection were heard constantly through the Capitol during the day until the early evening vote, but proved unfounded.
Williams was present for the debate and vote Tuesday, and attended the rally of trade union workers supporting the mining legislation and reiterated earlier warnings from Gogebic that it would be difficult for the company to continue with its plans to mine if the state doesn't streamline its permitting process.
A subsidiary of a Florida-based coal mining company, Gogebic was planning to build a $1.5 billion open-pit iron mine in northern Wisconsin's Penokee Range, south of Ashland.
The company said the mine would provide 700 jobs when in operation.